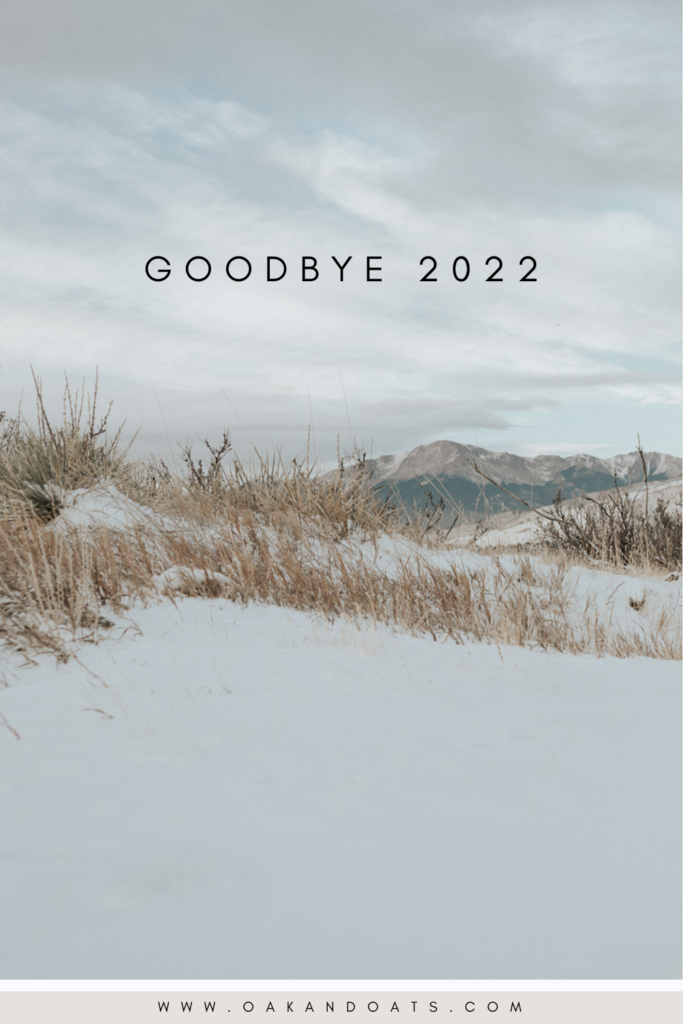 Are you still in the mood for reflection posts? I know January is nearly over, but I actually feel really good about hitting publish on this one before the end of the month! I used to put a lot of pressure on myself to have posts like this go live on New Years Eve, followed by the resolution post on New Years Day. But God has been teaching me a lot these days about slowing down, prioritizing well, and trusting that a job (or post) well done is better than a post "on time" (whatever that means when you blog for yourself for fun 😉 )
Last year we survived the holidays and I mean that quite literally. We had the stomach bug twice, crazy colds, first trimester exhaustion, and COVID. We didn't do much more than snuggle on the couch and sleep 😉 With the general state of unwellness and overwhelm, I took a break from the blog and skipped all the New Years blog posts, reflections, and goals. This year I am still trying desperately to keep heavy eyelids open as I just write "just a little bit more" to get closer to ending this post and being able to hit publish BUT gratefully (and thankfully) this holiday season has been much more FUN! We're tired as all parents of three kids are, but we're soaking up the joy that these three add to the holiday season!
I've reformatted my year recaps over the years but this may be the biggest one now that Instagram is out of my life! Back when I posted my ONLY post of 2022, I thought maybe I would come back in some capacity but nope! My Instagram "Top Nine" used to direct how these recaps went (2020, 2019, 2018), but I have the freedom (dare I say) to do something new this year!
What will that new thing be? I'll tell you – three things each month, over the 12 months of 2022, making 36 short paragraphs that narrate our year. A year that changed my life (as they always do!) It is in the looking back that we see how far we have come, the continued faithfulness of the Lord, and the way He has (always) continued to sustain us (even if the inflation rate this year was 7.1%! 😉 )
…
JANUARY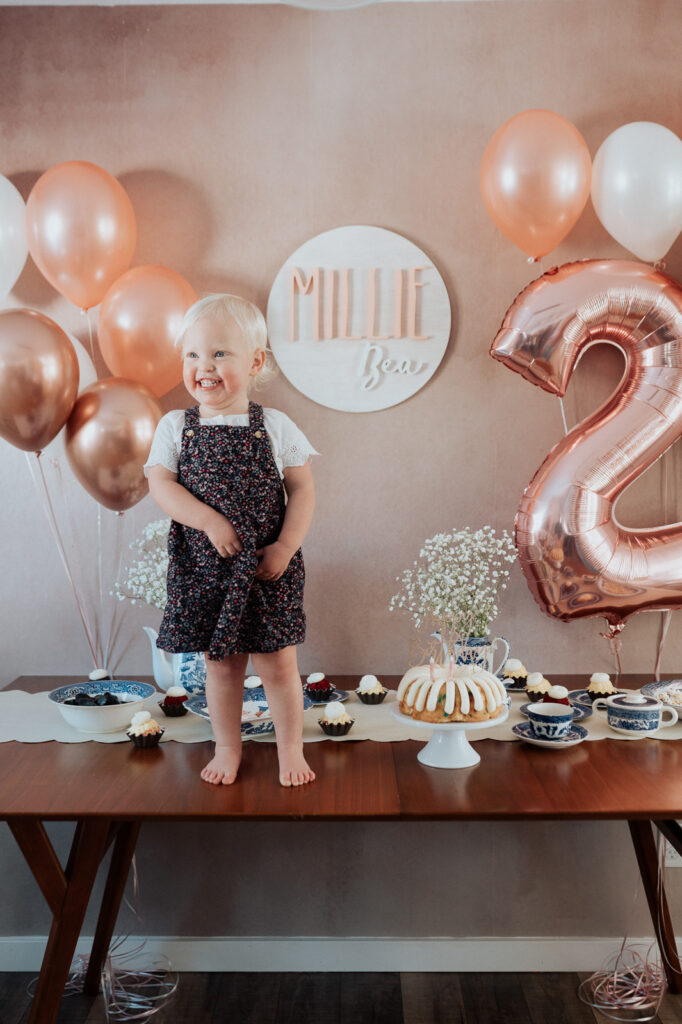 Millie Bea turned two! I was just near the end of my first trimester sickness (that was the hardest for me this pregnancy) but was still able to get a party together and even a blog post up about it! Birthdays are a highlight in our family each year because we are so blessed to be called to parent these dear children!
We put up Insulation & Drywall in the office. Now that is a project I started documenting but never finished – the shed office! We worked on it a lot this year to be able to move Bruce in before our baby #3 was born! One day I will get that recap up!
The girls got a bunk bed! We moved them to big girl beds and have still yet to update their room (it's on the list!) Feeling a little guilty knowing there room has been "in progress" aka "in shambles" for the last year but that is just how things go! 2023 goal is to get their room finished and together!
February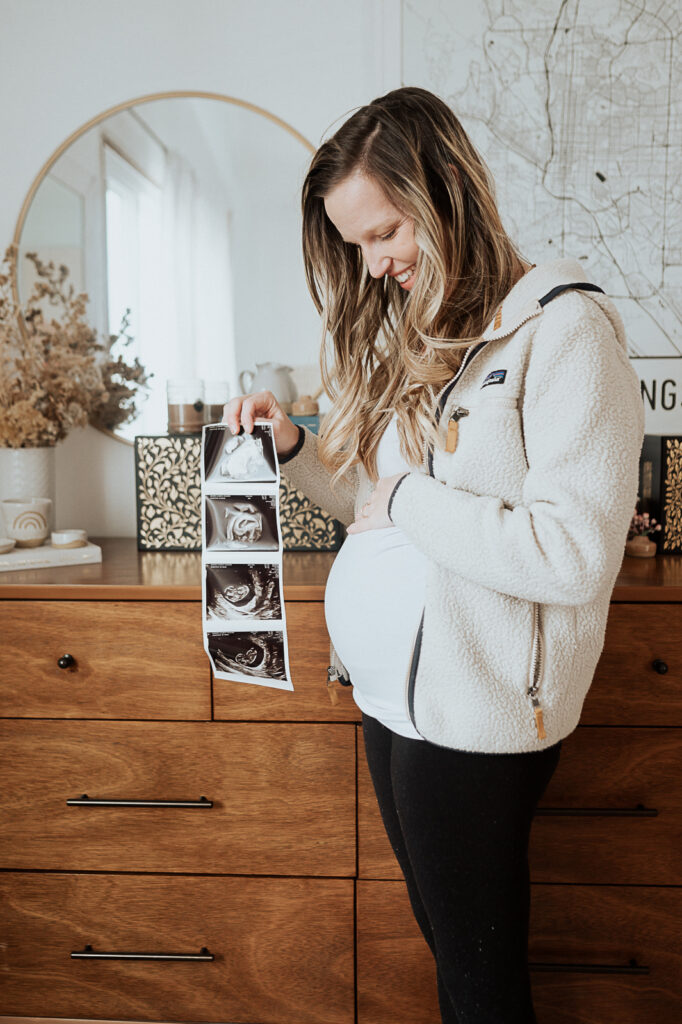 We mudded, painted, and installed cabinets/ countertops in the shed! It felt so good to be making progress and actually see our design come to life! Bruce spent a lot of nights and weekends getting this baby move in ready which was a hard season in many ways, but one that paid off big in the end!
Our house was painted white! This was one of the things I knew I wanted to do when we bought the house in 2019 so it was really exciting to see it come to fruition! Checking off those boxes on our loooong house update list feels so good!
I posted my one and only Instagram post of 2022 announcing the big news that I was quitting Instagram and having a baby! That post is here and not only did it feel so good to write, but it felt incredible to live out this year.
March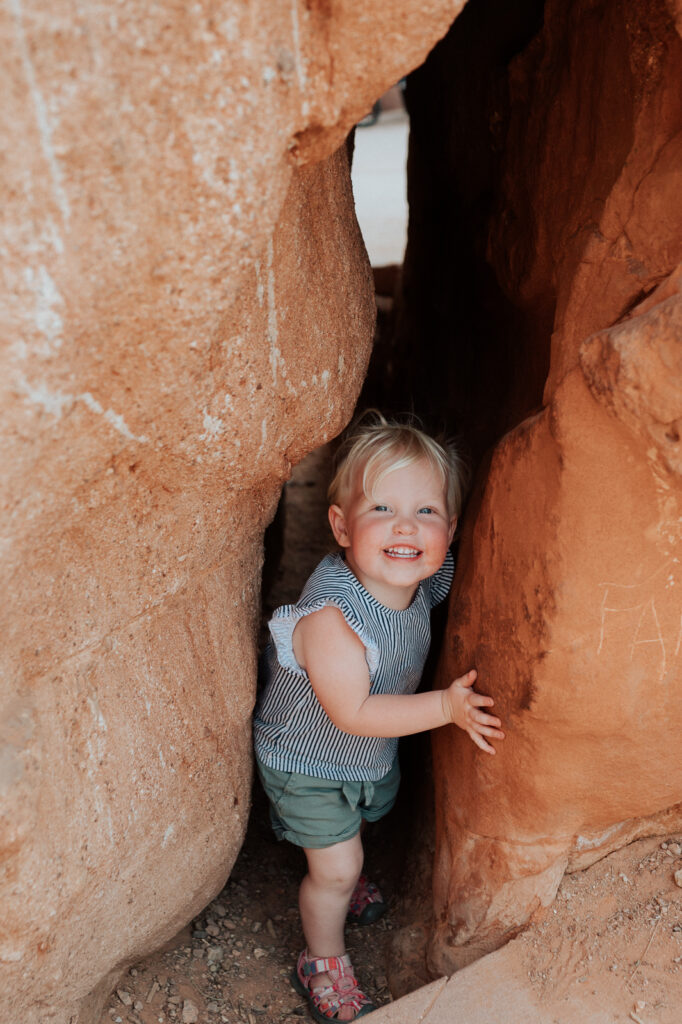 It's a BOY! We found out we were having a baby brother and we honestly couldn't believe it! I'll forever cherish this video we took of the girls to send to friends & family!
I read the book Unseen by Sara Hagerty. I feel like it is worth noting because I read this in a pretty "unseen" season of life after stepping away from carrier which was very "seen" (see above!) The book was an easy and beautiful read, diving into Mary of Bethany, her relationship with Jesus, and her testimony in the gospels. Not only is the Lord with us in those unseen seasons, but He uses, (and even gives) our hard / lonely / discouraging / overwhelming seasons to draw us closer to him. To crush our independence and show us that we only find peace and purpose and comfort in dependence on Christ. I was encouraged, challenged, and inspired to live a quiet life, focused on relationship with Jesus, and simply "wasting" time with Him.
I also wrote "Do Not Grow Weary in Doing Good" after processing a lot with motherhood, pregnancy, and my new role in life now that content creation on Oak + Oats wasn't my job anymore. While it wasn't published officially until April, I wrote it in the note app on my phone in bits and pieces during the month and took the photos for the post on an outing with the girls in March. It's noteworthy (no pun intended 😉 ) because it started me on a habit of writing lots of notes and ideas in that app and letting myself flesh them out overtime. I never felt like I had the luxury of time with my writing when I was always trying to push out new content and treat this space like a job.
April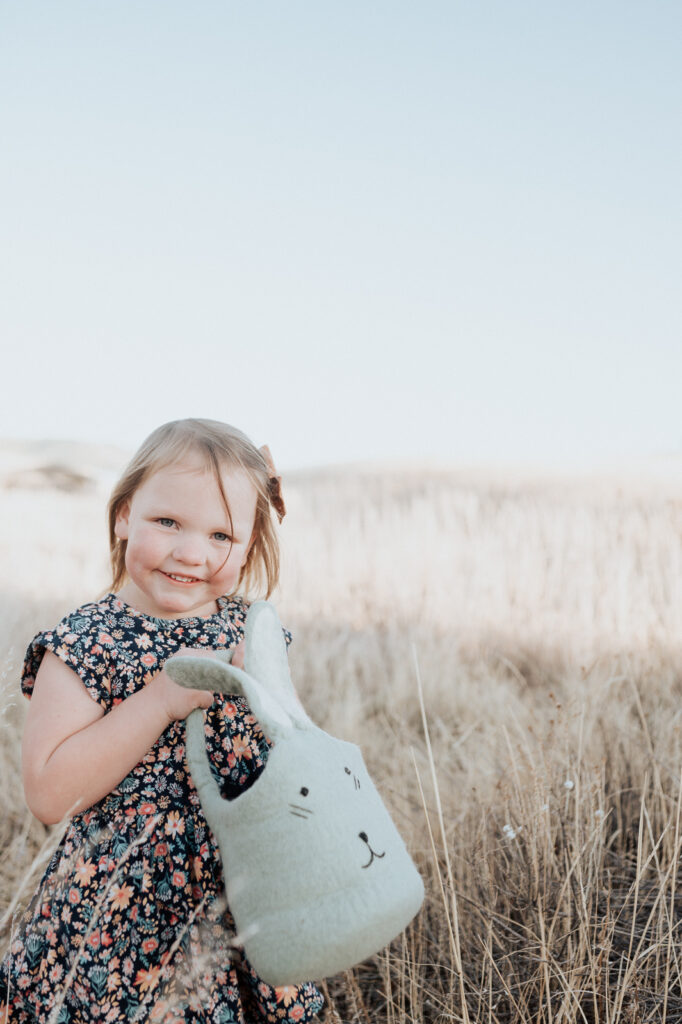 We bought a film camera at a thrift store and ended up picking up another one the same weekend. That began our deep dive into a new hobby! I only posted three film photography posts on the blog this year but I had planned on doing more. Fingers crossed more will come in 2023… I think we are getting better at it 😉
Bruce moved into the shed office full time! We no longer needed an office for him in the house so we were able to start moving around rooms and getting things ready for baby! The dream of working in his own backyard office has come to fruition after 10 years of wishing for it and the last three years of actively planning for it!
I created a bunch of Easter content and even (finally) posted some old Easter post on the blog! I must have had a burst of energy and really felt like making up for our lackluster Christmas! Some new posts that I loved – Easter Bunny Masks, A Holy Week Countdown, Easter is Coming, and Palm Sunday Handprint Leaves!
MAY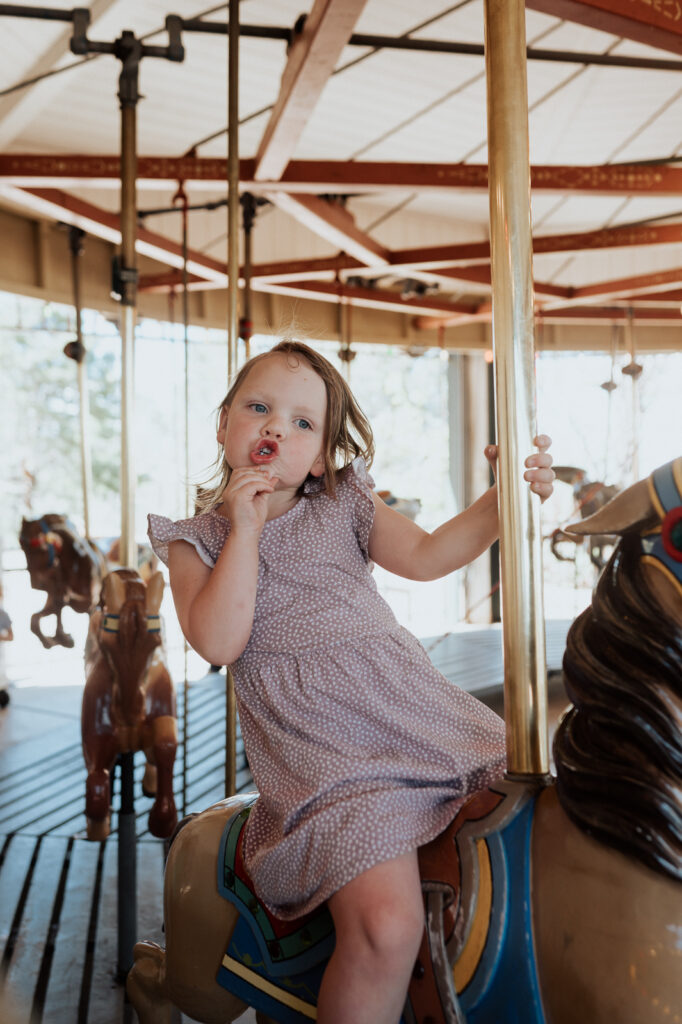 I turned 34 (I think?!) Yep, that is what the calendar says! I also celebrated my 4th mother's day – this time with two girls and baby boy on the way! Here is my Mother's day Gift Guide because I did one this year!
My nephew graduated high school! What a fun & historic time in our family! Thorin (yet to be born at this point) and Johnathan are almost exactly 18 years apart. As I sat in that graduation, I kept thinking about how Johnathan will be my age when Thorin graduates high school! Time honestly flies!
I wrote up a post for the Walk for Life to share on my blog. Every year Life Network does a fundraiser in May and it perfectly lines up with Mother's day and my birthday always making me even more invested & reflective. Read that post here – Turn your Eyes upon Jesus – and although this fund raiser is over, you can always give directly to Life Network!
June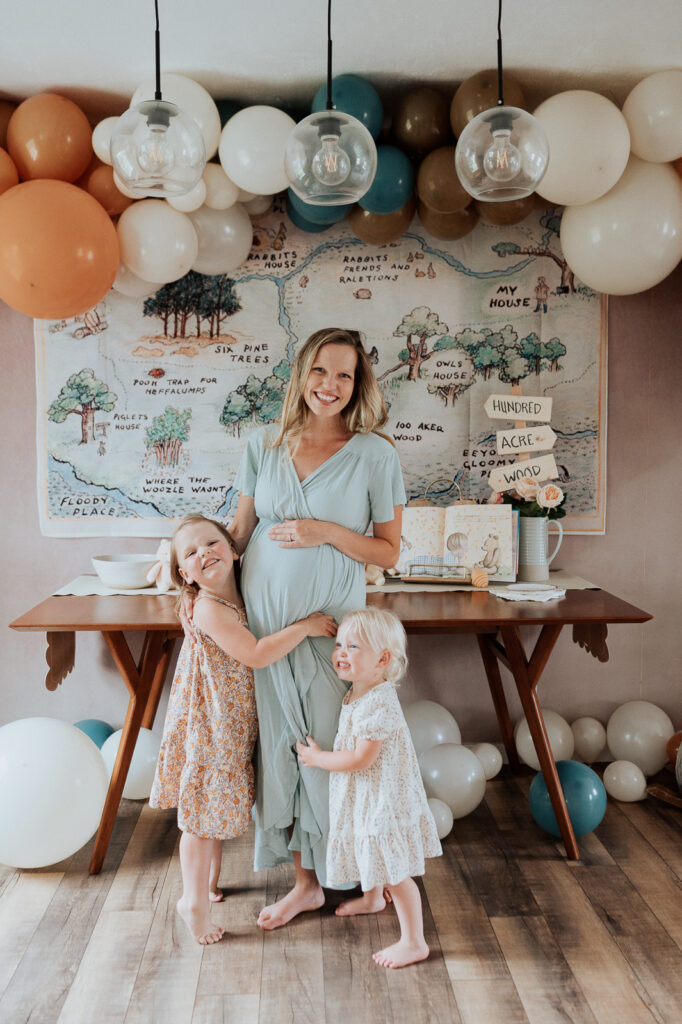 Everyone moved back to Colorado Springs 😉 Our best friends officially moved back to Colorado which was a huge highlight of our year. We see them ALL THE TIME and I'm still pinching myself that this is their home. It's such a sweet time for us and our kids to be homeschooling & living life together. AND my sister and her husband also moved back from Florida so we now have even more family near by! So grateful for the kids to be able to grow up with their Uncle Blake and Aunt Sarah! … and Chris & Julie came to visit! We can't make everyone move back, but we can be grateful for all the family visits and memories we get to make together!
We celebrated baby boy Mayberry with a baby shower! It was Winnie the Pooh themed and that was perfect for this mama heart of mine! Pooh Bear has been a classic friend throughout my childhood and it is a joy to pass that onto my kids!
We took family photos of the four of us before our little man was born. I didn't take as many photos of me pregnant as I did in the past, but I made sure we got maternity photos even if I did cut it a little close. My best friend Megan took these photos for us and I will always cherish them!

July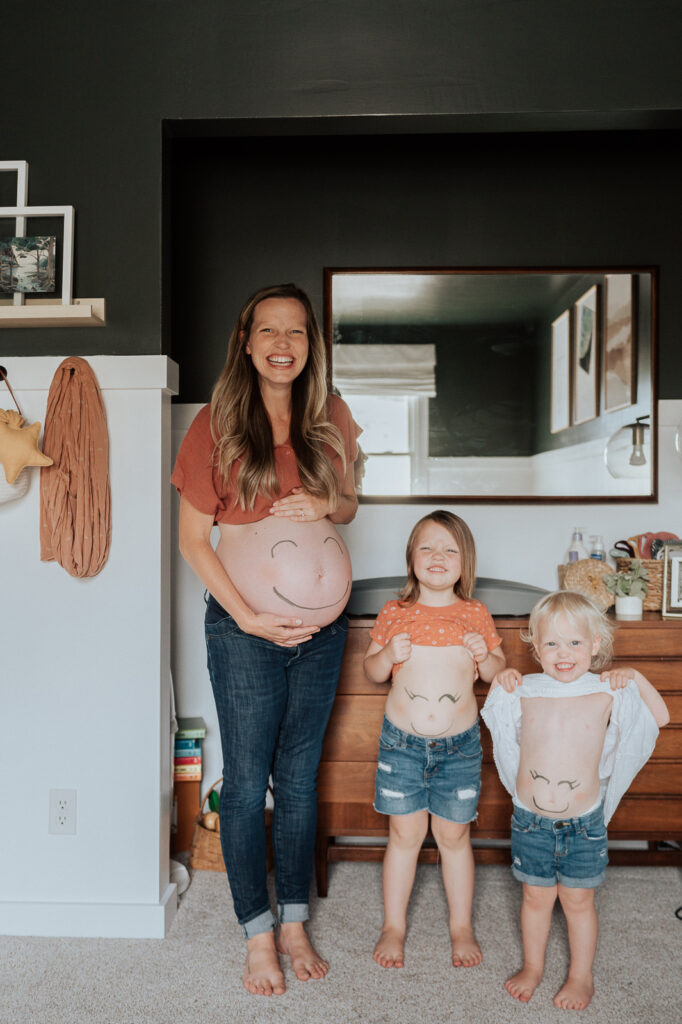 We finished the guest bedroom AND the nursery! After Bruce officially moved into the office back in April, we started getting the former office prepped for the new guest bedroom and July brought the final reveal! I have yet to post a before & after on the blog, but you can see a sneak peak in these photos! Just in time too, because with the guest room moved over, we could get the the Nursery started & finished! It was a crazy couple weeks but we did it!
We took belly face photos in the nursery before Thorin's due date! I took belly photos with both girls in their nursery before they were born, so it is an achievement we were able to do it for our 3rd baby as well! The girls wanted to join this time and it just warmed my heart!
We met our son (AHH!) and introduced him to the world! Thorin John Mayberry was born on July 26th and forever changed our lives! What a gift, what a JOY! The Lord is truly so gracious to us!
August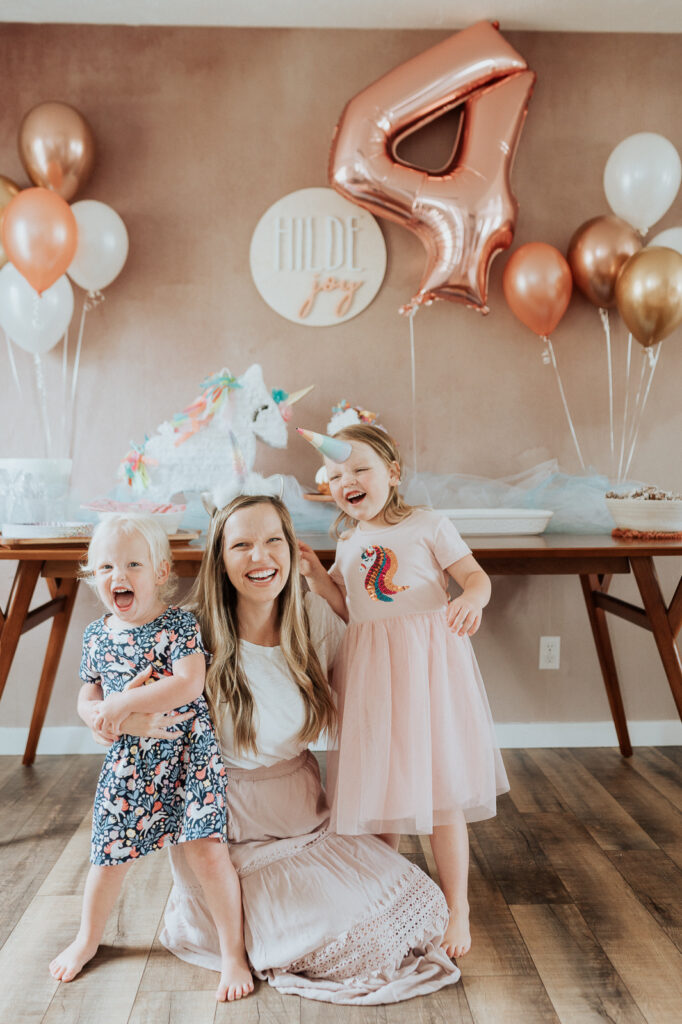 My oldest turned four! I didn't know if I could swing a party so soon after Thorin was born, but we made it happen and I love it so much! Hilde wanted a unicorn birthday with all her friends and that is just what she got!
We celebrated TEN years of marriage! I have no idea how we got here, but there is no other place I would rather be!
Thorin's best friend Colton was born! It is just another one of those stories of God's faithfulness but it melts my heart to pieces thinking of how God orchestrated us to have sons together less than 4 weeks apart!
September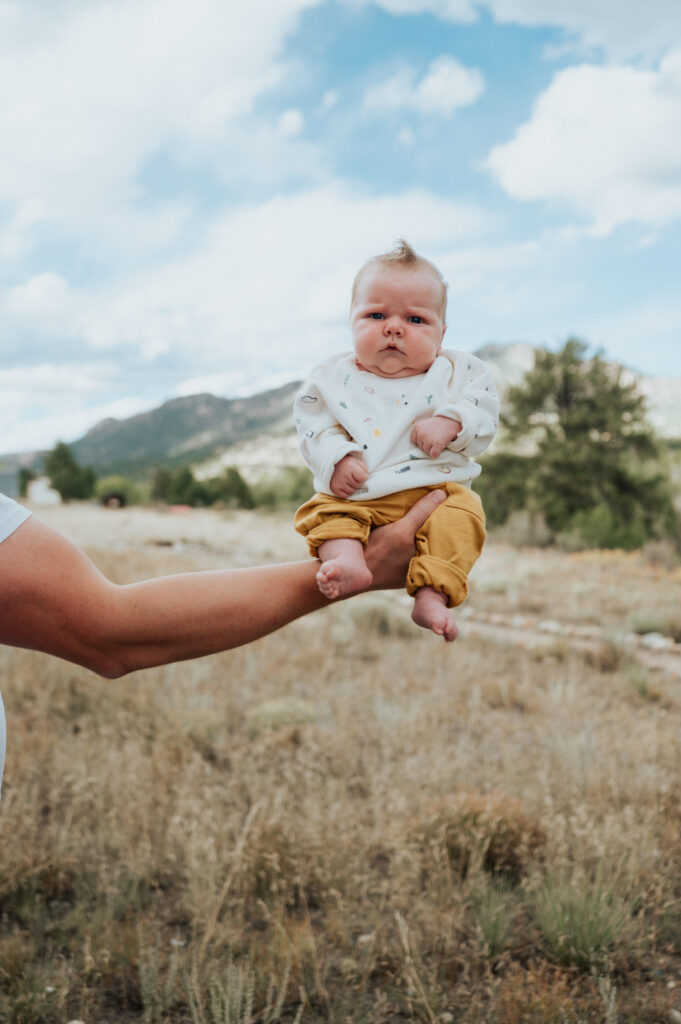 We went on VACATION for our Ridings Family Reunion! It was a beautiful, wonderful trip to the mountains with all my siblings! Hilde is still talking about it today (literally, today she asked me if I remember when we went to that house with all our family and that lady showed us our rooms?) Time with family is always something to be cherished!
Hilde started Awana & her first year of Cubbies. I honestly should have a picture of her in her Cubbies uniform but that is one thing I haven't done yet! I promise I'll take a picture in May when she graduates so you too can see how adorable she is. But more than that, I love how she is already hiding God's word in her heart. I'll never forget that as we were praying one night before bed, Bruce said "Thank you Lord that while we were still sinners you died for us!" and Hilde exclaimed "Dad! It's Christ! While we were still sinners CHRIST died for us!"
We made huge leaps towards an organized garage & workshop! We bought some storage shelves and work tables at an estate sale and made some headway on a workshop in our garage! We've been quickly filling it out with new to us tools we find at estate sales and rapidly adding projects to our never-ending list 😉
October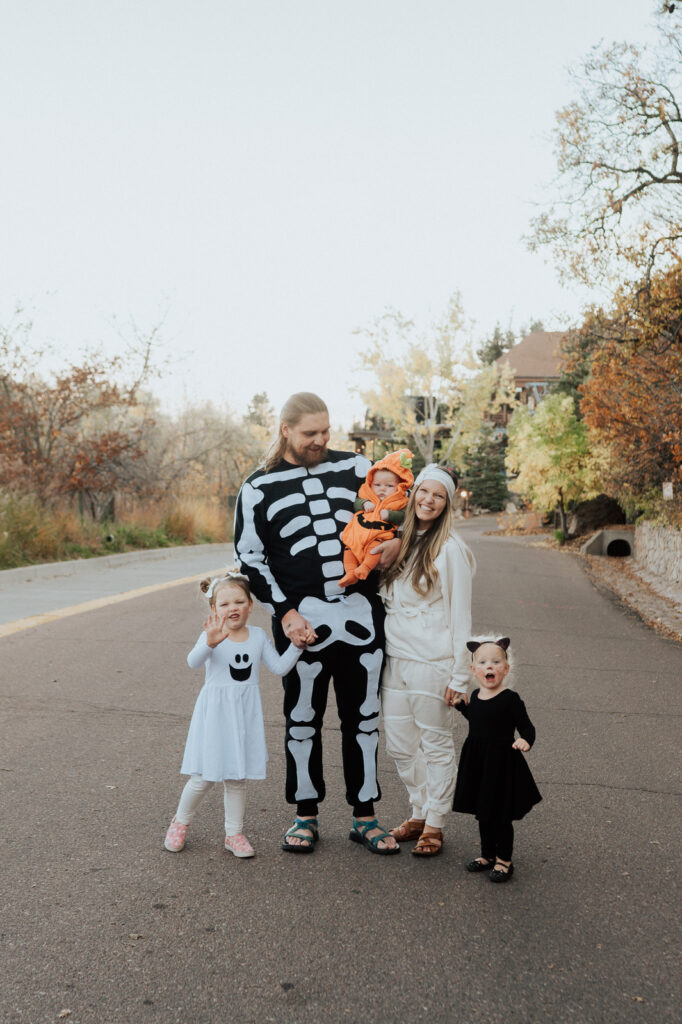 We were "Classic Halloween" for our family costume this year! Every year we do a family costume and our ode to a classic Halloween just came together perfectly. My mummy could have used more bandages, but Bruce's skeleton more than makes up for it! See all the photos of them in action at Boo at the Zoo & Halloween Night!
We got family photos of all five of us to send out for the Christmas Card this year. It was Megan again who took the photos and it was fun to have two sets of photos the same year going from four to five!
We got our FALL on! Autumn is one of my favorite seasons and I made sure to soak it up and share the love and beauty of this threshold season with my kids. We went to the Harvest Festival, up the pass to witness the seas of golden aspens, and spent many undocumented days at the zoo or outside enjoying the fresh Colorado air.
November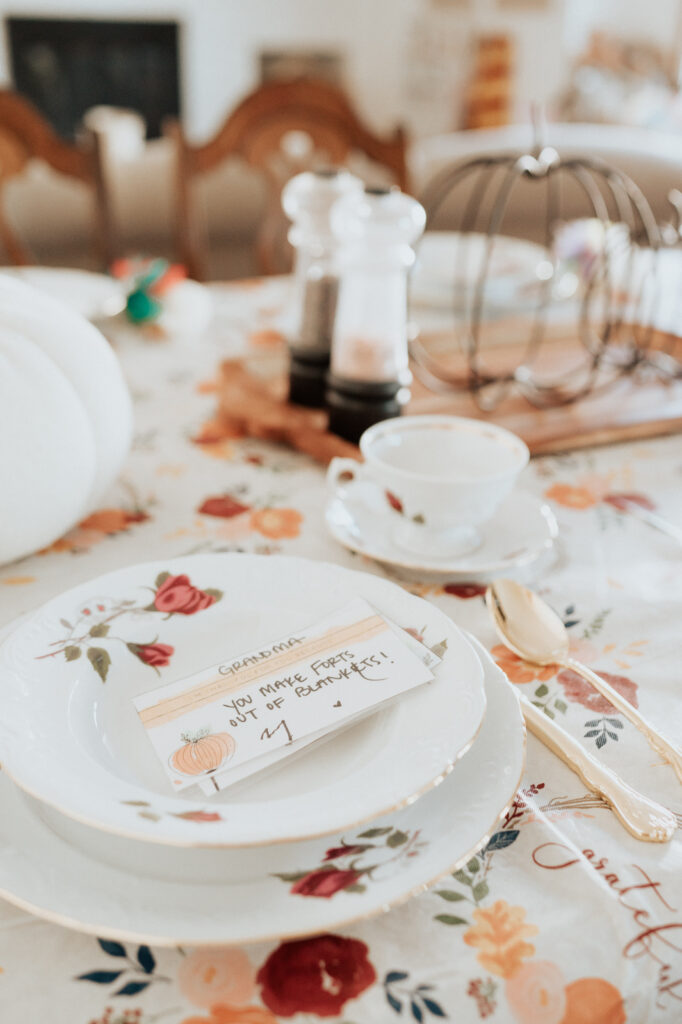 Bruce (finally) turned thirty-four and caught up with me 😉 We celebrated a month late with a double date with our best friends – completely KID FREE! Enjoying a meal at Brakeman's Burgers and a thrift store adventure ending with us at a local music store giving a battered Trumpet a new chance at life.
We hosted Thanksgiving! It just worked out that way this year and it was even more fun than I imagined it being! I was thankful for the dishes that I picked up at an estate sale that allowed us to serve everyone! I also cooked a Turkey by following a recipe called Easy Thanksgiving Turkey ( Best No-Fail Recipe) – so exactly what I needed! It worked!
We kicked off the holiday season by going to the North Pole! It was so fun and festive that we just may make it a Black Friday tradition!
December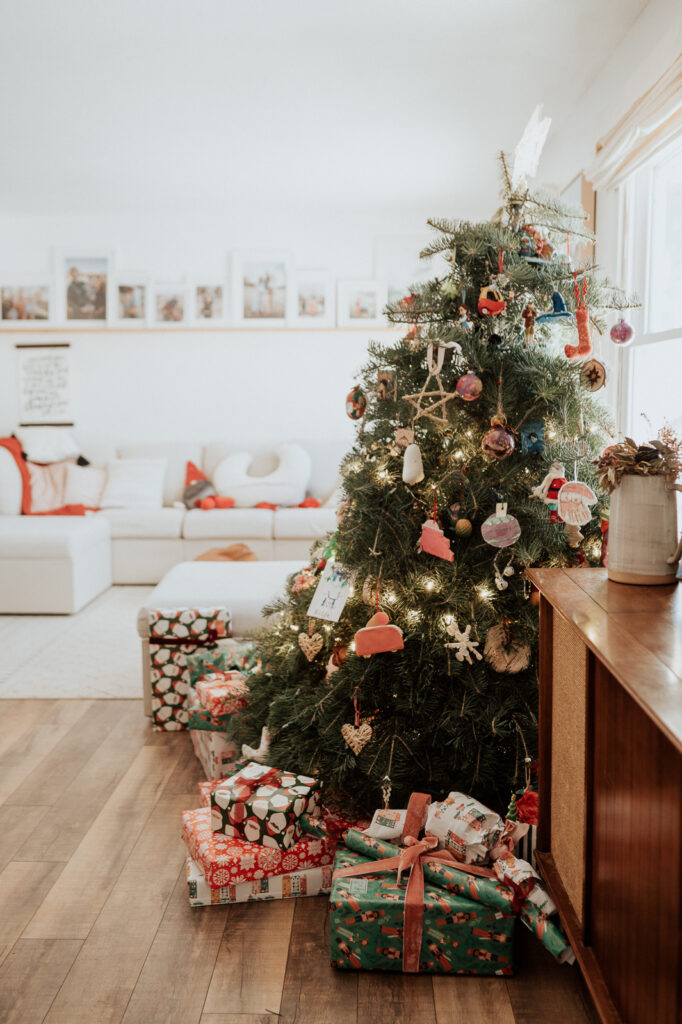 We made Christmas cookies & went to our annual Christmas Cookie Exchange Party! Then made Christmas cookies again, and again, and again!
We celebrated Christmas three days in a row! You read that right 😉 This year it worked out that we celebrated our own family Christmas on Christmas Eve, then Christmas day with my family, followed by next day Christmas with Bruce's side. It was awesome and exhausting.
The girls were in the pageant at Church! They were wisemen but kept calling each other "Wise Ladies" which was pretty adorable. I love seeing them grasp the Christmas story and be excited to tell it!
(and speaking of Christmas, click here to see a Christmas Season Photo Dump!)
…
So there you have it, 36 short paragraphs that narrate our year! It took me quite a while to round this post up – mostly because I had to edit pictures and finish blog posts along the way! If you are an email subscriber, I will send you an email called "11 Posts I meant to post in 2022 but didn't until now" so you can see all the ones I had to publish while putting this together! HAHA!
Goodbye 2022. Grateful for all the goodness you held and little moments that make up a life!