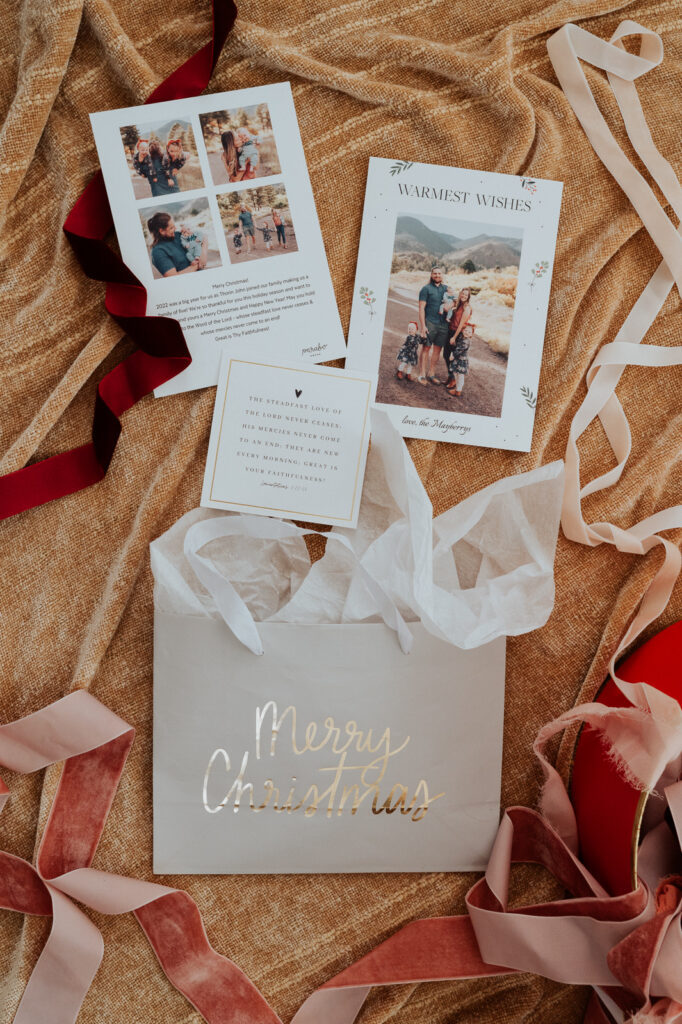 It is no secret that I love Christmas Cards! They are one of my favorite traditions to do year after year. We save a card each year since 2012 (our first married Christmas) and marvel at how our family has grown from two young wippersnappers to a family of five! Two years ago we started adding a verse card with our photo cards and it is a tradition we are planning on keeping as we've spotted many of them on our friends & family's fridges year round!
This year we went with Parabo Press again because they make it so easy for us to do both the photo cards and the verse cards! They added the ability to print on the back (YAY) which really just made it the perfect fit for us because we can write our novel, share more pictures, and still send the verses. Ironically, we started this tradition because in 2020 Parabo Press couldn't print on the back and we were brainstorming how we could still include our verse for the year. So it was great they didn't have it then, and great they have it now! HAHA! This year we picked our Christmas Card from all their options, filled out the back, and then we uploaded our verse into the Foil Border Square Prints. (PS: If you order through them, use code OAK25 to save 25%)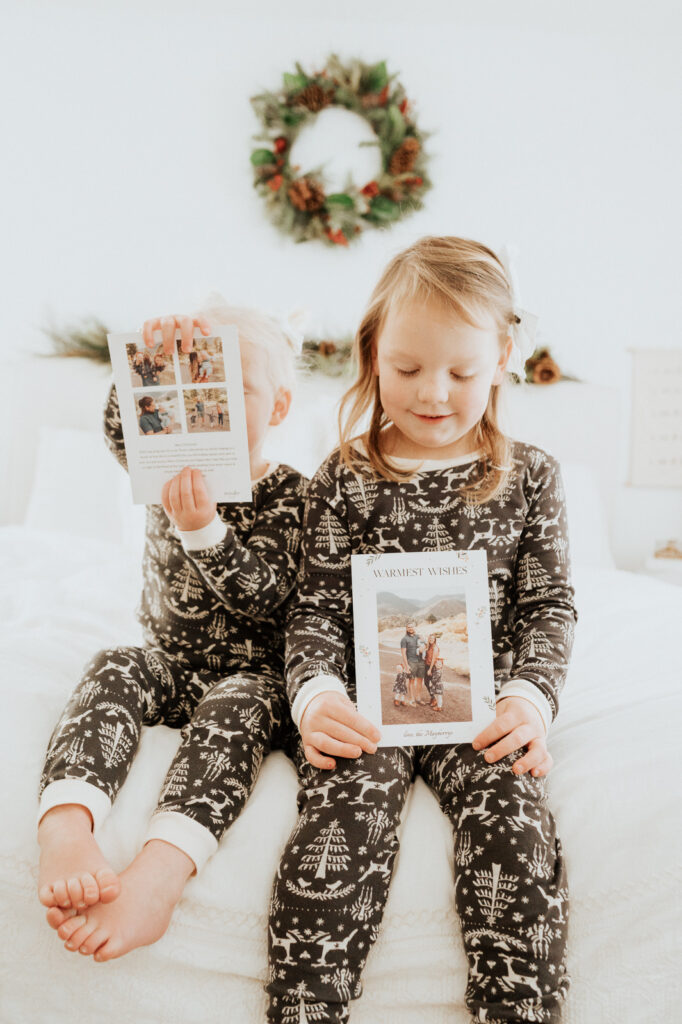 When Bruce and I sit down to pick the verse to include with our car, we reflect on the year we just lived and look toward the year ahead. We both bring verses that have meant something to us though the year or verses that touch on themes we felt/ experience and then we talk through them all, narrowing them down to the one we send. It is not only a time of picking the verse, but a sweet time for us as we share together. It's always a bit hard narrowing it down, but we also feel confident in the one we pick. This year we're going to try to memorize it as a family and continue to write His words on our heart.
And the 2022 Christmas Card Verse is…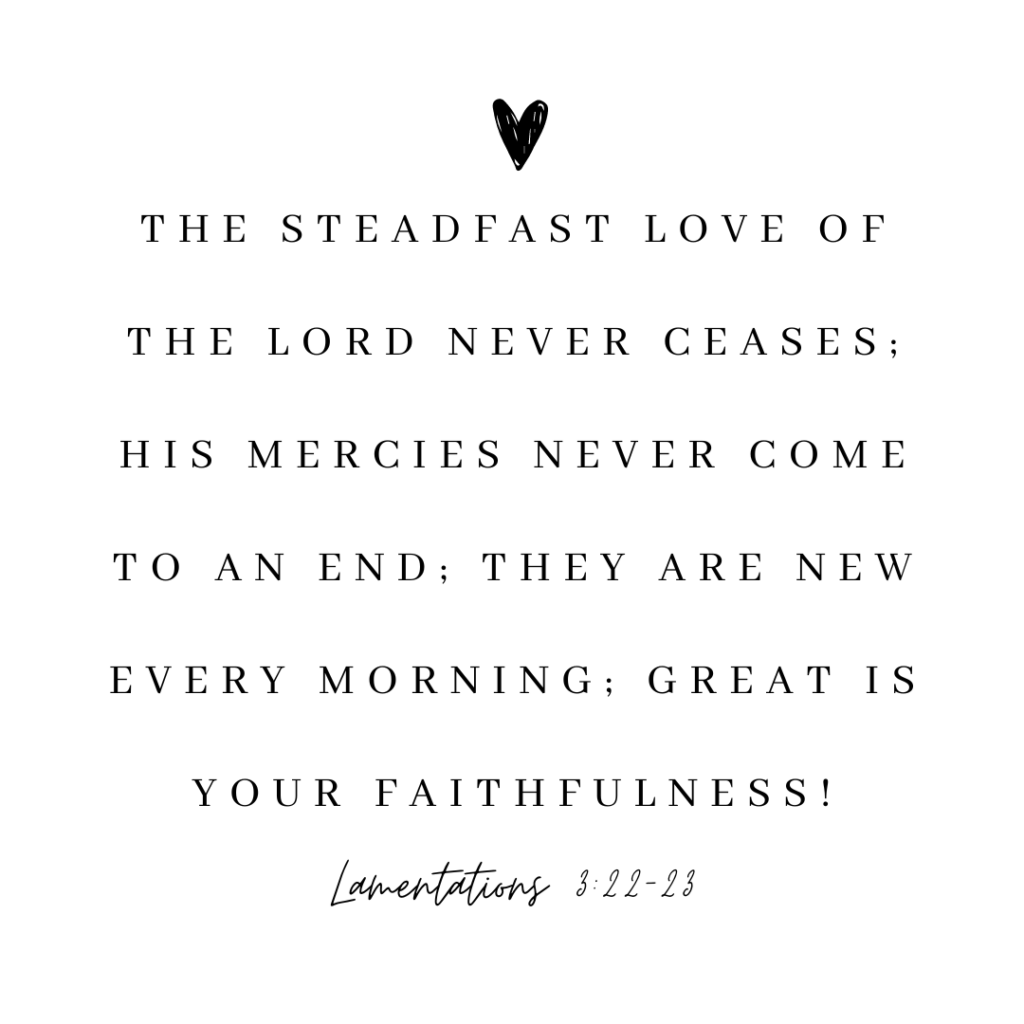 It's one of Bruce's all time favorite verses and one he has had memorized for decades. It is also one of the hymns I have been singing all year throughout a tough pregnancy, many late nights in the nursery, and just lots of bad news in the world – Great is thy Faithfulness! As I type this I can hear Hilde singing the chorus in my head because it has been one of the songs frequently on her lips this year too.
I can make a list of things to complain about this year, but the thing that matters most has not and will never let me down. His love never ceases! His mercies never end! Oh how great is His faithfulness. Our prayer is for eyes to see and know and feel His faithfulness and that you (and everyone we send a card to this year) has that too!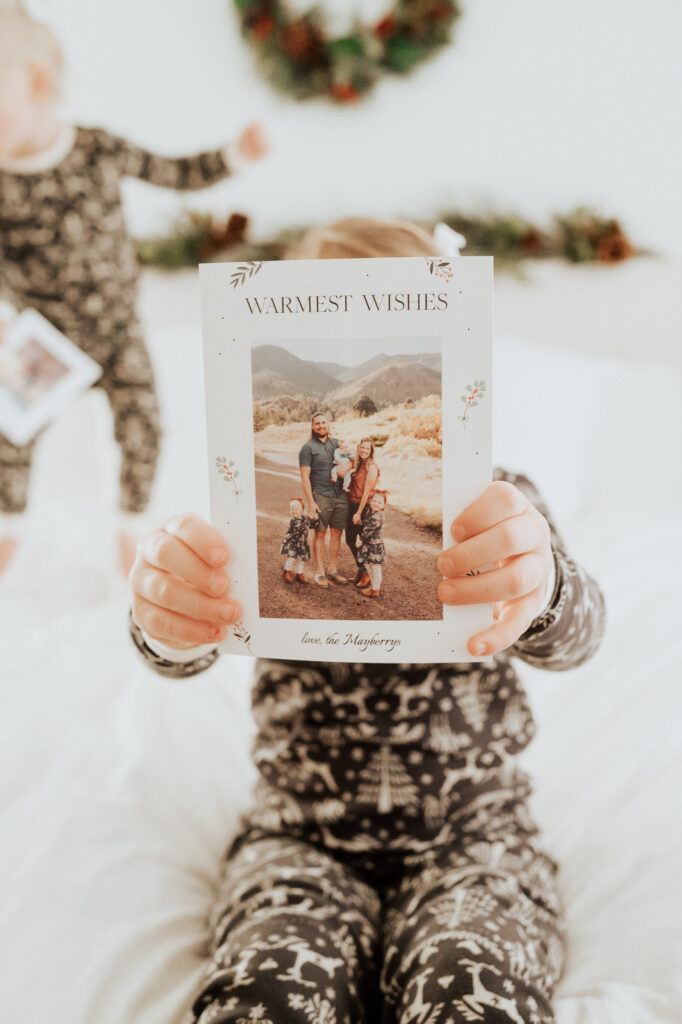 And because I am super into gifs these days, here is one of our Christmas Cards magically dancing around the page! I don't have Instagram anymore so you get these *extra* thing here whether you like it or not 😉 Merry Christmas!