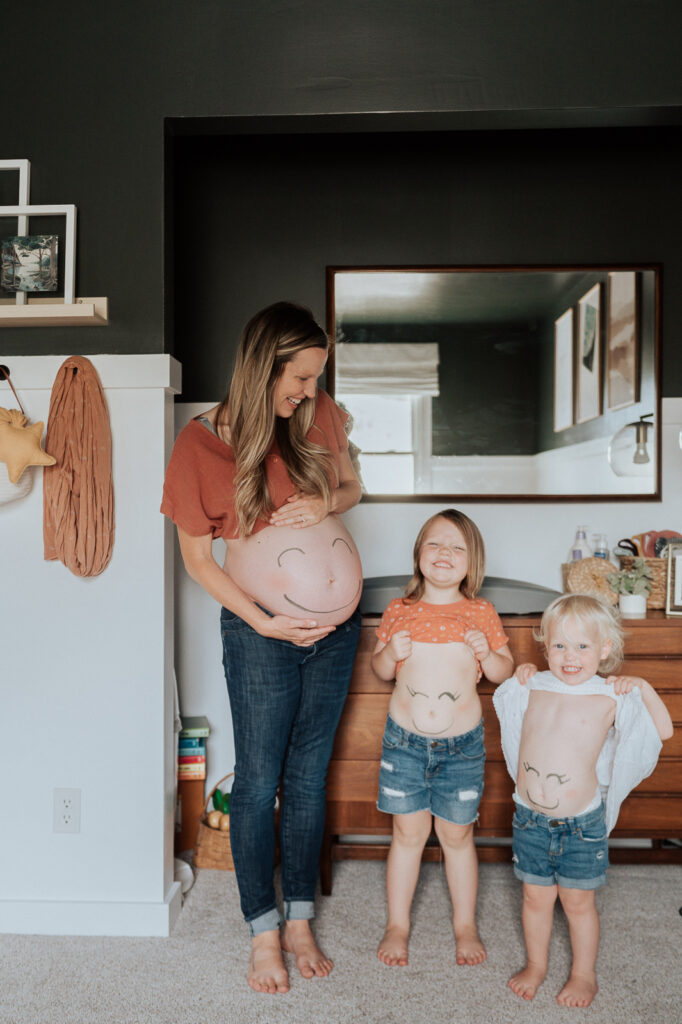 And the belly faces made it in! We procrastinated a bit this pregnancy with our to-do list so these last weeks/ months have been CRAZY. We totally redid and FINISHED two bedrooms (the guest bedroom and the nursery) so that took up a lot of our time and energy! Room reveals coming after I get settled into this new season … so unknown timeframe 😉 But belly face photos in the nursery were also on that list because I am a sucker for TRADITION!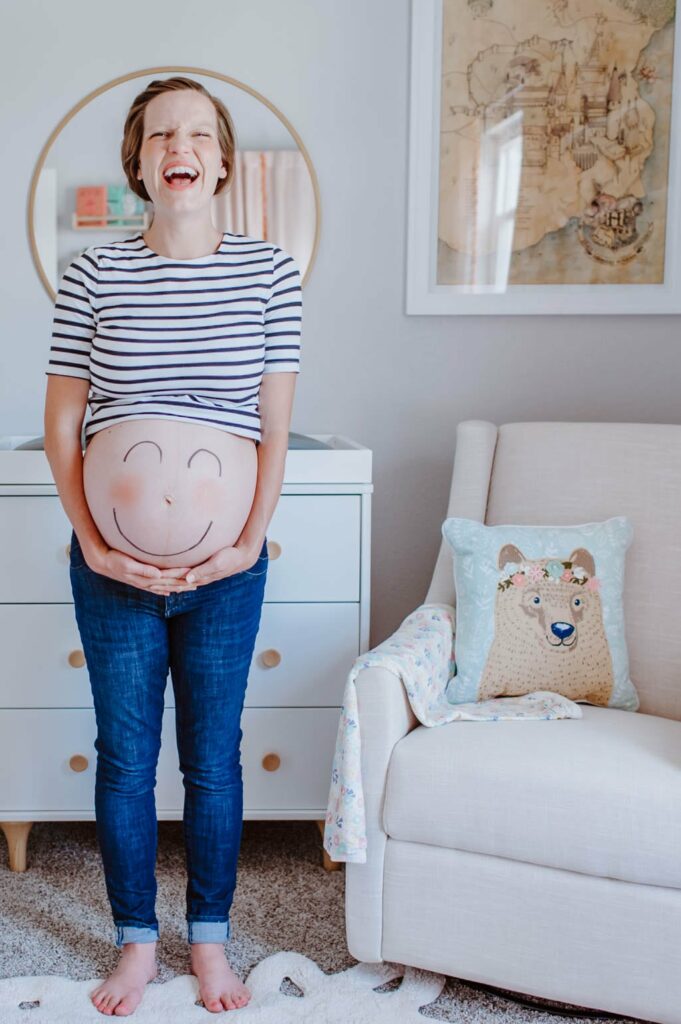 It started with Hilde in 2018 when I wanted to do something fun to mark her due date and I continued it with Millie in 2020 although we didn't make it to her due date. Got to love a good photo side-by-side showing how my style has changed/ remained the same over the years!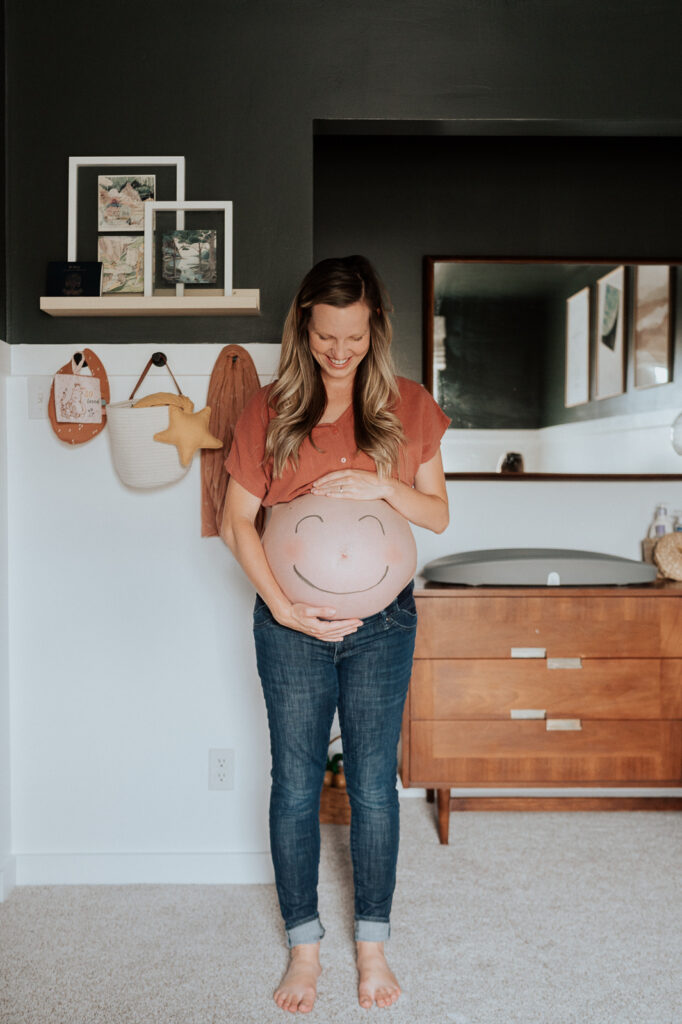 This year introduces a twist on the old classic! A boy nursery, moody colors (I mean, we totally painted the ceiling DARK!), and surprise belly appearances from my first two belly buddies! When Bruce started drawing my face, the girls immediately wanted in on the fun! That is something that has been very different this pregnancy – children who are aware what is going on! Hilde was soooo young when I was pregnant with Millie/ when she was born that she didn't really process or participate in the journey. But these girls are very aware that baby brother is coming and very aware of my growing belly, feeling him kick, and treating me gently 😉
"Mom I'm so excited that we can throw things on you again when the baby is out and you are not pregnant and fragile anymore!"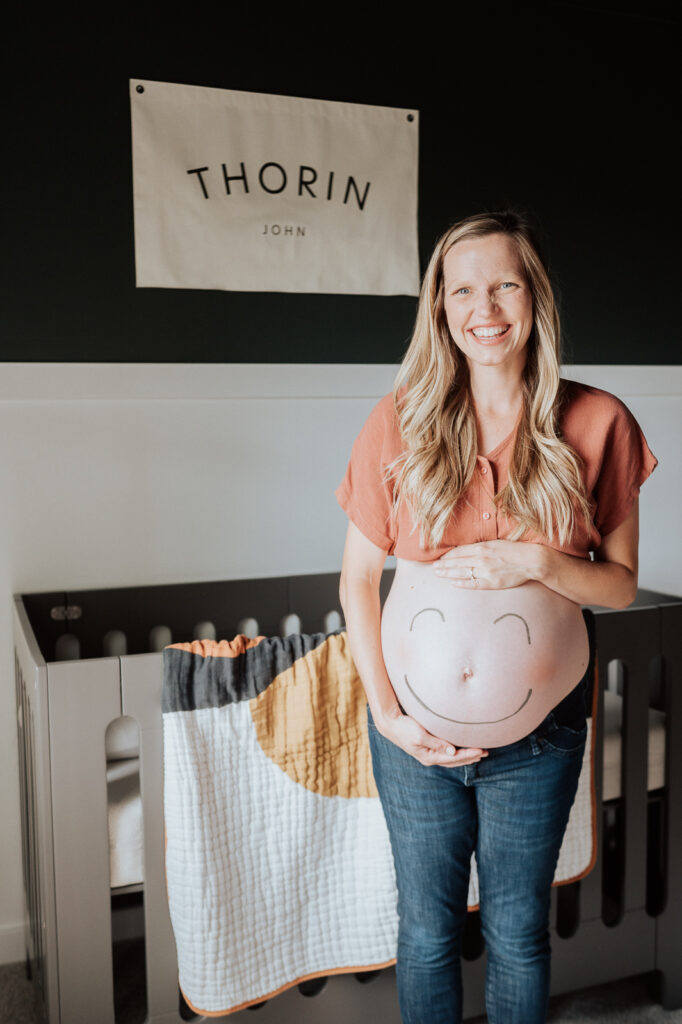 After the longest time trying to pick a name for baby brother, we finally have one and made it official with a name sign. The girls have matching/ opposite Trendy Timber signs but we did something new for him. Since he is a boy, I feel like we have tons of room for switching things up a bit which is exciting! I found this Canvas Name Flag on etsy by Cherie Kay Signs and I LOVE IT! It is perfect for our little man… Thorin John Mayberry!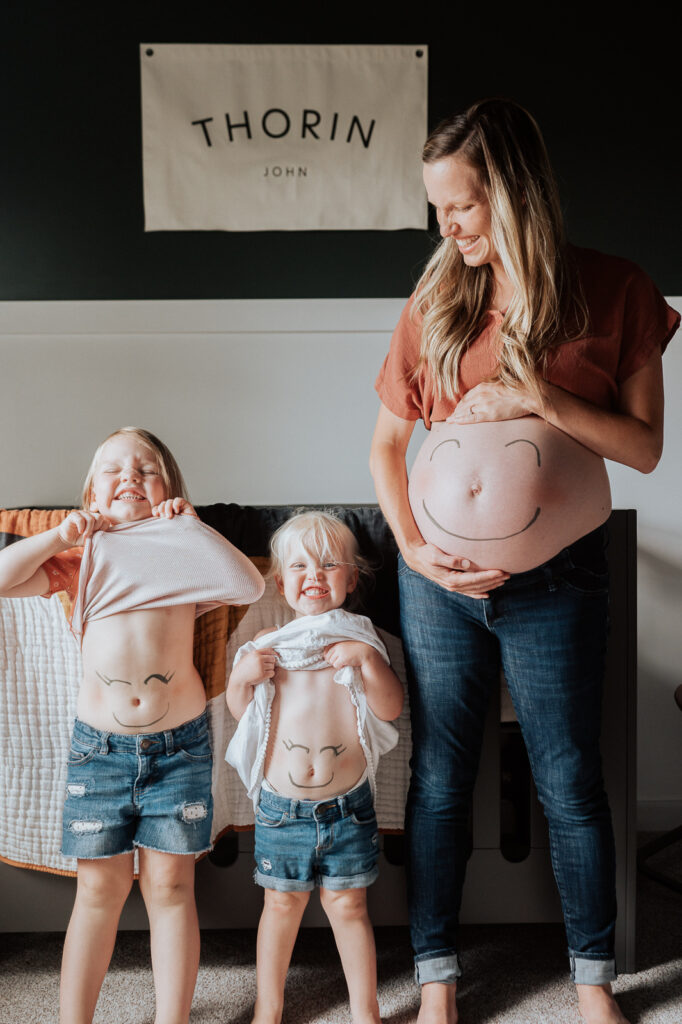 Thorin is a Norwegian/ Scandinavian name meaning "brave, daring one". You may also recognize it from a classic piece of literature by J. R. R. Tolkien 😉 and John means God is gracious! It is also both my Maternal Grandfather's and Bruce's Paternal Grandfather's name making it special to us and completing the tradition of middle names (Joy from my Paternal Grandmother and Bea from Bruce's Maternal Grandmother!) Mayberry means City on a Hill and I'm just praying over this brave, daring man graced by God – that he would be a light, a city on a hill to this world!
"You are the light of the world. A city set on a hill cannot be hidden. Nor do people light a lamp and put it under a basket, but on a stand, and it gives light to all in the house. In the same way, let your light shine before others, so that they may see your good works and give glory to your Father who is in heaven." – Matthew 5:14-16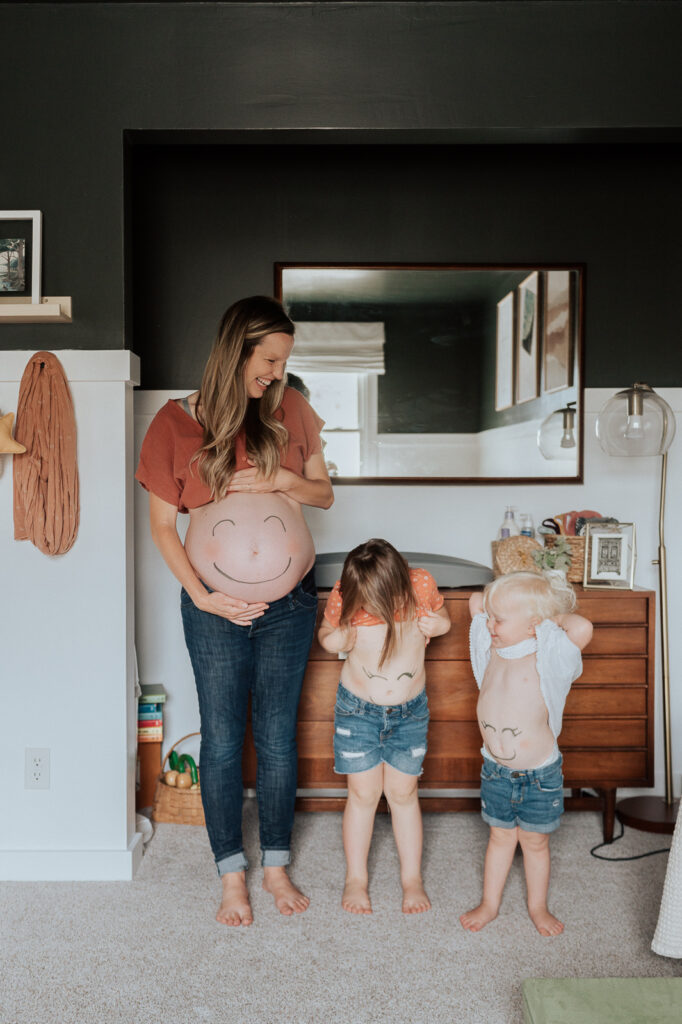 We hope you enjoy these happy belly faces!! And Thorin, we can't wait to meet you! You are already so loved!!!