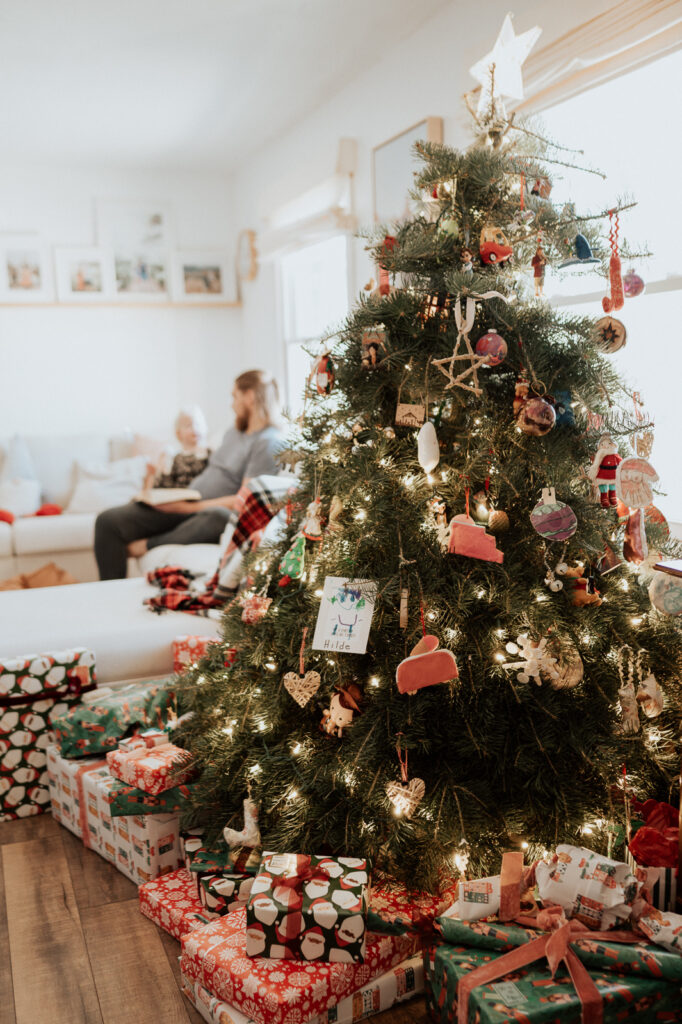 I wake when the kids wake. The sun pours through the window and Thorin greets me through the monitor with his coos. Most mornings I try to steal a couple more minutes of sleep but not today. No today is a special day. I can already hear the girls digging into their stockings and discovering the thrift store Barbies and costume jewelry I shoved inside them the night before. I knew they would be just as excited with thrifted finds as new and it felt good not only financially, but sustainably as well.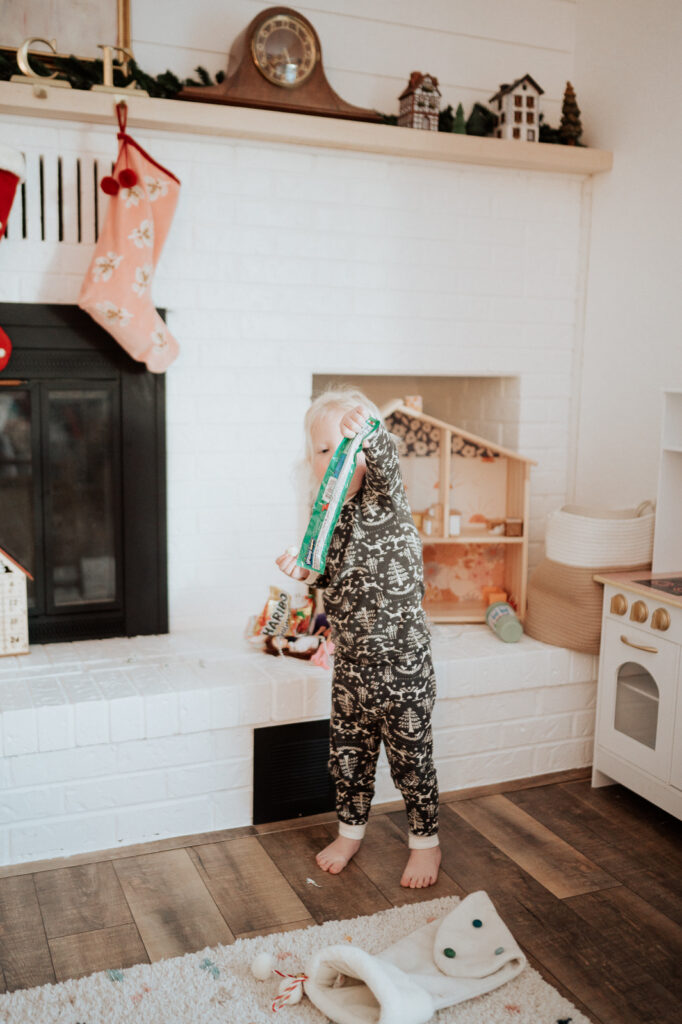 I shout down the stairs at Bruce the location of the camera but it is already in his hands – he loves photography and these moments just as much as I do (why do I worry?!) I change Thorin and put him in his Christmas pajamas, too scared to let him actually sleep in them the night before in case of a blowout! Then we descend into the giggles and Christmas music below.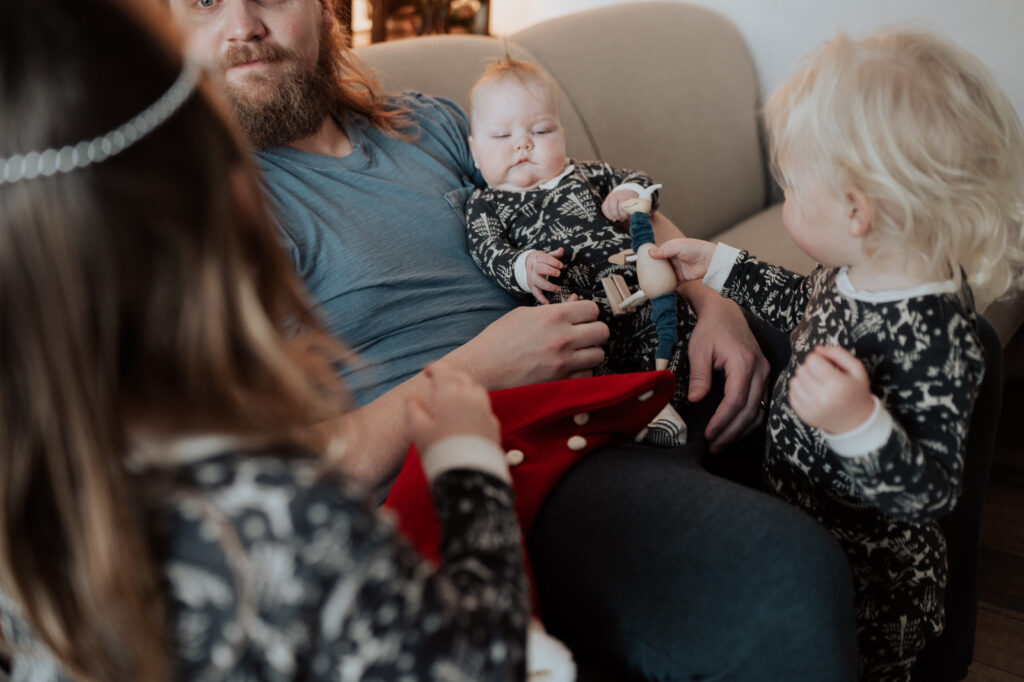 I place Thorin in the safety of Bruce's arms as his sisters try to smother him, heading to the kitchen to get my monkey bread in the oven. It rose so well that I had to push down the balls of dough to add my sugar and butter mixture before baking. I've been making Monkey Bread every Christmas morning for the last 10 years (it was one of Bruce's childhood traditions that we kept when we merged our lives) but this year I did something new & made it all from scratch using my sourdough starter.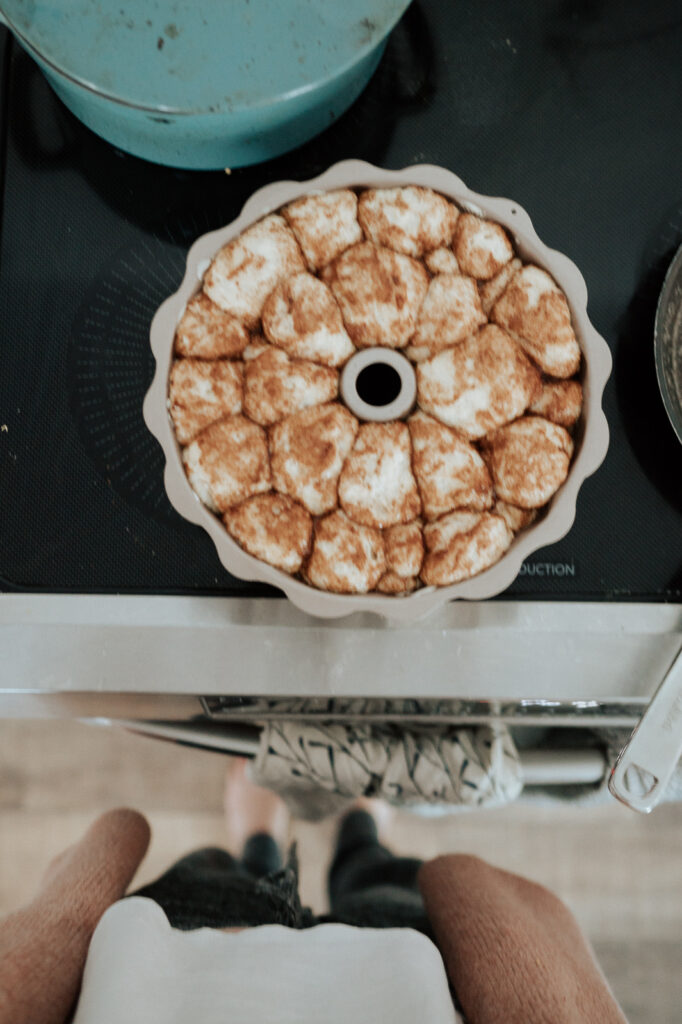 The Monkey Bread bakes in the oven and the smell of cinnimon sugar quickly fills the house. I wash & cut the berries and set the table with whipped cream. What else is Christmas morning for than a bit of indulgence?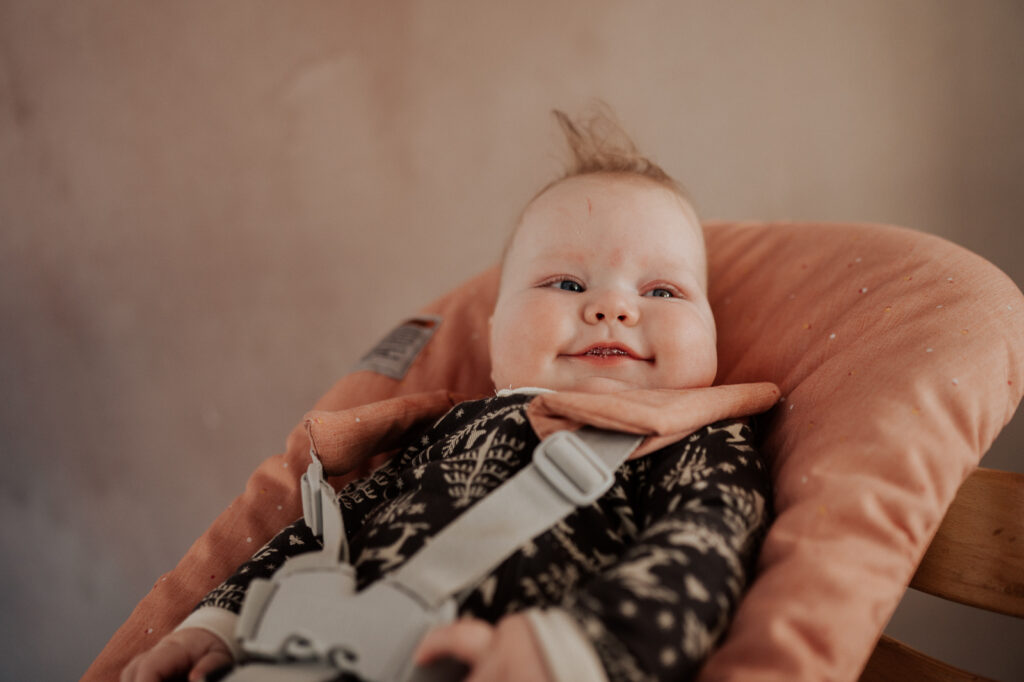 Bruce reads the Christmas story, I sip my coffee, and Hilde chimes in excitedly with her knowledge – "Mary is Jesus' mom!", "Joseph is the dad's name!", "Jesus was born in Bethlehem (pronounced BETH-LEE-HAM) in a MANGER!", "The wise men followed the star – don't forget that part!" I smile aware and grateful that it is talk of Jesus that has dominated our Christmas morning, not Santa.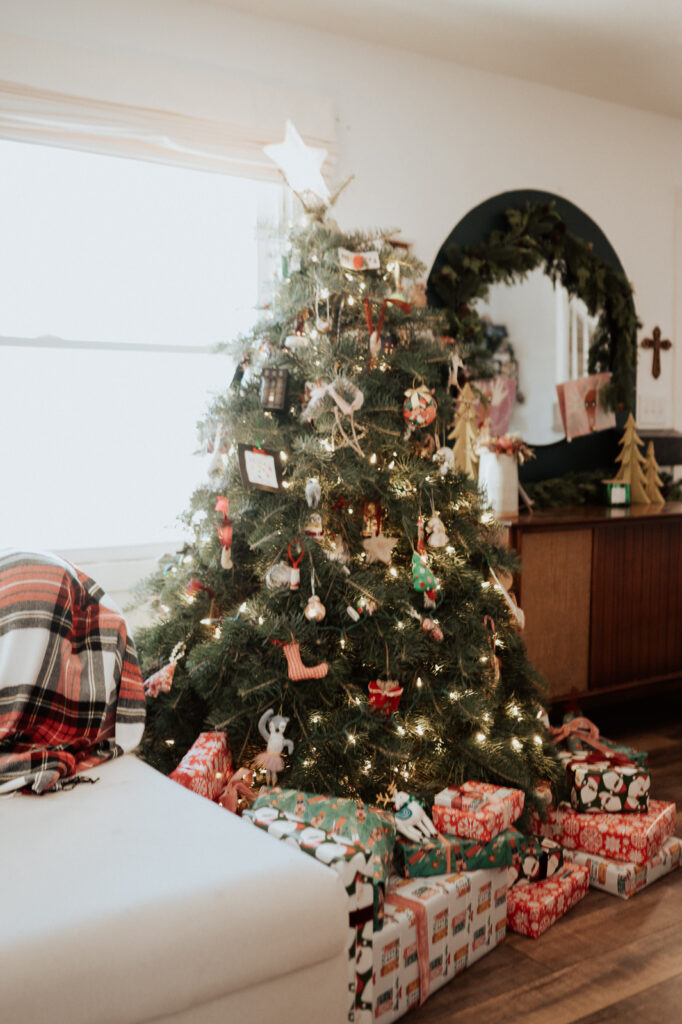 I look at the tree piled high with gifts. We did four gifts each for the kids, plus a couple for ourselves, and then the girls each got a gift for each other yet I am still blown away by the sheer volume. Part of it is now being a family of five, but I feel a tinge of guilt. I just really want to make sure to cultivate gratefulness, contentment, and not excess in our home. We open gifts slowly – one at a time – allowing for admiring & thanking.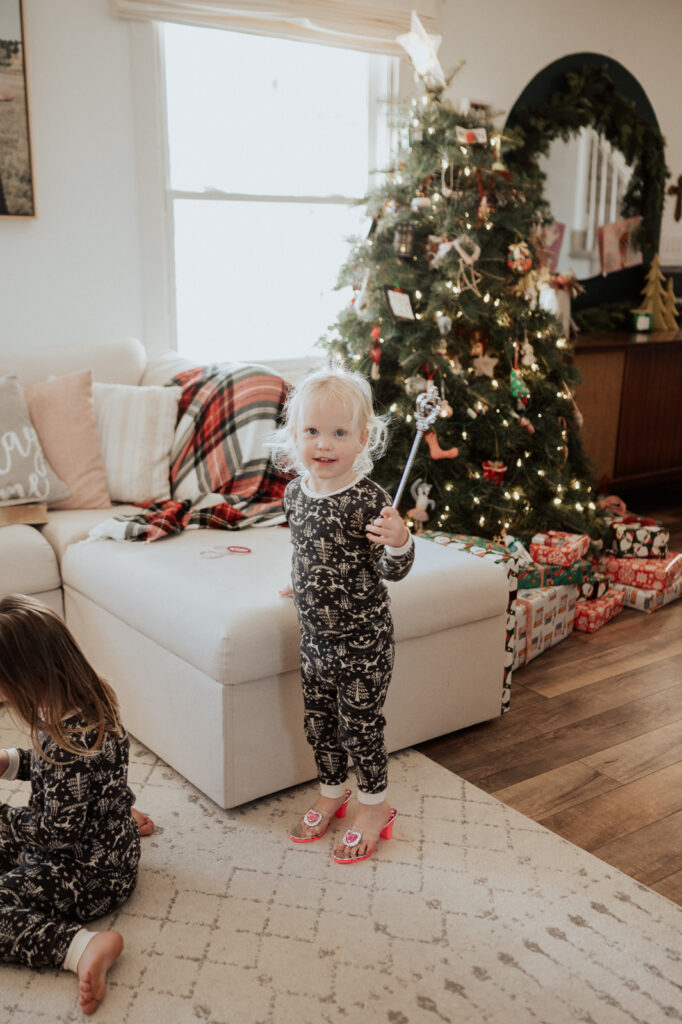 The song changes on our Christmas playlist and the girls join in signing "Oh Come Let us adore Him!" Millie proclaims it is her favorite Christmas song but then claims the next song "Sounding Joy" as her favorite as well. They are both worthy competitors, I don't fault her for her flip-flopping.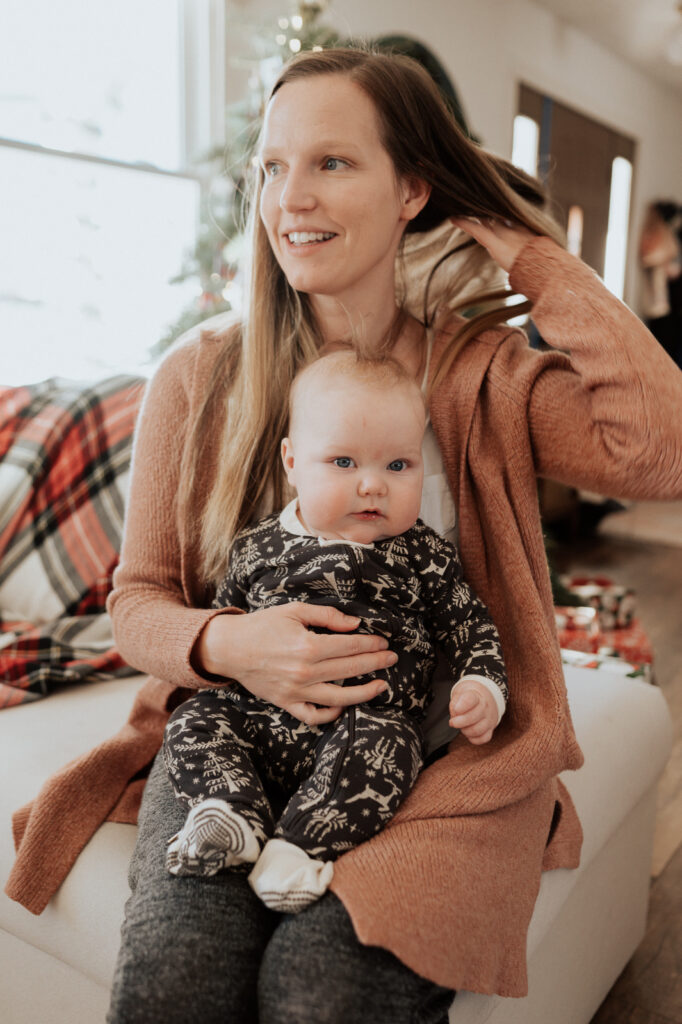 We have nowhere to go and no place to be so we just stay in the moment. Celebrating the birth of our Savior, Immanuel, God with us. Our little, wonderful family joining in with the weary world rejoicing. I pour another cup of coffee and forget to look at the clock as we dig into our new toys and sing more of our favorite carols. And like Mary, I find myself treasuring up all these things and pondering them in my heart.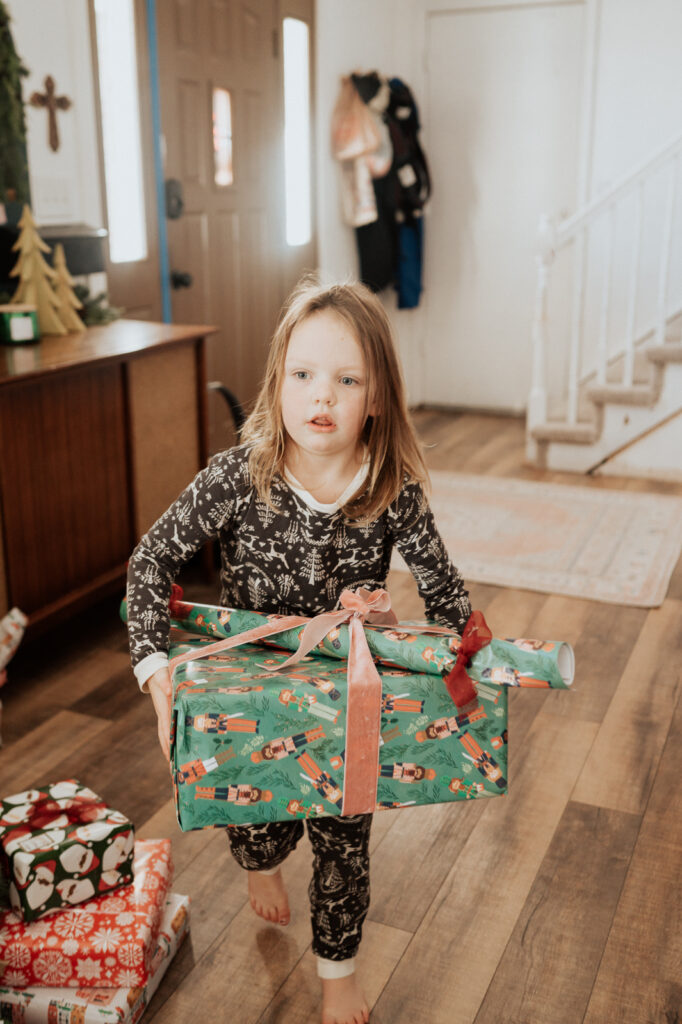 "For to us a child is born, to us a son is given; and the government shall be upon his shoulder, and his name shall be called Wonderful Counselor, Mighty God, Everlasting Father, Prince of Peace." (Isaiah 9:6)