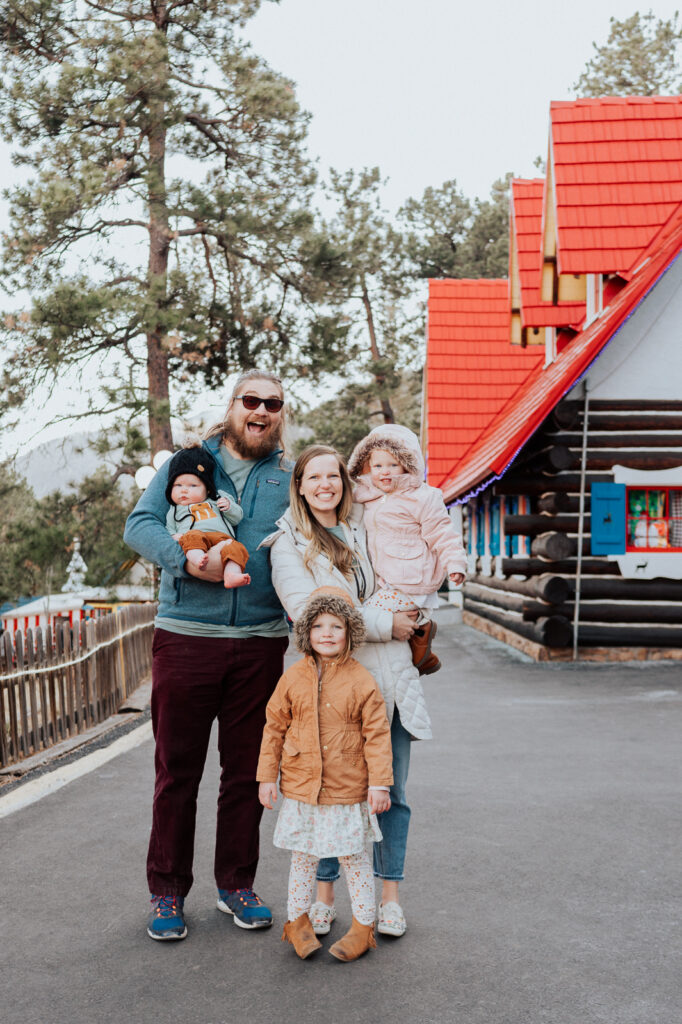 Two years ago we went to the North Pole during the Christmas season. It is always Christmas at the North Pole no mater what time of the year you go, but it was so magical to go as part of our holiday festivities in 2020, we braved the cold to do it again this year! We wanted to go last year but alas, my first trimester sickness had us skipping most Christmas activities (at least we got to the Gaylord Rockies Christmas event!) This year Millie was out of the stroller, running around, and riding all the rides – and the stroller had a new resident 😉
We went with our BFFs the Mays now that they live in Colorado again and we make them hang out with us all the time! There is a charm about this festive amusement park – it is as if it is stuck in time. It looks the same as it did 25 years ago when I would go as a kid and I'm sure the same as it did when it opened in 1956!
The thing about the North Pole is that every ride goes in a circle – which is perfect for children and less than ideal for adults. I only braved a couple circle rides and they about did me in! HAHA! Hilde (thankfully) is tall enough to go on most by herself! Leaving Bruce and I to take turns with Millie – and by "take turns" I mean Bruce mostly.
We went on Black Friday as a Welcome to Christmas season celebration right after Thanksgiving and that was a lot of fun! We may make it a tradition for these kid years! It's so fun to carefully curate and pick those holiday celebrations for our kiddos. They just keep getting older each year and really jumping into these experiences! It melts me!
PS: I also just noticed that Hilde's coat from 2020 is the one Millie is wearing in 2022! And Millie's hat in 2020 is what Thorin is wearing in 2022!!! YAY for adorable hand-me-downs!