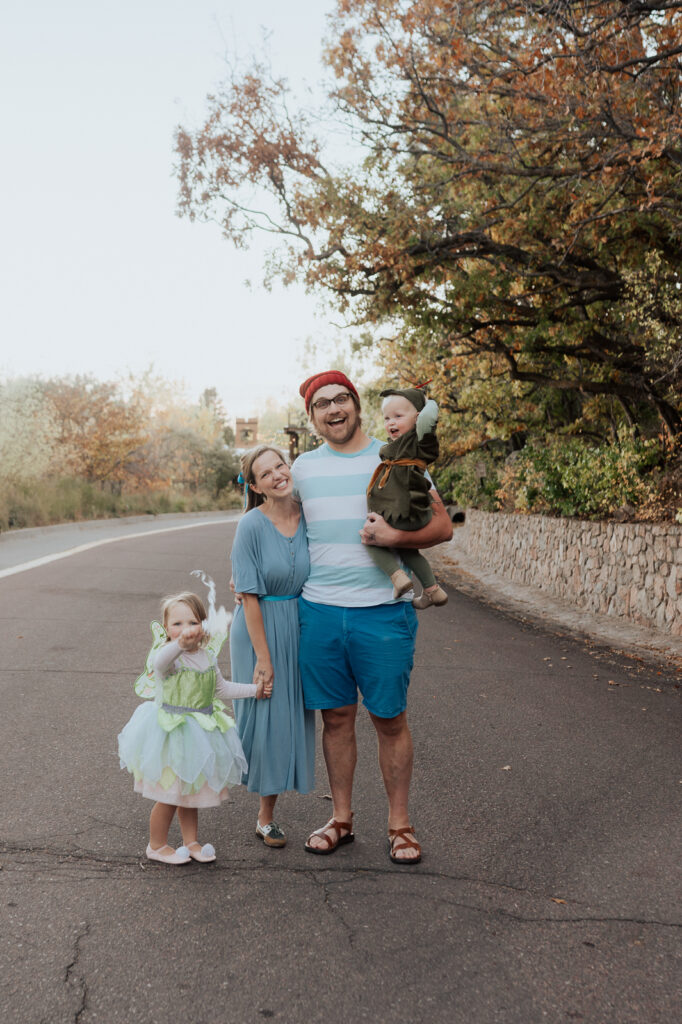 …. and the family costume is, PETER PAN! We threw out several ideas leading up to October and we were having a hard time picking which idea to move forward with & start creating. We always love a good family costume and have done Winnie the Pooh, Jurassic Park, Harry Potter, & Wayne's World in the past. And I always love time to thrift, make, find, and create some homemade-ish Halloween Costumes for us so we typically start the Halloween Costume ideas early! The year we did Mickey's Not-So-Scary Halloween Party was even earlier because we went the first week of September!
All that to say, our costume was finalized when we were thrifting one Saturday morning in September and our 3-year-old saw a Tinkerbell costume. That was it. That is when she needed to be Tinkerbell for Halloween and the rest of us fell in line!
Peter Pan felt like an obvious choice for Millie! Historically, Peter has always been played by a girl in the musical and Millie gives off some serious Mary Martin vibes! I also thought making a Peter Pan costume in 2T would be less fabric & easier than adult size! Then we threw around ideas for the adults – Smee & Hook, Wendy & john Darling, lost boys, Rufio & a mermaid… but we settled on some easy to create for adults costumes – Wendy & Smee. I didn't mind Wendy since I would get to wear pajamas and Bruce didn't mind Smee because shorts & t-shirts are his go to fashion!
We took our costumes for a spin at Boo at the Zoo! It is one of our favorite Holiday traditions at our local zoo and we go every year! If you are a Colorado Springs (or surrounding area) local, you need to check out Boo at the Zoo at Cheyenne Mountain Zoo! Last year was FREEZING. It got a record for coldest recorded temperature on that date but you buy tickets ahead of time and it is a rain or shine (or snow!) kind of deal! So when we got tickets this year, I obsessively checked the weather for our date and was ecstatic that this year we picked one of the warmest nights to attend! It was in the 60s!!!
We also tried out our new wagon for the first time and it was magical. It has stayed in our car ever since and while I am morning the fact that my girls have outgrown our stroller, I'm so thankful for an easier way to cart them around! For those of you who are interested, I did a bunch of research and decided that the Evenflo Pivot Xplore All-Terrain Stroller Wagon was the best wagon for us. It got so many great reviews and now we are one of them! We love it!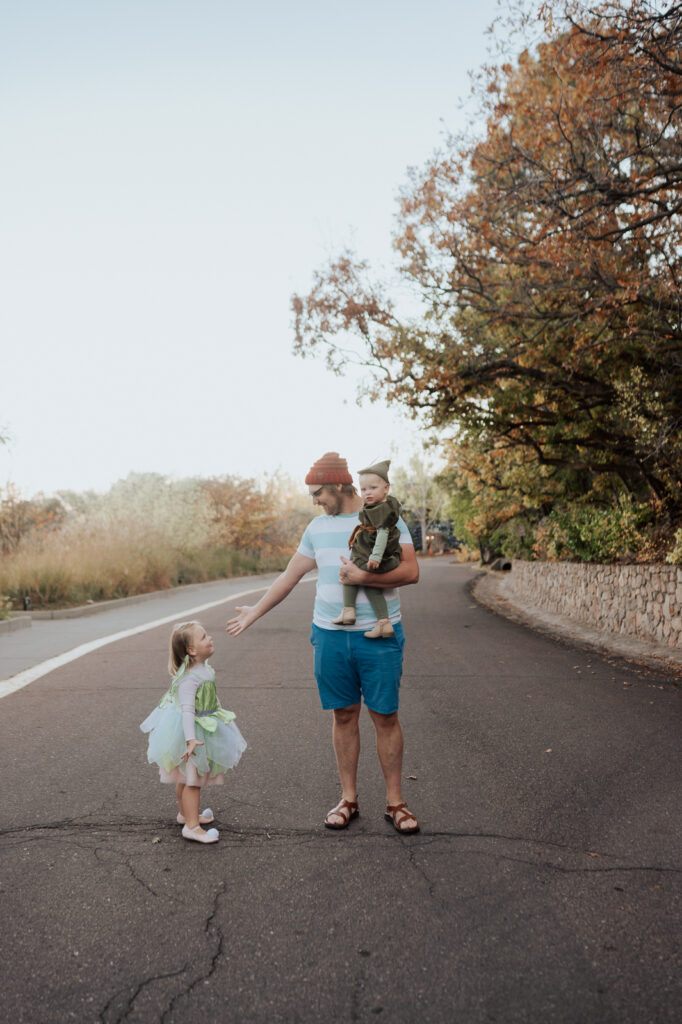 Whew, lots of pictures! Thanks for scrolling all the way through that! And if you have been waiting for the costume breakdown, here it is!!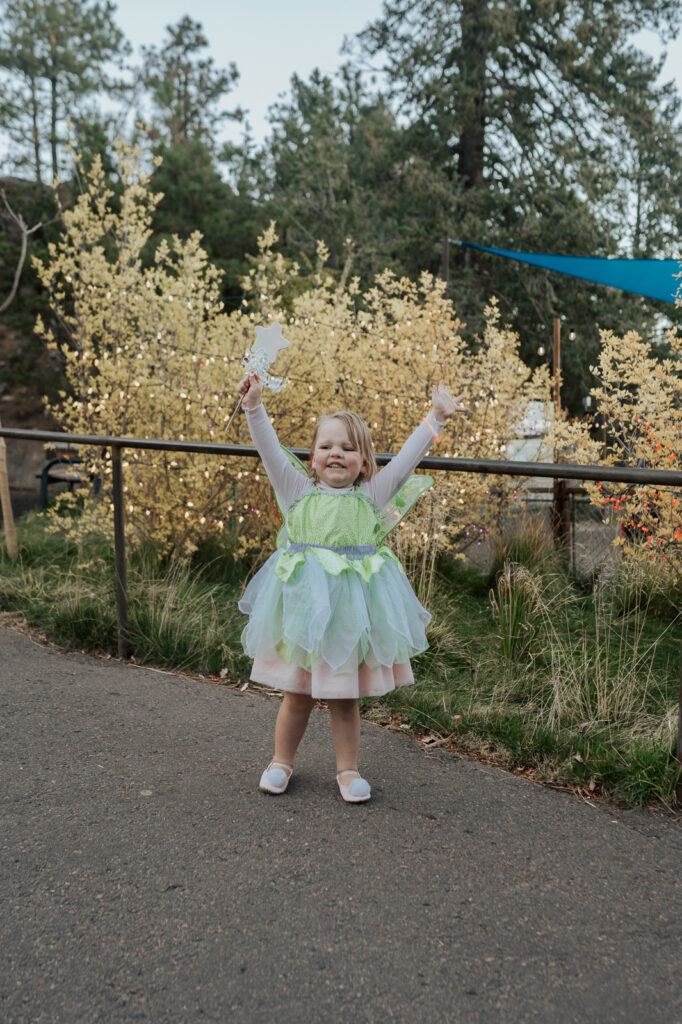 Tinkerbell
"All it takes is faith and trust, oh! and something I forgot: dust."
Thrifted Tinkerbell Costume. We found dozens of these in our area so it is very doable! You can also pick one up on Amazon if you don't like the hunt! I found ballet flats in her size for 97 cents at a thrift store and added a giant pompom to the front from a bag I got at Hobby Lobby! She is also wearing her Epiphany dress underneath because we live in Colorado and I wanted long sleeves. The extra tulle was an added bonus! While I was at Hobby Lobby, I also picked up a wooden stick with a start on top for $1. I took that home, added some glitter spray paint, and tied on curled ribbon I had left over from our Spooky Halloween Ghost craft!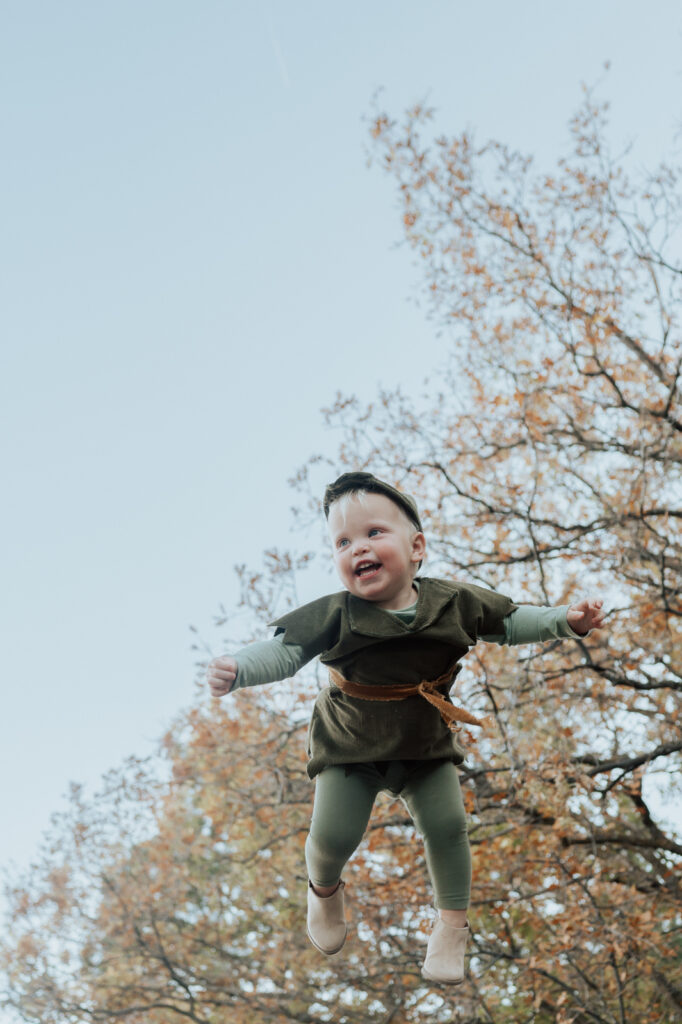 Peter Pan
"There it is, Wendy! Second star to the right and straight on 'til morning."
This is the one we made! I found this green fabric at Hobby Lobby and bought a yard of it. I knew that was more than I needed but it was on sale so I only paid $5. It also allowed for mess ups! My mom helped me make this! She always helps me with my costume dreams! Like the Dinosaurs & Piglet. We went with a tunic shape and then tied a brown ribbon around her waist to be the belt! I made the hat and it was a process but it turned out! I mostly kept sewing and ironing until it took shape! Then we added a red feather! The leggings are Old Navy and were already in her closet as was the green long-sleeve she is wearing underneath. Those tan boots I found at a thrift store this summer and thought they were perfect for fall! They ended up being prefect for this costume too!
Wendy
"Well, a mother, a real mother, is the most wonderful person in the world. She's the angel voice that bids you goodnight, kisses your cheek, whispers 'sleep tight.'"
I went to five thrift stores looking for a blue nighty and couldn't find a thing! I was for sure this was going to be easy to find at a thrift store but I started freaking out when I couldn't find anything. Then I remembered my best friend has a Dwell & Slumber nighty in blue so I texted her and asked if she could mail it to me! HAHA! I also have one in the white and black stripe (SOOOO perfect for maternity and nursing!!) but that wasn't on brand for the costume. She mailed it and it arrived in time! It ended up being perfect! I bought some ribbon to tie around my waist with a bow and then to make a bow for my hair! I wore my Sperrys because they were the closest thing I had to slip-on night shoes and I think they worked just fine!
Smee
"Now why don't we put to sea, see? Leave Never Land. Forget Peter Pan."
Smee was almost super easy but that shirt gave us a run for our money! The shoes and shorts are already owned and wore by Bruce on the regular. In fact, they were both staples in his Christopher Robbin Costume 2 years ago! The hat I found on Amazon here & he wore his own glasses. Trying to channel is inner Smee, he trimmed his beard but left his sideburns long for some chops! He thought about shaving his face full on but we decided gong as a younger, hipper Smee was more in our wheelhouse! HAHA!
Okay but the shirt. This was another one I was hoping to find at a thrift store but for weeks and multiple stores, I was getting nothing! So I decided to buy tie-dye and a white shirt and do my best to stripe it. It wasn't terrible but it wasn't good, the die was pretty blotchy, so the stripes we're not solid. But then my mom saved the day! She was unsure my tie-dye would look good (thanks mom 😉 ) so she went thrifting morning of and found this shirt! It was incredible! So I started a load of laundry to get it washed & dried and ready for our costumes that afternoon!
When there's a smile in your heart, there's no better time to start.
Think of all the joy you'll find when you leave the world behind and bid your cares goodbye!
You can fly! You can fly! You can fly!