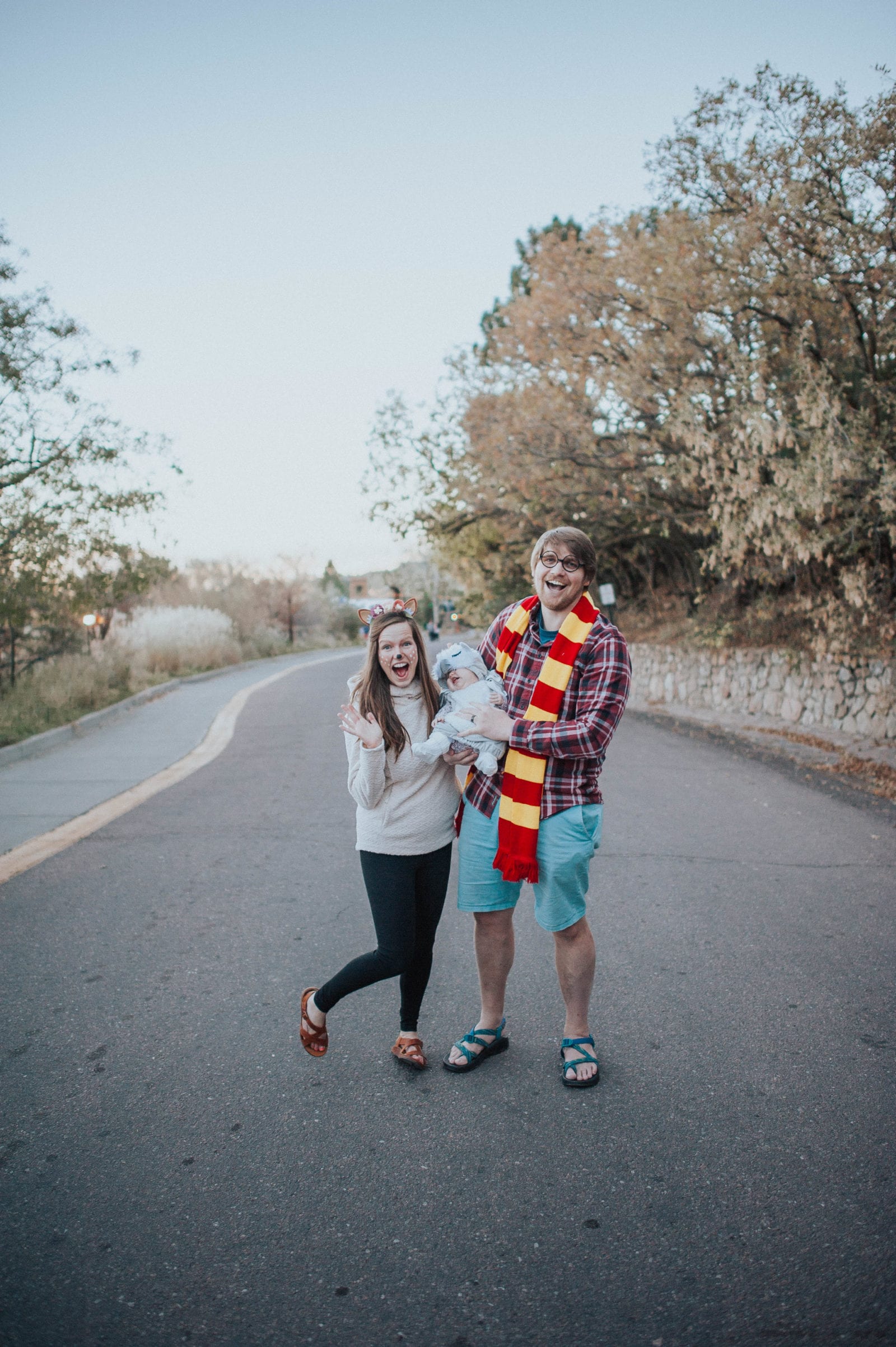 Boo! We are zoo members at Cheyenne Mountain Zoo and have been for years but we haven't gone to Boo at the Zoo until now because now we have a kid. It is pretty much the best excuse to trick-or-treat! We dressed up as Harry Potter characters. This isn't the first time we've done this, Bruce and I were Ron and Hermione one year. What, we like HP, so sue us! haha. This year we have a third and she is about the size of an owl. When I saw this consume at Target, I knew she would be Hedwig! Making Bruce Harry Potter in the flesh and me his patronus…or Snape's patronus because I'm more a doe than a stag.
We met up with Bruce's Sister Greta and her daughter Elsie as well as some friends to go around the zoo and trick-or-treat! Hilde slept nearly the whole time. She loved how cozy that owl costume was! I was afraid it would bother her and she would be sad when we put her in it, but the opposite happened and she was sad to be taking out to go in the car seat! haha. Speaking of Harry Potter, I don't know if you noticed Hermione and Hermione's Mom (the dentist but in her normal clothes.) They joined us in our HP gang. They are reading Harry Potter out-loud a bit each night so Elsie has been super into Harry Potter and loves to talk with us about it!
I love events like this!
Bruce and I didn't get tons of candy but we did already eat it all! haha. I'm excited for Halloween night when we dress up again to trick-or-treat with the whole family. We'll probably leave Hilde's bucket at home… because clearly the candy is for us and not her! I do love the fun photos we got from this year's Boo at the Zoo and I cannot wait to compare them to next years photos!
Do you have any fun trick-or-treating near you?! What are you dressing up as this year?
PS: My ears are from Treasured Peach and the HP scarf is from Amazon.