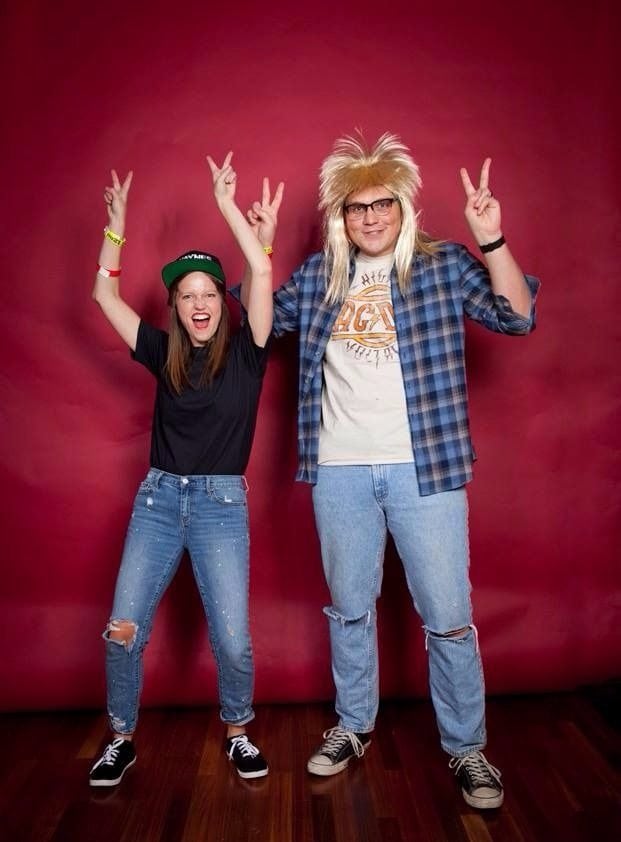 Garth & I would love to wish you a Excellent Halloween 😉 I don't know what you have planned but Bruce and I went to a Halloween Costume Party at the Fine Arts Center this year. It was the first time we went to an organized event like this – not just friends houses or trick-o-treating! We loved it. We also shocked a lot of people because I shared  a last minute costume post on my blog (Mickey & Minnie) but already had Wayne & Garth picked out for a Wayne's World-y Halloween!
Not trying to brag or anything, but we were a little bit of a hit! We had people like Darth Vader and Pennywise quoting Wayne's World at us all night. Bruce and I also made sure to get a lot of "Party on Wayne & Party on Garth's" in throughout the night! The best part about this couple costume is that you probably already have a few of the pieces in your closet! The rest you can thrift (like jeans to rip) or order on Amazon! Party On! Excellent!
Wayne & Garth
Black Crew Neck || Ripped Jeans || Converse (or fake ones) || Wayne's World Hat
Classic Rock Band T-Shirt || Blue Flannel || Ripped Jeans || Converse || Wig & Glasses 
What are you plans for the night? Going out? Staying in? Finishing up Stranger Things?
Photo by Fred Greenwood Photography