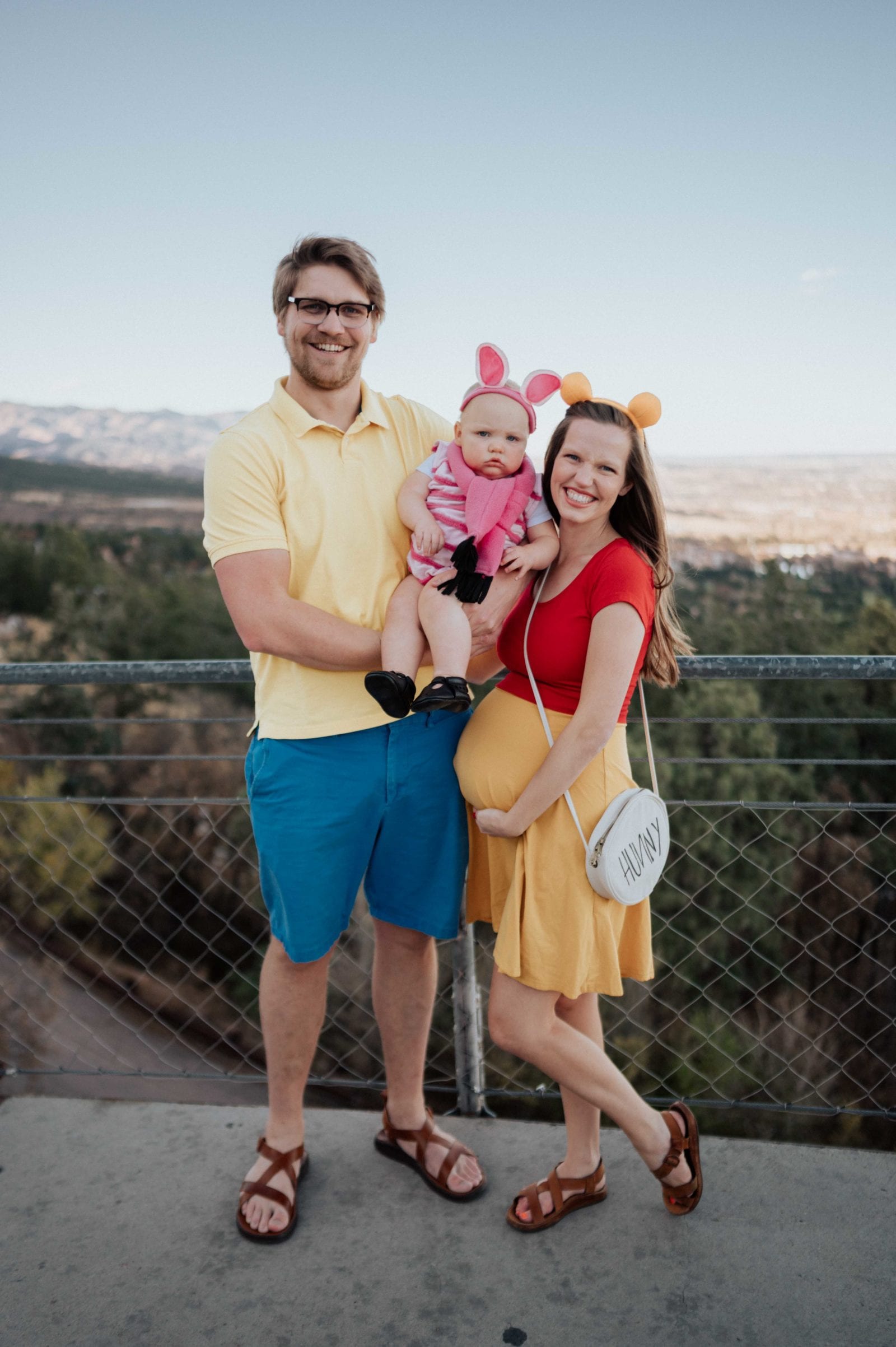 Family costumes year 2 and we're back at Boo at the Zoo! Last year I remember thinking that Hilde would probably be walking by this year's event and she was! You can see a very confused Piglet in most of these photos and I think it's adorable! She waddled around and held out her pumpkin for candy but couldn't figure out why people kept giving her stuff – also why dad and I kept taking treats back out of her bucket and eating them!
Can you guess our family theme?!? Winnie the Pooh! I am Pooh Bear with a big ol' belly full of honey (or hunny) and Bruce is the one and only Christopher Robin. Our littlest is Piglet and my mom made that costume for her! It is perfect in so many ways! Enlisting my mom in Halloween costumes was one of the best decisions I made this year and I don't know if she knows what she got herself into 😉
My sister-in-law and niece joined us again! When they release the dates for Boo at the Zoo we get tickets for a night that we can all go together! Elsie was Super RZ which is a superhero she made up and I think that is pretty awesome! She also designed her own costume and spent a lot of time putting it all together! #proudauntie!
The weeks leading up to Halloween, she has been teaching Hilde how to trick-or-treat. She would make her practice walking with her bucket around the house and Elsie would put little blocks in it and pretend it was candy. It is so fun to get cousin time – I love the relationship they have even so many years apart!
We happened to go on one of the warmest nights which worked out really nicely for us because our costumes were not super "Colorado" proof. The night after ours snowed the whole time! YIKES. We only had to put on light jackets when the sun went down.
  GET THe Look
Pooh Bear: 
Hunny Bag (+ Sharpie)
Christopher Robin:
Piglet:
Are you into the family costumes? What are you dressing up as this year?