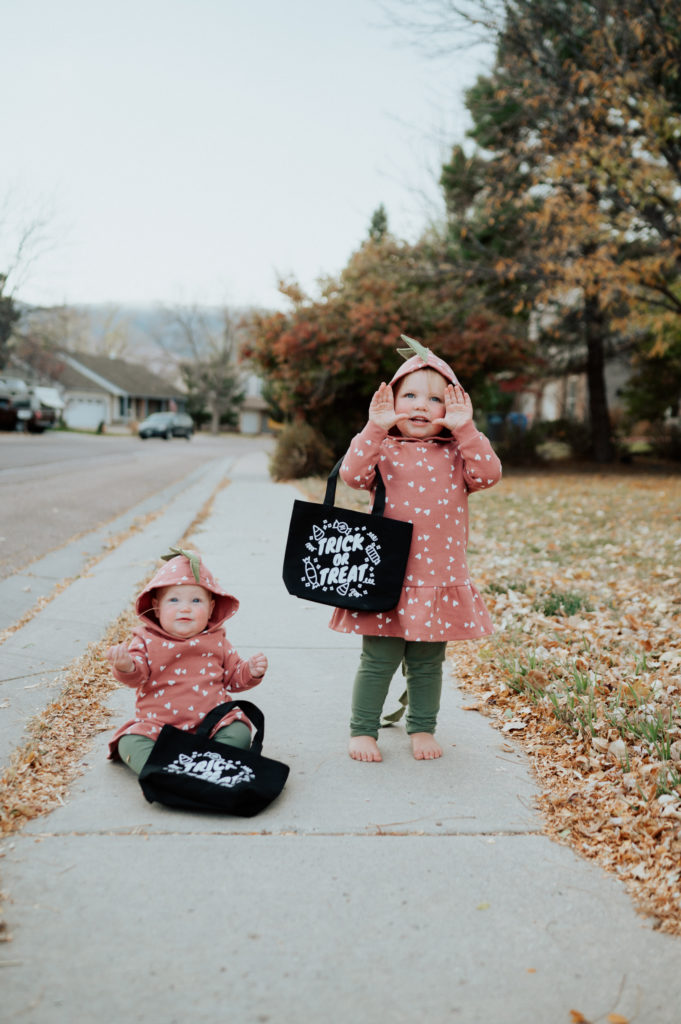 Last year my mom made a Piglet costume for Hilde and it was the cutest in all the land. I joked about it last year writing this post, but my mom has signed herself up for helping me with the girls costumes for the foreseeable future. If you follow me on Instagram you may have seen our family costume this year (CLICK HERE) It was Jurassic Park (more photos coming soon) but I had to share these little dinosaurs and their adorable (and layerable) outfits!
I love the look of homemade costumes – they bring a fun and nostalgic feel to Halloween. So while there are tons of dinosaur costumes out there, I wanted to make ours. And by that I mean my mom 😉 I was doing some Pinterest research which is scientifically proven to be the best way to research Halloween Costumes and I saw that having a hood was a great way to get those dino spikes all the way up to their head. So I went shopping.
I found these heart sweatshirt dresses from Old Navy and figured if I paired them with some olive leggings & dino spikes, we could pull of the dinosaur look while still being a bit girly! I just went to link the dress but it looks like they are all sold out already! Here is one on Amazon I found that would also work!
After I did the hard work of online shopping and waiting for my leggings & dresses to arrive, I passed them off to my mom who found the PERFECT matching felt for the spikes. She used the felt and sewed triangles to go all the way from the head and ending in a tail! She made it so that you can easily remove the spikes after Halloween is over and wear the sweatshirt dresses like normal. Although I may just keep them in because they turned out so cute!!
I also got these Trick Or Treat Bags from By the Light of Her Lamp and they are the best! So cute & fun and also really easy for a toddler to hold!