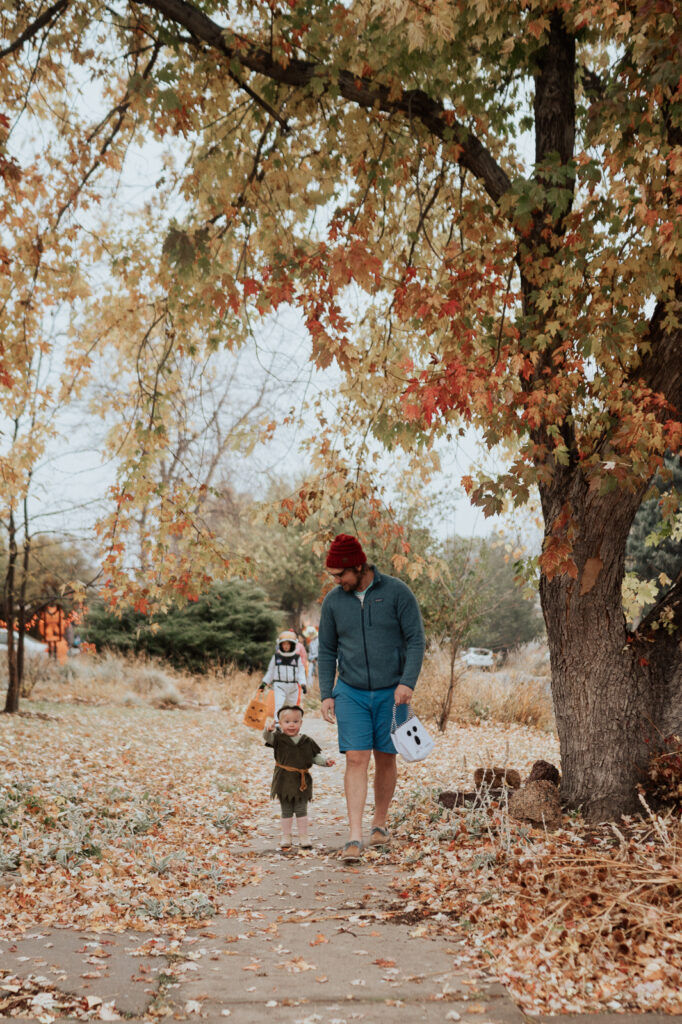 Halloween night looked magical this year. It was cold that's true, but also foggy and autumny! The leaves and the color of fall has lasted longer than normal this year since we haven't had our first big freeze/ snow yet! And everyone here cannot get over it! I mean, usually Halloween looks like this 😉
We went trick-or-treating with our cousins and ran into our friends midway which really just made the night the most magical for the girls! Hilde was VERY into trick-or-treating this year and Millie was VERY unsure about the shark (her cousin Ian!) She kept saying "Shark get you!" and refused to walk with the cousins up to doors with that shark around! Turns out it wasn't the inflatable costume that made her unsure because her oldest cousin Johnathan was the chicken and she loved that! The whole night she was pointing and saying, "Chicken!" and "Bwak, Bwak, Bwaaak!" I guess we just learned she doesn't like sharks – just like her mama!
We made it around the block and then the cousins let the girls eat too much candy 😉 but what else is family for!! HAHA! It was a magical Halloween!
Oh and we made a haunted house out of our Nuggets for some festive fun! Hilde enjoyed it much more than Millie but that's what happens when you wake up your youngest from her nap a bit early! See our Monster from last year!