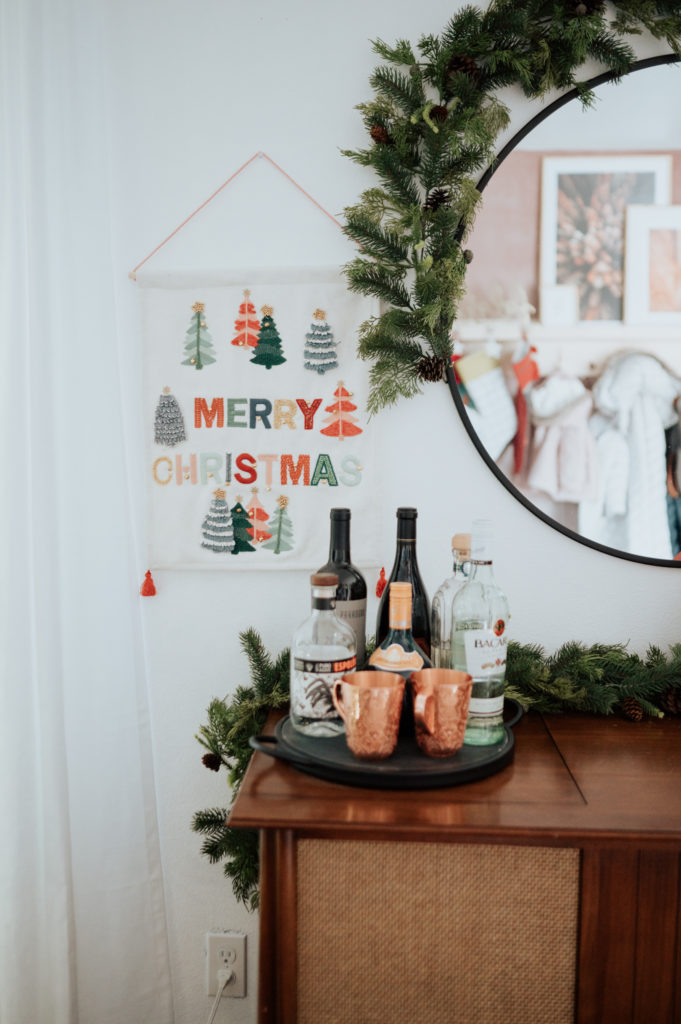 Our house feels so festive this year. Last year we were weeks away from giving birth and just a couple weeks into living in this house. I was spending more time unpacking, than decorating for Christmas. We still of course got a tree and put up decorations while we were unpacking (since it is the most wonderful time of the year) but this year I actually was established enough to make our home the most festive it has ever been. This house just has a better layout for Christmas than our old one did too! So I just feel like Christmas is everywhere. And it will only grow more each year 😉 Especially now that our storage space grew ten fold since the move!
Let's start the tour on the outside… at night. YAY! When we bought this house I knew that it would look good with Christmas lights on it and boy was I right! I actually went on quite the hunt to get these lights this year – everyone was sold out of the big fat bulbs when I started looking to get them AKA the weekend after Thanksgiving. After hitting up three stores, I got tipped off by a Home Depot employee to check another location in town and they were there!
Initially I wanted the ceramic colored bulbs (not the neon ones) but those were sold out. The did have the neon left and the white so I went with the white. I'm actually so glad I did! I think its perfect for this little house of ours!
Next on the tour is our livingroom. Most of our Christmas is in this area since it is our main living space. The tree goes in front of the window because that is where Christmas trees go! And, just like last year, most of the ornaments are on the top half of our tree! HAHA.
This Merry Christmas wall hanging is new this year and it is perfectly my Christmas decor style & colors. I love it.
Here we see our annual gingerbread house! Sitting on our makeshift countertops in the kitchen. We make one every year with Bruce's family! This year Hilde made some tombstones for our yard so we're going a little historic with this years theme 😉
Back in our newly updated entryway, we have swapped out our posters for a Winter/ Christmas theme! I'm so into this idea and excited to switch it out to the spring and summer prints I ordered from the Poster Store when I got these winter ones!
I also finally made one of those orange garlands! I burnt some of them but I still like them!
The decorations keep going as we check out our yearbook wall. I got this Oh Holy Night sign from a friend a couple years back when she was doing an adoption fundraiser and I love hanging it up every year. Also Christmas pillows. I want all the Christmas pillows.
Moving onto the playroom. This is the room with the fireplace so it gets the stockings! I have this Merry Christmas stocking holder I bought last year when I knew we were going to need 4 stockings! And all the stockings are from Target as well.
I couldn't leave our bedroom out! I just love having a little festive spirit in our room. In fact, this is the first room that gets decorated because I have to start working on sponsored Christmas content early and I need a place to shoot it! (like this post and this one!!) My beautiful Calendar Girl is also wearing her December dress and looking cute!
It currently has all the wrapping paper and supplies because it's easy to just shut the door and keep the girls out!
Back downstairs to the half wall between the kitchen and the playroom. All our Christmas toys + books that only come out for the Christmas season are on this shelf. Growing up we had a box of Christmas themed toys & books that were only for Christmas and it made them extra special. I loved that and so I am making one for our girls as well.
Also the giant wreath of Christmas cards fit nicely on this wall so I hung it up! A couple years ago I settled on displaying Christmas cards this way and it was a good choice!
Moving into the kitchen and dinning area (will this tour ever end?!?) Christmas advent, Christmas tree, Nativity mat, and Santa mugs.
Ending the tour with our outside in the daytimes. Our mini tree (that we used here) and some of my childhood ornaments that Hilde added to it! A wreath, a mat, and a sign that I made at AR Workshop last year with my sister-in-law!