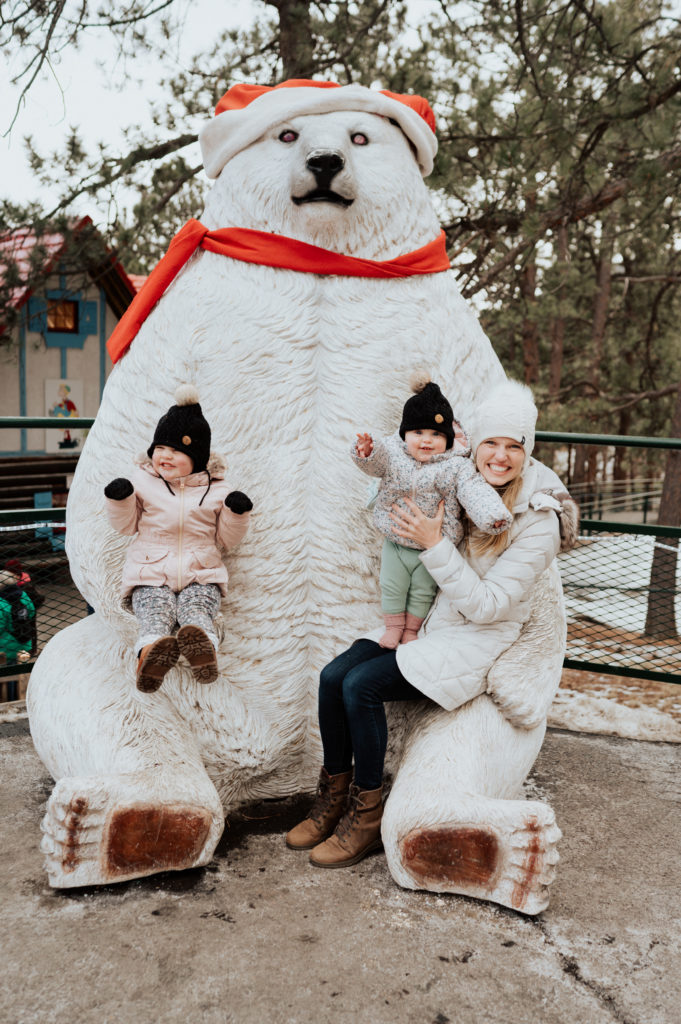 Last week I told Bruce I wanted to do something fun and Christmasy with the girls. I came up with a couple things and the North Pole was one of them (I was inspired by a friend's Instagram story!) The nostalgia won, and we ended up at Santa's Workshop. Both Bruce and I grew up going here and it was our first time bringing our own kids!
It was a bit chilly, a lot windy, but very magical. You'll never be able to tell from these photos but Hilde loved every minute of it 😉 She couldn't get over all the rides! Millie slept for most of it but got to pose with us in some photos!
Hilde was able to do almost every ride and it was such a pleasant surprise! I was trying to do some research beforehand and thought she could only do two rides. We were okay with that because we could still do all the shopping and photos and Christmas feels! But were even more thrilled when she got to do ride after ride!
And a ride moment I never what to forget – how every time she came around to us she waved and said "Hi Dad!" Never "Hi Mom" or "Hi Mil Mil" or even skipping a rotation. Just always "Hi dad" every time and it melted my heart.
I took a million photos (would you expect anything different?!) and I also made a fun little reel with some video footage! And we have already planned to be back in the summer!
Just a reminder that your local shops, eateries, businesses, activities, and community need your love right now and if you feel comfortable getting out and doing things, I highly encourage you to do so!