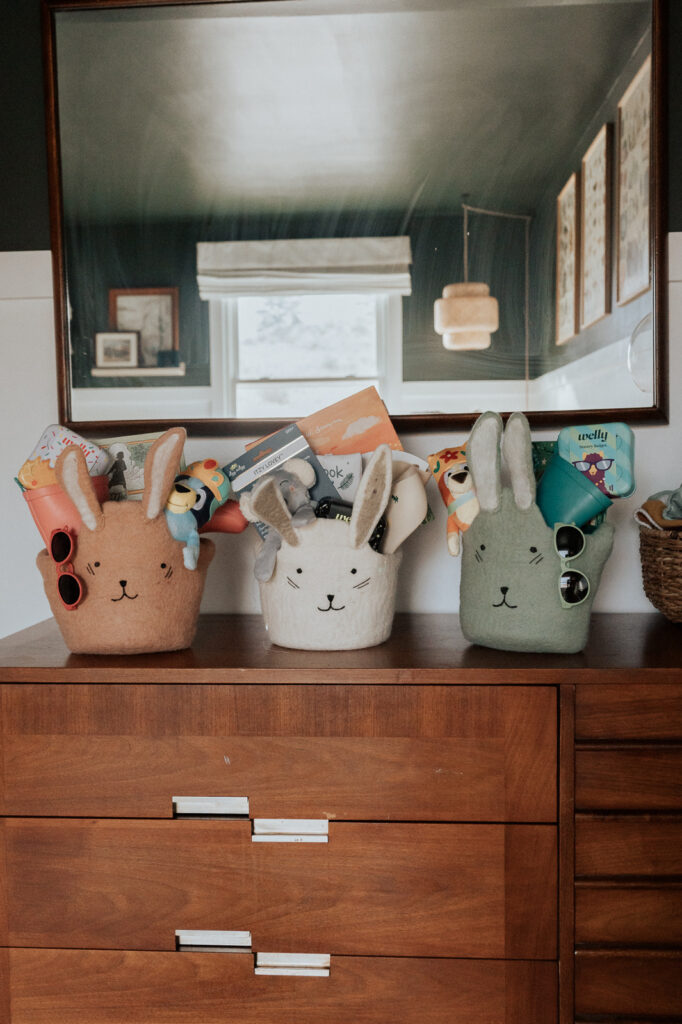 One, Two, Three little Easer Baskets all in a row! I'm grateful (in that silly matching mama way) that Pottery Barn still had these adorable felt Bunny Easter Baskets I purchased for the girls two years ago so that I could have all three colors. I got the green for Thorin but it was quickly claimed by Millie whose "favorite color forever and ever is green!" Leaving Thorin with the leftover white one.
These felt bunny baskets are not only adorable, but their petite size helps reign in my gift giving. I have a tendency to "go all out" and never stop finding "perfect fillers" for the kids Easter baskets. This year I told myself "5 item limit!" so they each got five things! And none of the things are candy or sweets or food – they get plenty from grandparents and all the Egg Hunts they participate in!
Every year I start with a book. Stories are soul food – or so they say – and I want to fill my children's hearts and minds with good stories. While we are plowing through library books on a weekly basis, I still find so much joy and purpose in a bursting bookshelf at home. Easter Basket books are such a thing for me that I even wrote a post a couple years with our favorites (and believe it or not, I could even add more to that list now!) I take this opportunity to add stories of the true meaning of Easter and taking care to avoid generic Easter twaddle – not all Children's books are created equal!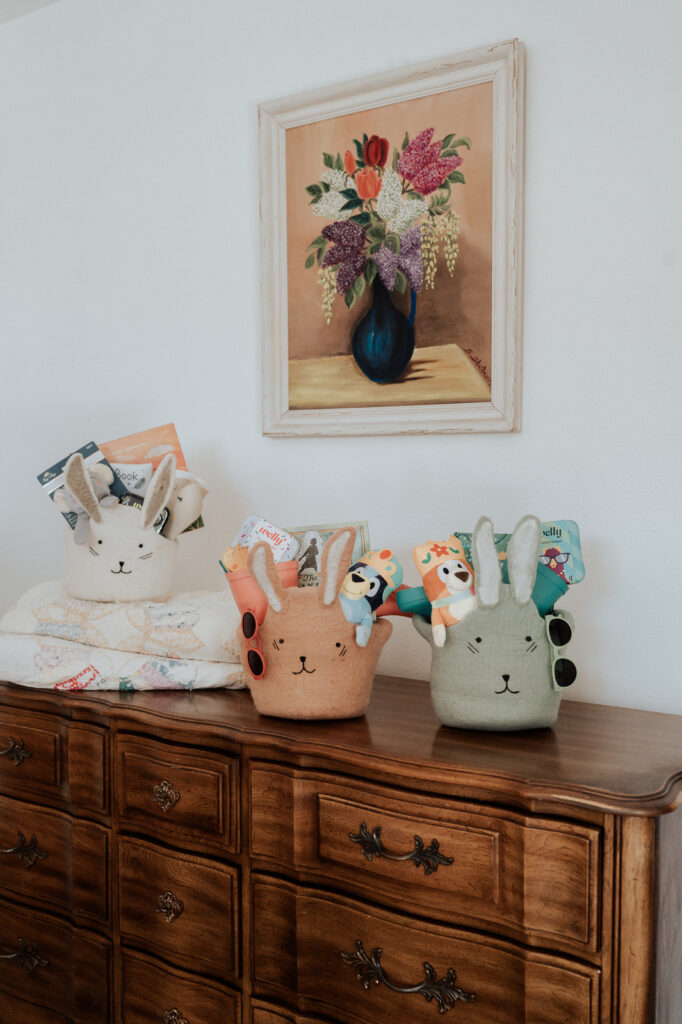 Then when I saw the Bluey & Bingo Plush Toy set, I just had to get them for the girls! Hilde & Millie love the show Bluey, often refer to themselves as Bluey & Bingo, and play countless games from the show like Grannies, Keepy-Uppy, and "Thank You for Cleaning my Toilet!" We only need Bandit & Chili to have a baby boy to match our family again!
After that I found Ten Little and rounded off their baskets with three things each from their personalized shop! Ten Little is a mom-founded kids marketplace offering curated & affordable goods! It is one-stop shop and, honestly, a great alternative to big box retailers like Amazon! My favorite part is that you enter in your children and they make a personalized shopping page for each one so you can easily see what is developmentally appropriate for each age!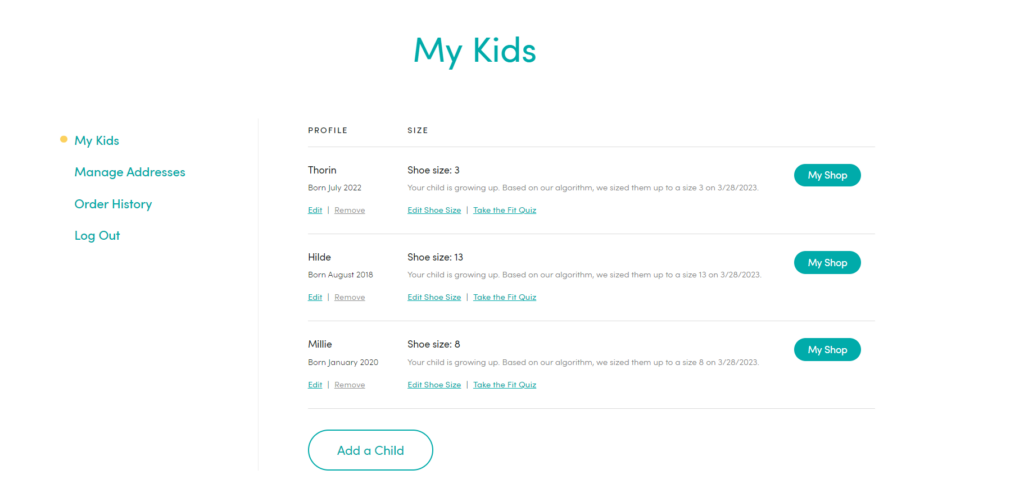 It was easy to find some boots & glasses that match favorite colors (remember green is Millie's favorite!) and new bandage packs with fun themes! I love getting practical gifts! Here is how they each came together with their five items – still bursting at the seams but five, intentional gifts each!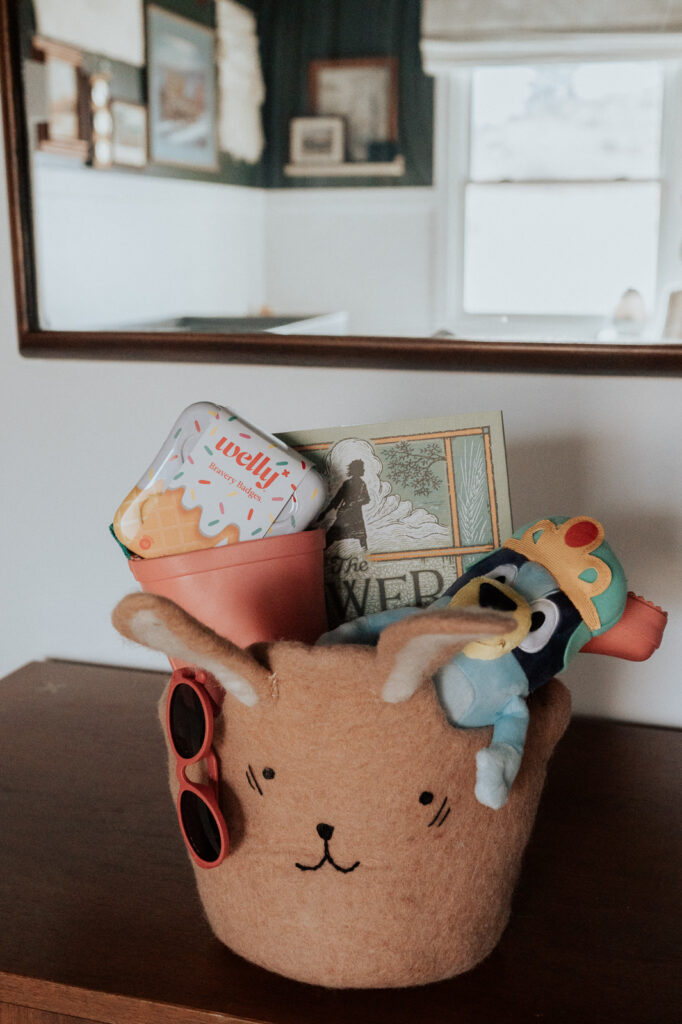 Hilde's Easter Basket (Age 4)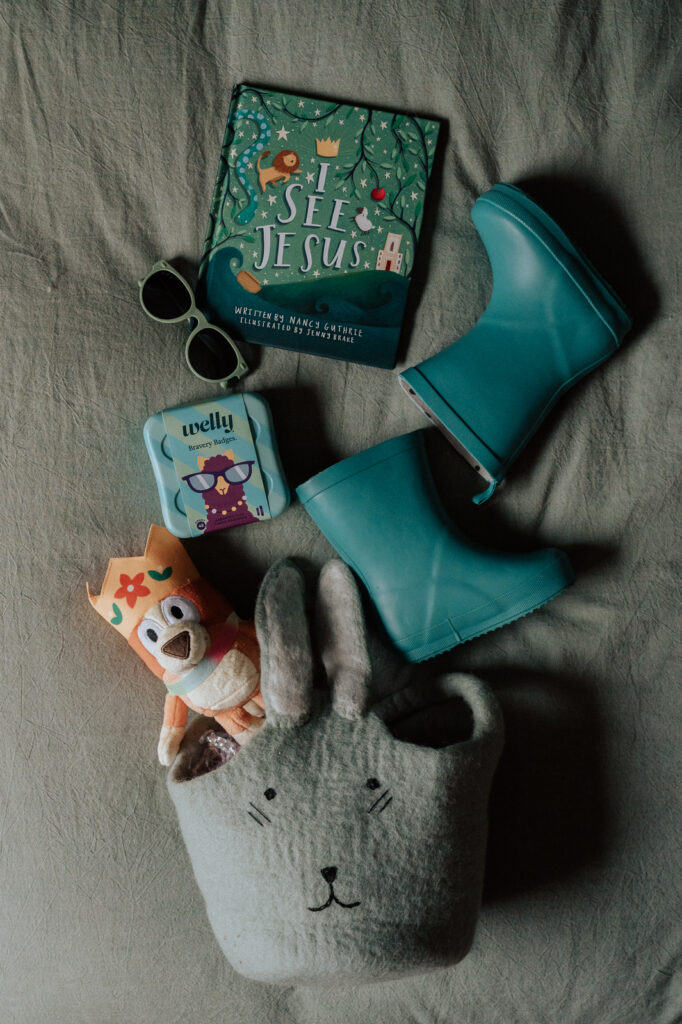 Millie's Easter Basket (Age 3)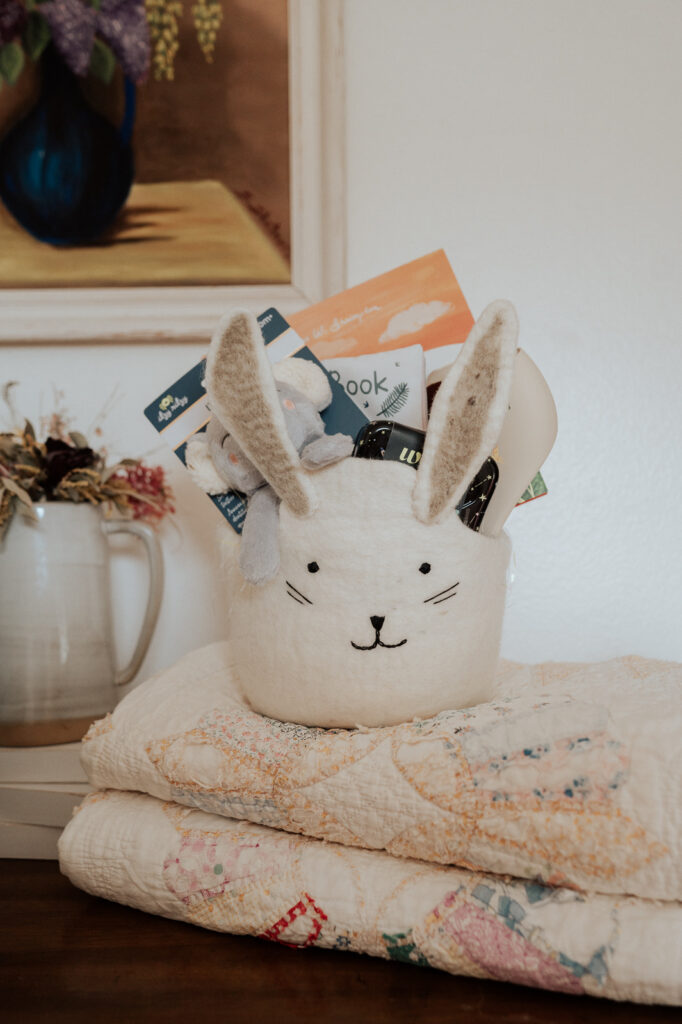 Thorin's Easter Basket (Age 8 months)
I love how they came out this year and I am so excited for them to open them together before church on Sunday! And because I get asked every year, mom & dad get the credit for these baskets – not the Easter bunny! 😉 Happy Easter Basketing!