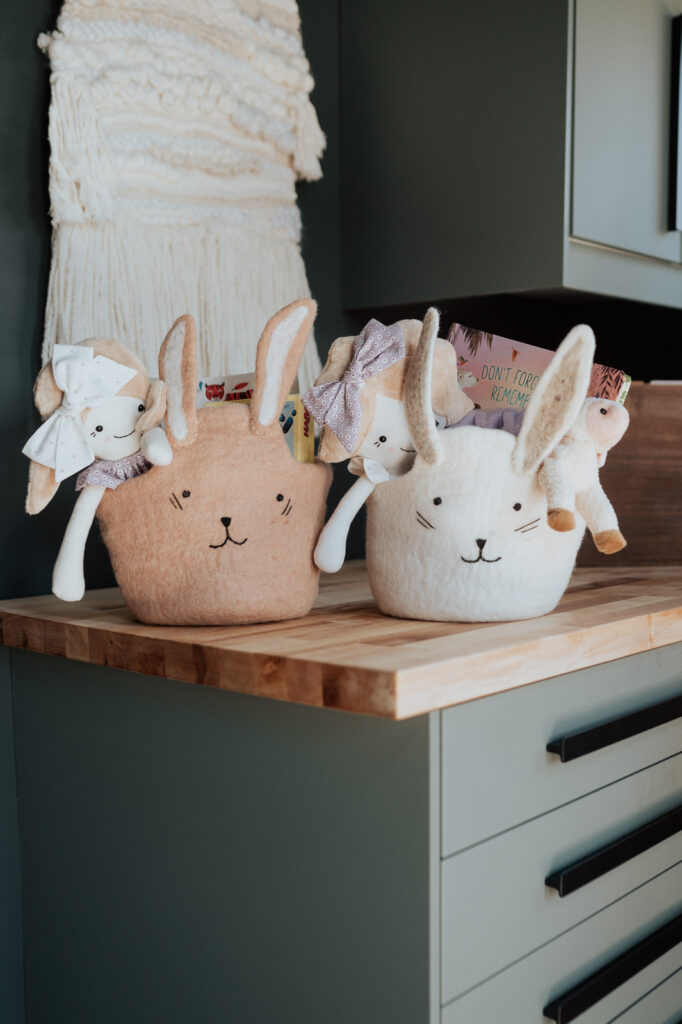 Easter Baskets are a tradition in our family. Growing up every year, we always had one and I plan to do one for the kids every Easter they wake up in our home (see past ones here: 2021, 2020, 2019)! I just love the idea of an intentional basket filled with goodies to make Easter Sunday an even more celebratory day!
Last year I found these adorable felt baskets at Pottery Barn and when we entered this Easter season pregnant, I went back to see if I they still had them so I could get a third color! They did so I have three of these bunnies now for the kids Easter baskets and I plan on using them every year. I think they are the perfect size and keep me from going overboard on filling it with all the things (because, it is hard not to just go crazy with the gifts #amiright?!!)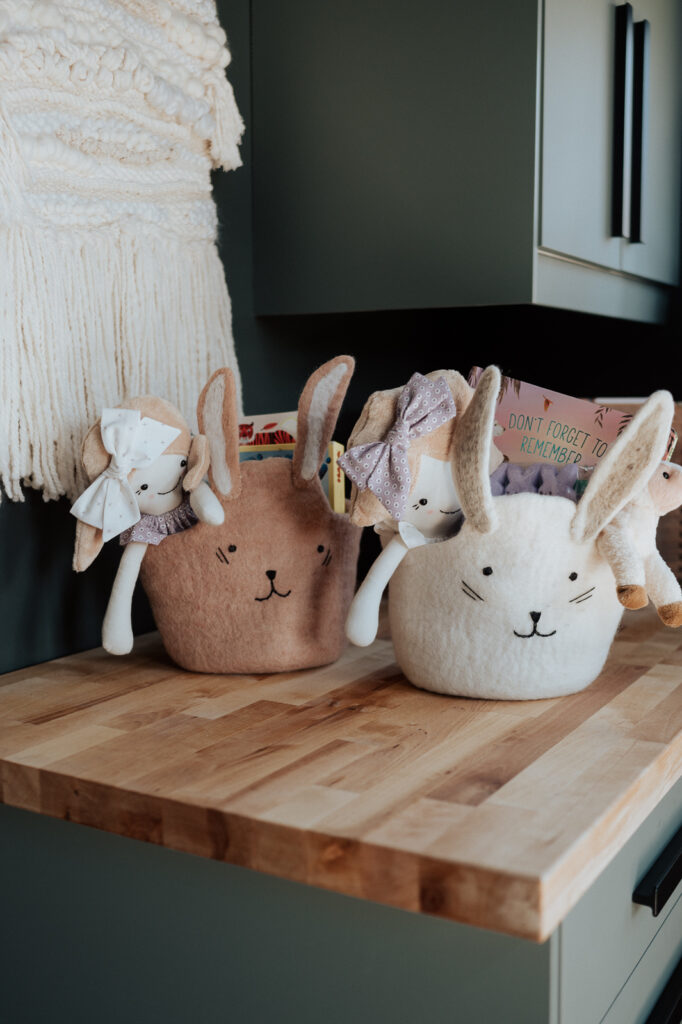 We set our their baskets on the couch for them to discover in the morning – kind of like stockings! The Easter Bunny doesn't leave it for them, it is from us and they know it. In fact, a well meaning friend asked Hilde this year if the Easter Bunny left her anything and she shook her head no, being very confused why an adult would think a bunny would leave her anything! 😉
Every year I like to get a book for each of them and I typically use it to get a book that points them to Christ. Both of these books were exciting additions to our collection! I also got new outfits for their dolls that they got last year from Baby Be Blessed and that went over so well! They practically thought they were new dolls! I thrifted the lamb and the Easter game, made homemade play dough, and split a package of peeps between the two of them so the cost for their baskets stayed pretty reasonable! Just remember, it is more about the gift then the price!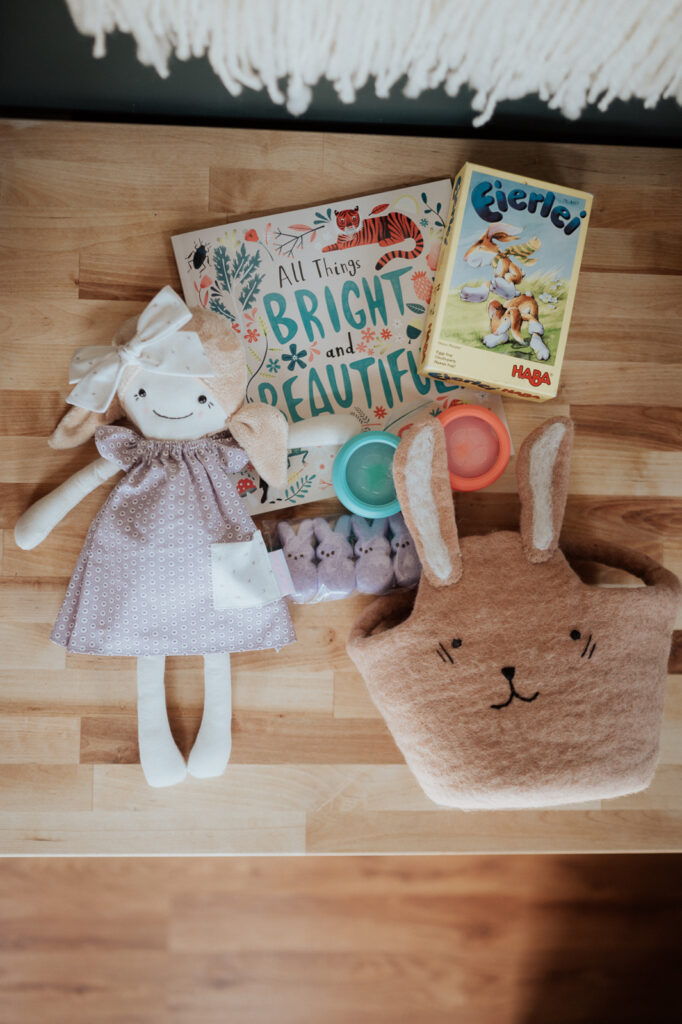 Hilde's Basket
All Things Bright and Beautiful
Homemade Playdough in these containers
Peeps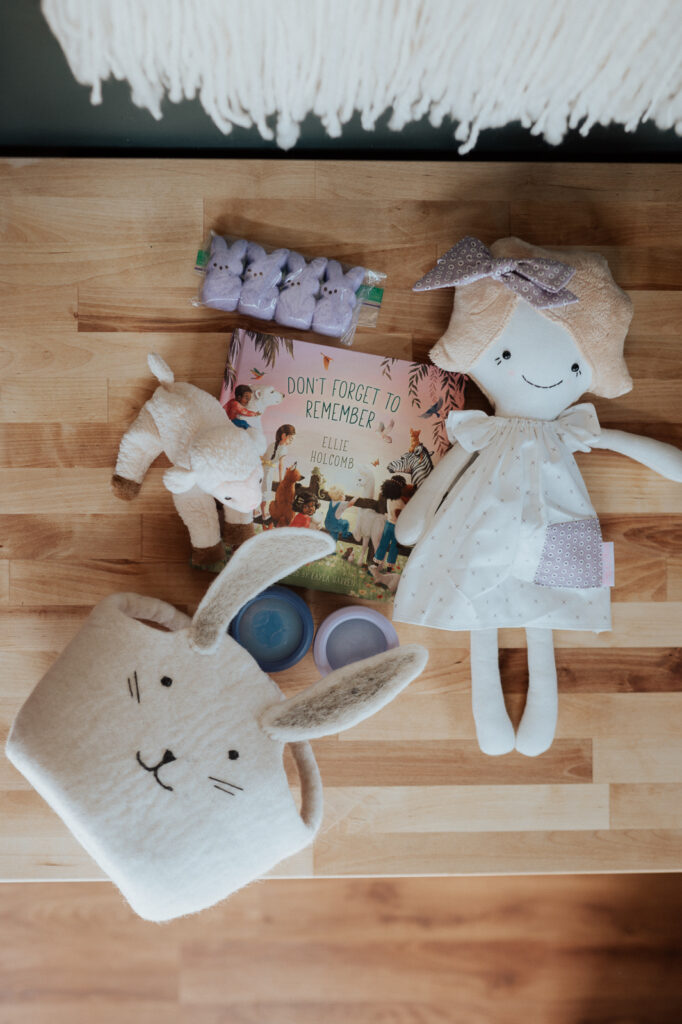 Millie's Basket
Homemade Playdough in these containers
TY Lamb
Peeps