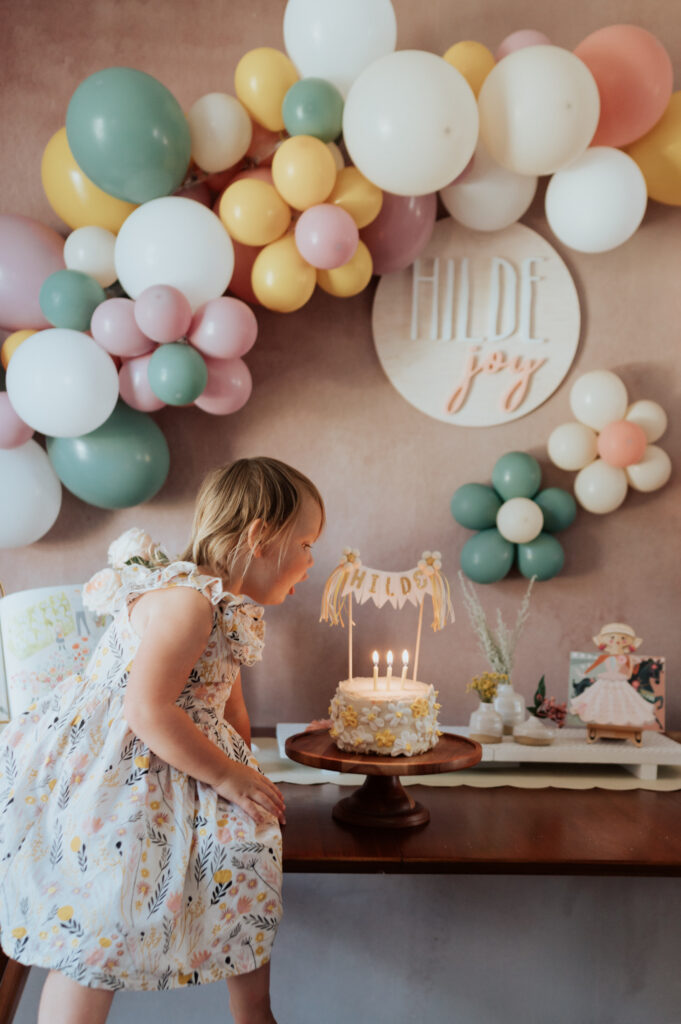 Three years ago Hilde Joy made me a mom and Bruce a dad. We had no idea what the future would look like, how we would take care of and raise this little human, and how much our lives would change. It's been three years since they handed me a tiny little newborn and would you look at her now.
Hilde's personality has always been there but it is so fun to see it continue to bloom and grow. She has a joy and passion for life. She loves her friends and "cousins." Imaginative and passionate about discovery. She is a self learner – motivated to run faster, jump higher, sing longer, and make Millie laugh louder.
This year, with Hilde's help, we picked wildflower for the theme. I always love to make a themed table for the girls birthday (Hilde's Donuts & Millie's Cheers!) because it makes for the best photo ops! I also just adore doing it – it is one way I can just make their birthdays a bit more magical!
This year we were able to host Hilde's birthday on her actual birthday since it landed on a Saturday! Unfortunately Marmee and Poppa were out of town that weekend and Grandma and Grandpa had a funeral that same time so they were later to the party but so many friends and aunts and uncles and cousins were able to come and it was a big celebration!
The best part was seeing Hilde's face light up when we started singing Happy Birthday! She has been talking about her birthday for weeks now saying that "everyone will sing to me and then I'll blow the candles out!" So when it came time for just that thing, she was beaming and loved every second of it!
And just because I always get asked if I don't add a section like this, here are links for our Daisy Themed Birthday:
Balloon Arch (6 feet with pump)
Now the rest of the photos because birthdays make me trigger happy 😉 Love seeing these kids grow together over the years. So thankful for friends and family like this!
Feel like traveling through time? Hilde's 2nd Birthday, Hilde's 1st Birthday, Hilde's Birth Story.