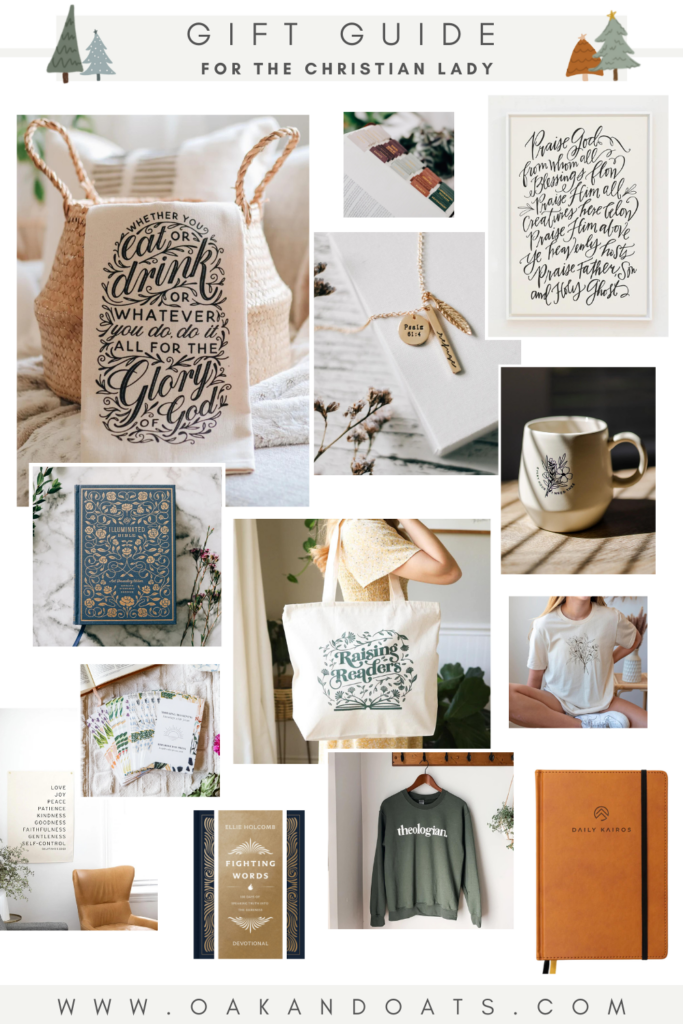 All for the Glory of God Tea Towel – $16 || Bible Tabs – $10 || Doxology Canvas – $98 || Every Hour I Need Thee Mug – $22 ||Psalm 61:4 Refuge Feather Necklace – $32 || ESV Illuminated Journaling Bible – $65 || Raising Readers Tote – $24 || Fall Line Flowers Tee – $36 || Family Discipleship Cards – $18 || Fruit of the Spirit Canvas Flag – $37 || Fighting Words Devotional – $20 || Theologian Sweatshirt – $45 || Prayer Journal – $32
Christmas is such a fun time to give gifts to each other and I love finding those good gifts to give to friends! Today I wanted to share with you some items from Christian shops that are great for encouraging your sister in Christ's walk with the Lord! From prayer journals and pretty Bibles to home décor, apparel, and even a family devotional – this list is a great round up! All of these linked brands have been some of my favorites over the years to gift for others and also to buy for myself!
Coley Kupert Art was featured in a guide last year and I wanted to add a t-shirt of hers to the list this year as well! I just love her art & handwriting! Use code: OAKANDOATS to save 10% off at her store. Also, the Raising Readers tote & Family Devotional are from a favorite homeschool website called Brighter Day Press! Use code: ELIZABETHM15 to save 15% from their site!
PS: Wouldn't these Bible Tabs be such a great stocking stuffer?