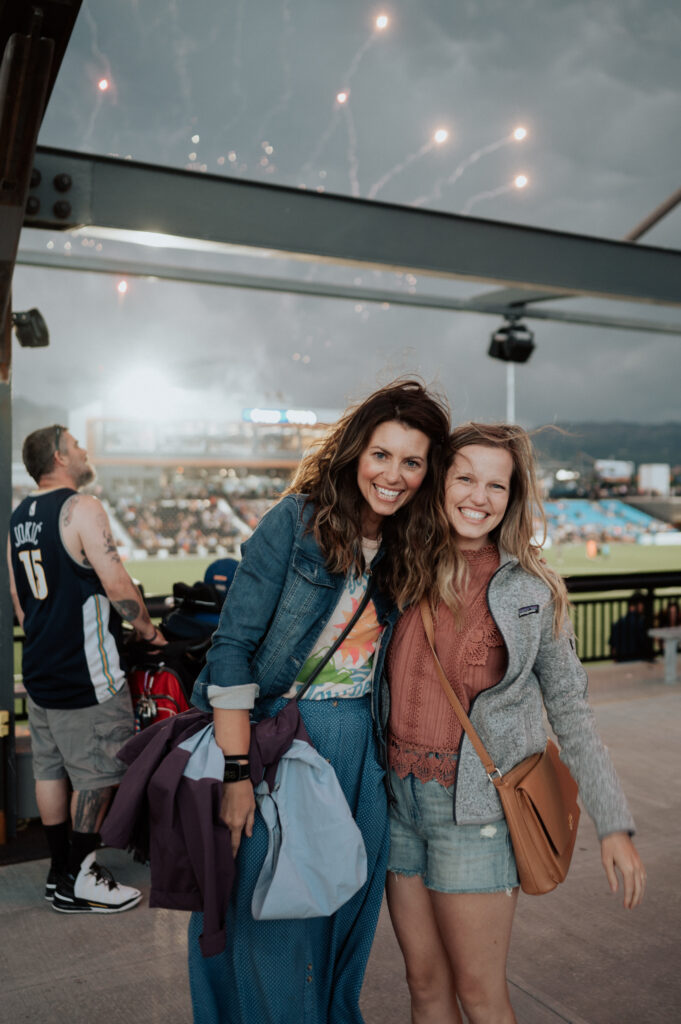 We had a Colorado Springs first last week on a double date with our good friends and that is pretty historic!! Since both Bruce and I are Colorado Springs natives, it is hard to find something in town that is a first for us! But with the Colorado Springs Switchbacks playing at the new Weidner Field, it was all very new to us! And we had so much fun!
This stadium is beautiful! We had great seats – right in the front on the center line! But it felt like nearly every seat was a good seat! Plus the views of the mountains just hugging the stadium is just unreal. The weather was perfect and we watched storm clouds roll in, keeping things cooler and waiting until the game was over to start raining!
Also, you have to check out those fireworks! SO amazing!
We went with our good friends Monica and Gentry! They appear on the blog every now and then (4th of July, Summer Solstice Party, Snooze, A Summer Spent at the Pool just to name a few 😉 ) and their friendship means a lot to us. Bruce and Gentry grew up together and now our girls are growing up together which is just something so special to each one of us! The legacy of friendship is such a gift and not something that just happens all the time. It was so refreshing and just a whole lot of fun to get out together on a double date night the four of us with our girls at home! Sometimes I don't realize how much I miss that adult time/ no responsibility for toddlers time!
Want to know a secret? This was the first night Bruce and I had someone else put both girls to bed! The pandemic and life just made it easier for us to get dates during the day or home before bedtime. But after nearly a year and a half it was more than time to let someone else attempt to put both girls to bed and guess what… it worked! YAY! Bring on all the date nights now!!