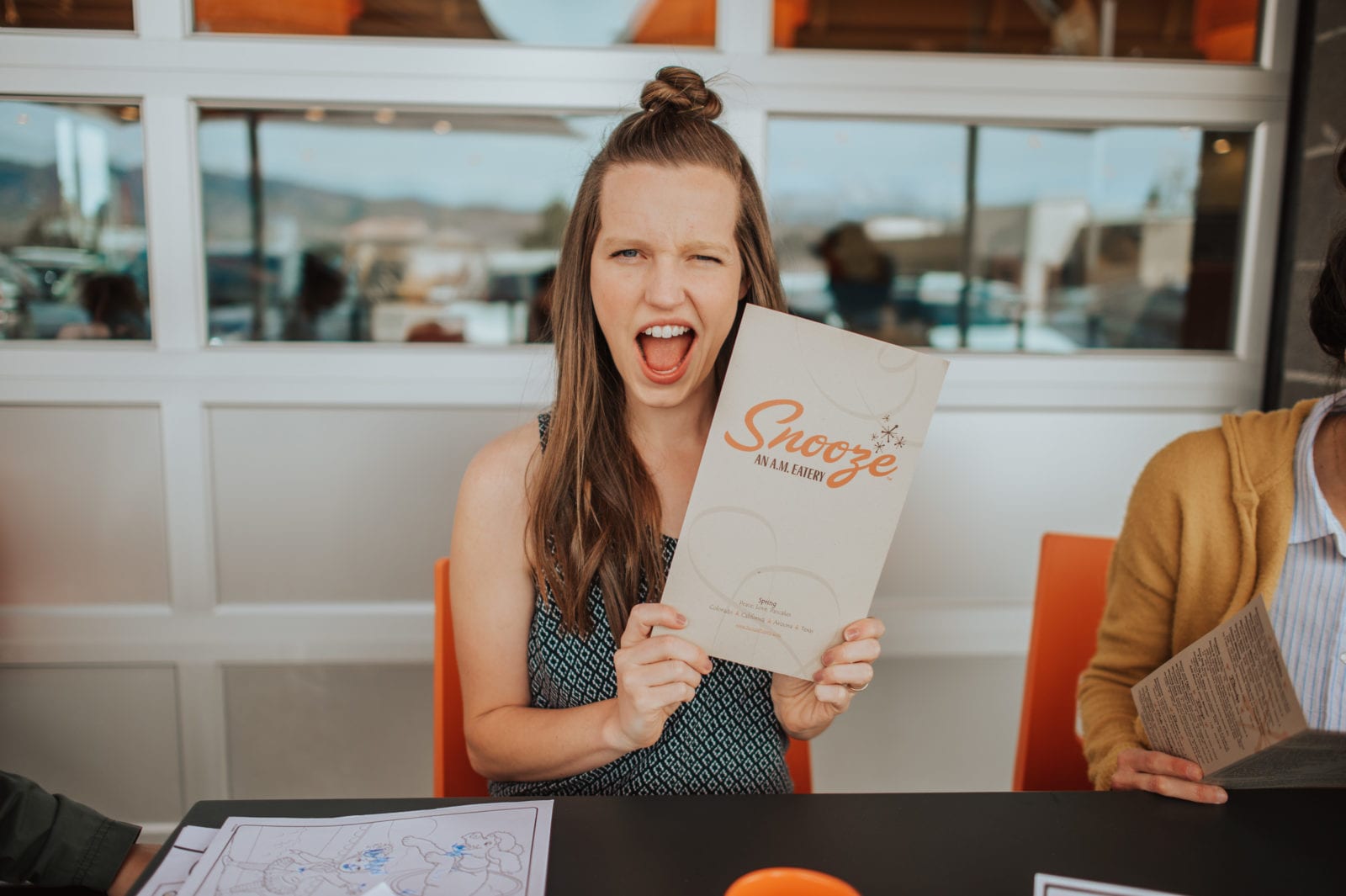 YAY! Guys it is true. Snooze just opened in Colorado Springs and we're pumped! We've been several times in Denver and FOCO but are so excited to get one of our own! Bruce and I were invited to their pre-opening breakfast and we couldn't be more excited – eating out for breakfast is our jam! (Let's be honest, eating out in general is our jam!)
Our dear friends & their beautiful daughter joined us on a Saturday morning date to Snooze. The six of us poured over the menu dozens of times while trying to narrow down our order. All the while being distracted by conversations, stories, and children. It takes me forever to read through a menu and pick my order – I cannot count how many times I have said "Sorry we're still thinking!" to a waiter. Anyone else?!
Once we finally ordered, we couldn't wait for it to arrive! Breakfast burritos, omelets, pancakes, and other fancy dishes awaited us. I even ordered Hilde her own scrambled egg! She is eating so much these days I thought she might enjoy some breakfast with the rest of us. I was right. She devoured her egg and then went on to eat my hash browns and avocado!
If you haven't already been to Snooze, you need to add it to your list! And if you are passing through the Springs looking for one of the best places to eat breakfast, you found it! With a quirky atmosphere and phenomenal food, you cannot help but have a smile on your face!
We took some fun photos while we were there that I HAD to share in a blog post. Also a video. These days I am all about adding some "moving pictures" to our collection! Our new camera makes it so easy to do just that (the Nikon z6) and so we switch back and forth between video & photo all the time. I'm still figuring out the best way to share all that content with you but adding them into blog posts is one of my favorites.
Do you love to eat out at breakfast places too?! Have you been to Snooze before?