ASK ELIZABETH
Question: I know you've posted about Instagram, and you mentioned using DSLR photos. I want it to work for my blog; it seems like something I should do, but I don't want to take iPhone (extra) photos. I want to be able to use photos that I already have. I can't find a really good explanation on how to upload these to Instagram. Instagram doesn't seem to want to make that easy.
We find ourselves talking about Instagram again! It really is a great tool and while it isn't perfect, it is still a great way to connect with our readers. This question came in a couple weeks ago and I wanted to answer it because we can often feel like we need to do everything. Even little steps (like posting a photo on Instagram) can turn into overwhelming tasks. I can so relate to the feeling of needing to figure out everything on my own. I often find myself searching for answers on Google & Pinterest to come up with a solution to my problem. There are some great resources out there and I want to share with you the one that I use for Instagram! We'll be talking about scheduling, planning, uploading photos, and all that jazz.
But first, if you missed any of our previous Instagram posts or wanted to learn more about Instagram, here they are:
How to Convert Instagram Followers into Blog Readers
Real Talk about Instagram and Why we need to Care a Little Less
How I edit my Photos for my Blog & Instagram
How to Create Your Instagram Bio
I use a program called Later. There are others out there and I have tried some of them but this is the one I love. It is a website and not an app which is a huge winner for me. This means that I can upload, plan, and schedule my Instagram all from my computer (I'll share soon why that is so important) but to best be able to answer the initial question I am going to go through step by step why I love this program.
UPLOADING PHOTOS
The majority of the images I post on Instagram are taken from my DSLR. I use images that I have taken for blog posts and use them on Instagram. I also post a lot of fun photos I've taken on my camera and have not made it into a post. SO instead of taking MORE photos for Instagram, I often reuse content I have taken for blog posts or photography sessions. I do take photos with the idea of Instagram in mind but I have a large bank of photos to pull from as well.
Since this is a website, I use my desktop to schedule all my Instagram. I can upload images into my "bank" straight from my computer! I can then drag them into the time slot I want for the post and I'll get a handy little notification when I need to post it on Instagram. It opens the app, copies the text, and does everything so that I only have to click post. This is the easiest way I have found to get my photos to my Instagram.
*If you don't want to get Later, you could email yourselves the photos you want to use, download them to your phone, and upload them to Instagram that way.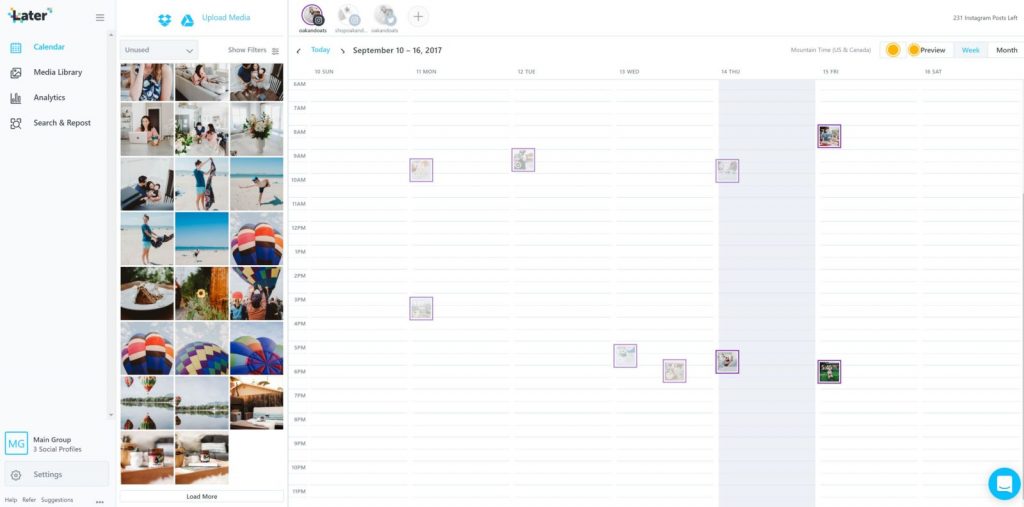 PLANNING AHEAD
One of the reasons I love Later so much is that I can plan my Instagram a week or two out (even father for my shop!) I can sit down, write captions (much faster than on my phone), and schedule out my content. I can also preview how it will look like in my feed and drag & drop photos to fit where I want them! SCORE. I also love that I can sit down and plan my content in 30 minutes and then have stuff scheduled the rest of the week! There is room to add things or switch things up but I'm never stressed about what to post next AND I don't spend too much time on my phone when I could be doing other stuff.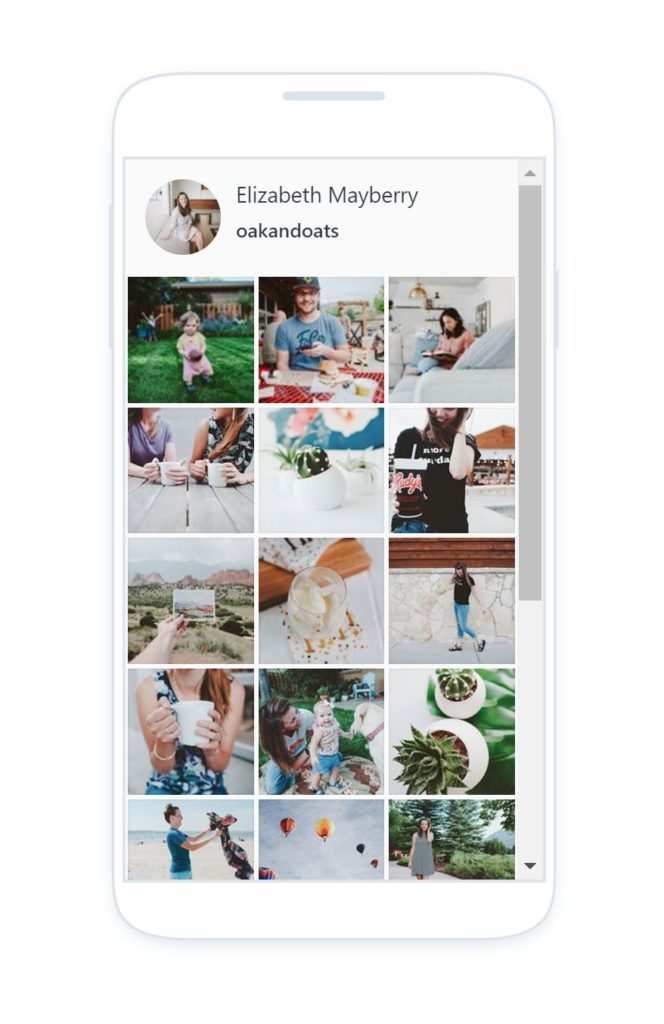 PRICE
If you want to schedule 30 images or less a month, it is FREE. I have two Instagram accounts that I schedule on – @shopoakandoats & @oakandoats so I pay for a yearly membership. But it is SO worth it for me. You can also refer your friends and get 10 more free photos. I already have more photos than I need so it isn't super helpful for me but if you want to stay of the free program, this could be a huge help!
I hope this helped answer your question! I use Later so that I don't have to take separate photos for everything. I also love to schedule and preview my posts before they go live! It is such a helpful tool! Do you use Later? Or anything like it?
ASK ELIZABETH
Do you have any questions you have been wanting to ask?! Click on the button below to submit your question and it may be the next "Ask Elizabeth" question featured next Friday!