ASK ELIZABETH
Question: What is going on with Instagram? How do we fight against the algorithm? What is shadow-banning and how do I know if I am being banned? I feel like I am doing all the classic advice to grow my Instagram but it isn't working like it used to – or should?
Guys. Instagram. Let's pretend I didn't cry about it three times this week – one of them an embarrassing, self-doubting, super emotional cry that would have left mascara all over my face and my husband's shirt if I wore make-up when working from home 😉 What was honestly one of my favorite social media inventions ever has been the catalyst for too many tears & stress. And I know I am not the only one to grow frustrated by Instagram.
Comparison, shadow-banning, follow/unfollow, pay-to-play, and engagement at an all time low.
When preparing for this weeks post I ran across this question and thought it would be a perfect time to answer it. I'll start of this conversation saying I care too much about Instagram. I have let it stress me out. I have agonized about posting an image making sure it matched my freed. I have practiced & learned DSLR photography to make my Instagram (as well as my blog 😉 ) look better. I have felt really sad about lost followers and doubted my giftings, purpose, and identity over lost followers. It's dramatic but true. I just want to let you know that you are not alone.
I also wish that I had the perfect, magical answer to this question that would increase your followers & engagement 200% if you just follow my advice. But that's not what I have for you. Today my answer to all our Instagram woes is caring a little less.
WHAT IS GOING ON
INSTAGRAM ALGORITHM
We have heard a lot about this lately and it is something that will probably be ever evolving for Instagram. No one knows the exact algorithm(s) but the point is Instagram filters posts and shows users what they think they want to see. You may have noticed that posts are no longer in chronological order, sponsored posts show up in your feed, and engagements on your post are lower than ever. It all boils down to the fact that Instagram is a business. Yes they care about their users (in a way) but they also care about making money. We've seen this happen to Facebook too (since they are own by the same company.) In simple terms, they changed the way Instagram photos and pages are being seen.
Here is a quick snapshot on likes since the algorithm change (last three months) and before (last year) you can see my average went from 400-500 likes to 300 ish likes. Then even more recently this month, all the way down to 200 ish likes. It's changing things and isn't the easiest for those of us who use Instagram for business. The engagement I get on a post directly relates to how I get paid for the work I do on photography and content.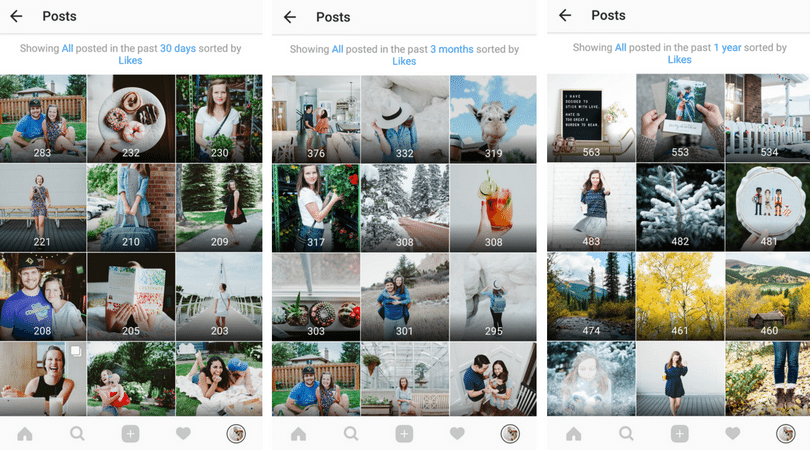 SHADOW-BANNING
Shadow-banning is something new Instagram is doing to filter the post that get seen. At first it looked like accounts that posted too much (spam accounts) or ones that used bots for commenting/ growth would get shadow- banned but it can also happen when you frequently post similar or the same hashtags. You can go to this site to see if you have been shadow-banned. As I was looking into writing this post, I realized all my recent posts are shadow-banned (insert laughing crying emoji here.) I don't use any kind of bot account, buy followers, use inappropriate hashtags, or post more than once a day but the hashtags I use on each post are not coming up in the feeds of that hashtag. I've attached a couple screenshots showing that! The bummer in this is now new eyes are not able to see my post through my curated hashtag usage. It is also pretty humorous that the hashtag I made up with some friends #holdersnotfolders is also being blocked! LOLZ.
My current plan is to post for a week sans hashtags and hopefully clear the ban. It also may be a good time to switch up the go-to hashtags you have been using. I mean, this is such a bummer because new people can find you through hashtags but there isn't really anything we can do about it at this time so I am just going to ride it out for a bit!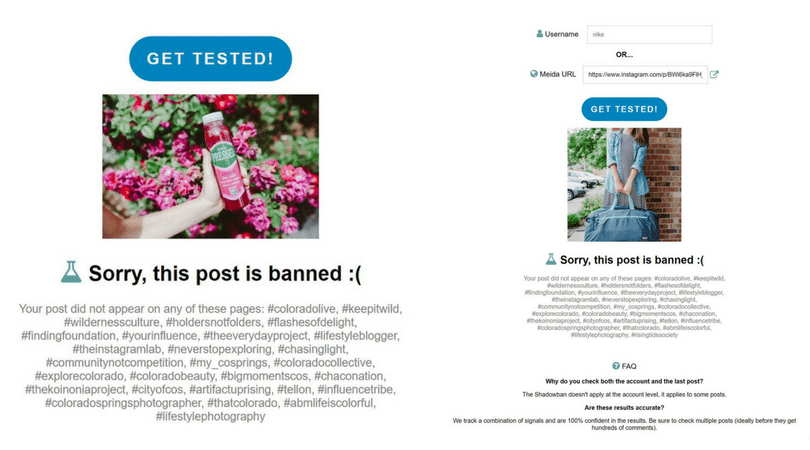 WHAT TO DO ABOUT IT
Okay, so shadow-banning & the algorithm are real. Businesses and personal accounts alike are having a hard time gaining new followers, being seen, and engagement is down. It honestly sounds pretty bleak and reminds me of what happened to Facebook. Should we just wait for a new social media to take Instagram place?! 😉 Not necessarily, here is what we can do:
SHARE INSTAGRAM STORIES
Instagram stories are newer and people are loving them. Use your stories to direct people back to your feed, share more personal stories about your Instagram, sponsored content, deals, etc. Use it as a second arm to your Instagram and pull people into your feed.  While you do need at least 10K to be able to include "swipe up" to go to a link, you can still direct people back to your Instagram bio which can be pretty useful for sharing information. Not everyone is going to see your feed, but some may be watching your stories and you can draw them back to you posts. Have fun with stories – they really are a new way to share yourself & your brand! Instagram stories launched about a year ago but I only recently got more into them because of some of the changes.
RELATED: 5 Ways to Strengthen your Brand through Instagram Stories
DON'T DISCOUNT THE PEOPLE WHO ARE LIKING & ENGAGING
As humans, it is easy to focus on the negative. We see how many followers we are not getting (like my 800 away from 10K that I have been waiting for forever…) and not the 9200 wonderful followers I already have. Even going back to the average 200 people who like my photos, that is still 200 people! We can so easily look at our stats and only see numbers but there are people behind all those numbers. If I spoke in front of a room of 200 people, that's incredible! That is a gift and a platform – those 200 people listened to and liked what I had to say. I was able to teach or encourage or inspire that many people. And imaging if 5 people came up to talk to me (like leaving a comment) – that would feel incredible. Keep perspective on the people who are there. You voice still matters and you are still making a difference – no matter how large or seemingly small.
SPEND YOUR ENERGY GROWING YOUR EMAIL LIST INSTEAD
So the only way to truly break or fight against the algorithm is to move your energy to something else. You don't own your Instagram and that is the truth of the situation. Your account could get hacked and all your photos deleted or Instagram could wake up one day and decide to close. While they probably wont do that while they are still making money, they still can change the algorithm at anytime. So instead of fighting the man and pushing to break the algorithm, switch your energy and time to something you do own and can control – email! It's a more effective way to reach people anyways, and then you can stop worrying about algorithms (YAY!) Everyone has been saying this but now more than ever is a good time to start on this!
I have yet to write a post on why I love ConvertKit (I need to get on that!) but that is the email marketing solution I switched to, love, and tippled my newsletter with! If you are looking to start building your list I suggest ConvertKit!! If you have any questions at all, leave them in the comments or shoot me an email!
KEEP THE BLOG
You also own your blog content so keep it up. People said "blogging was dying" with the rise of Instagram influences but with every changing algorithms nothing is guaranteed. Keep your blog as your home base for all your content. You can still promote it on social media, but don't let everything hang there in a life or death situation.
CARE A LITTLE LESS
It all boils down to caring a little less. Why do I care that I reach 10K? What will that do for me? Why do I fret over loosing 100 followers or being shadow-banned? What is it compared to my health, my family, my friends & relationships? How does it compare to the things that really, deeply matter? When I find my value in the likes I get on a post and when I define success by Instagram growth, I set myself up to be disappointed.
When we step back and let Instagram be Instagram, we can take the stress of the changes and just let it be a platform to share. We can come back to our "why" for Instagram and share things to encourage, inspire, teach without the pressures of growing and reaching as many people.
Whew, that was a long post. And honestly it may not be answered the way you wish it was. I wrote this post and answered these questions to show you that I too am walking through this journey. I too am shadow-banned and wish I could just reach that 10K. I know what it is like to stress and struggle. My answer isn't perfect and it may not be exactly right, but it is how I am dealing with Instagram these days. I need to care a little less about my Instagram because I was pouring too much energy and emotion into it and it wasn't worth it. When I answer questions on Ask Elizabeth, I don't know everything, but I know what I've learned. That is what I share here – what I have learned to encourage, inspire, and empower YOU!
What are your thoughts on Instagram? Have you been noticing this? What has your plan of action been? I would love to start some good talk around this!!
ASK ELIZABETH
Do you have any questions you have been wanting to ask?! Fill out the box on the right side of the blog!!
Photo Credit: Ashlee Kay Photography