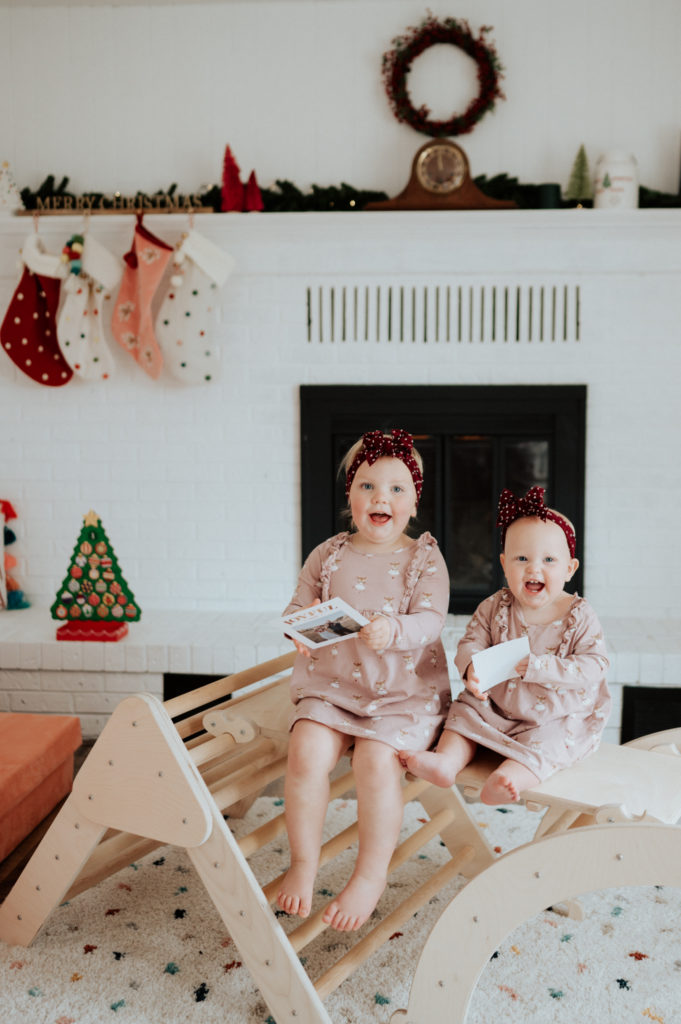 We got our Christmas Cards in the mail this week and now we are working on getting them addressed to friends & family and back in the mail! It is tradition to get a card out every year (and you know how I feel about traditions!!) so I don't mind all the stuffing, addressing, and stamping!
This year we got our cards at Parabo Press. I picked the Joyful card because although this year has been one for the books, Joy has been abundant in our home and hearts. I also wanted to add a verse this year to go with our card. Since the design I feel in love with didn't offer the option to add a textbox, I used the Foil Border Square Prints to add a verse to each card! I love how they turned out and came together!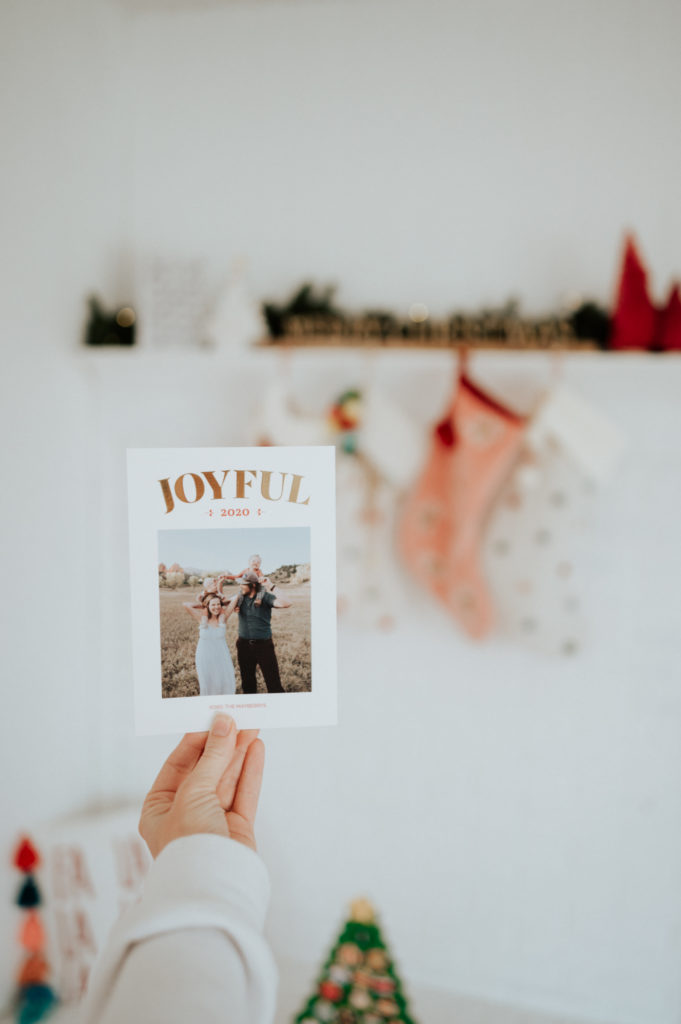 I love looking back on our cards and seeing our family grow – pregnant last year, tiny baby Hilde, and the years of no kids! This year I've somehow wrangled my girls to not only be in our family photo but also these ones!! When I see both the photo we chose for our cards and these photos that I'm uploading to this post, I just see JOY! And the verse we picked to pair with our cards this year also speaks of that joy. 2020 has been a hard year but it has not be void of hope. In chaos, pandemics, political division, the God of hope can fill us with ALL Joy and Peace so that we may abound in Hope! Romans 15:13 may not be a traditional Christmas verse, but it doesn't mean that it isn't super fitting and timely!
I wanted to share with you some other ideas for unique but powerful verses to add to your Christmas Cards this year!​​​​​​​​​​​​​​​​​​​​​​​​​​​​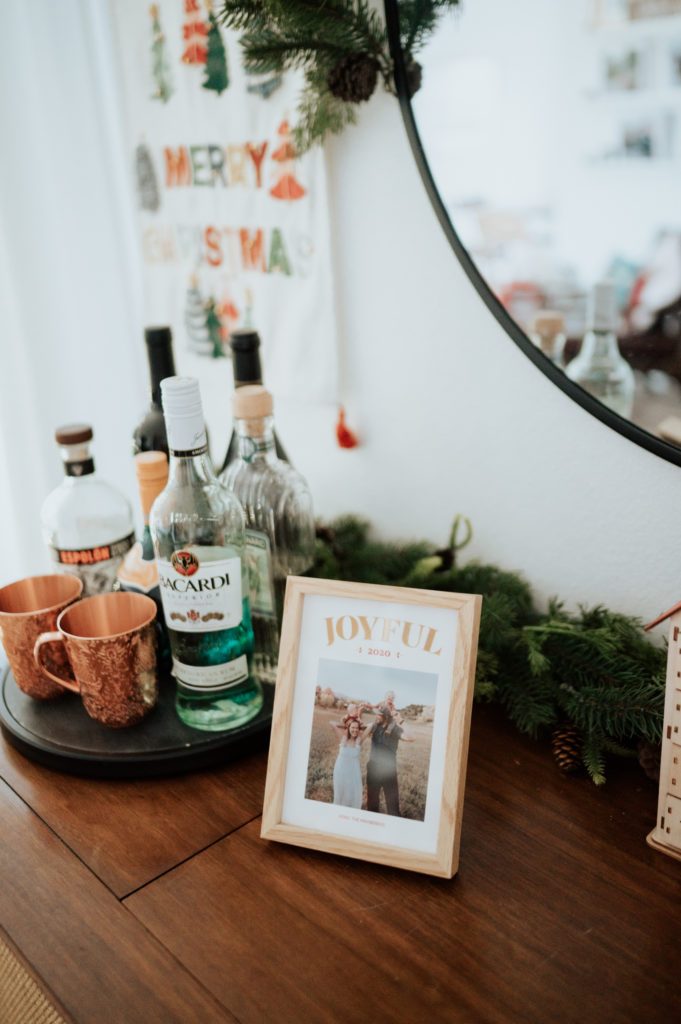 Christmas Card verses
May the God of hope fill you with all joy and peace in believing, so that by the power of the Holy Spirit you may abound in hope. – Romans 15:13
The light shines in the darkness, and the darkness has not overcome it. – John 1:5
Every good and perfect gift is from above, coming down from the Father of the heavenly lights, who does not change like shifting shadows. – James 1:17
These things I have spoken to you, so that in Me you may have peace. In the world you have tribulation, but take courage; I have overcome the world. – John 16:33
O Israel, hope in the LORD; for with the LORD there is mercy, and with Him is abundant redemption. -Psalm 130:7
Blessed is the man who trusts in the LORD, and whose hope is the LORD. – Jeremiah 17:7
The LORD your God in your midst, the Mighty One, will save; He will rejoice over you with gladness, He will quiet you with His love, He will rejoice over you with singing. – Zephaniah 3:17
These things I have spoken to you, that my joy may be in you, and that your joy may be full. – John 15:11
So if there is any encouragement in Christ, any comfort from love, any participation in the Spirit, any affection and sympathy, complete my joy by being of the same mind, having the same love, being in full accord and of one mind. – Philippians 2:1-2
Behold, the Lamb of God, who takes away the sin of the world! – John 1:29
The true light, which gives light to everyone, was coming into the world. He was in the world, and the world was made through him… – John 1:9-10
Every good gift and every perfect gift is from above, coming down from the Father of lights with whom there is no variation or shadow due to change. – James 1:17
Thanks be to God for his indescribable gift! – 2 Corinthians 9:15
Here is a trustworthy saying that deserves full acceptance: Christ Jesus came into the world to save sinners—of whom I am the worst. But for that very reason I was shown mercy so that in me, the worst of sinners, Christ Jesus might display his immense patience as an example for those who would believe in him and receive eternal life. Now to the King eternal, immortal, invisible, the only God, be honor and glory forever and ever. Amen. – Timothy 1:15-17
Looking for some other Christmas Card Tips? Tips for Picking out Your Card + Tips for taking a Great Family Holiday Photo!