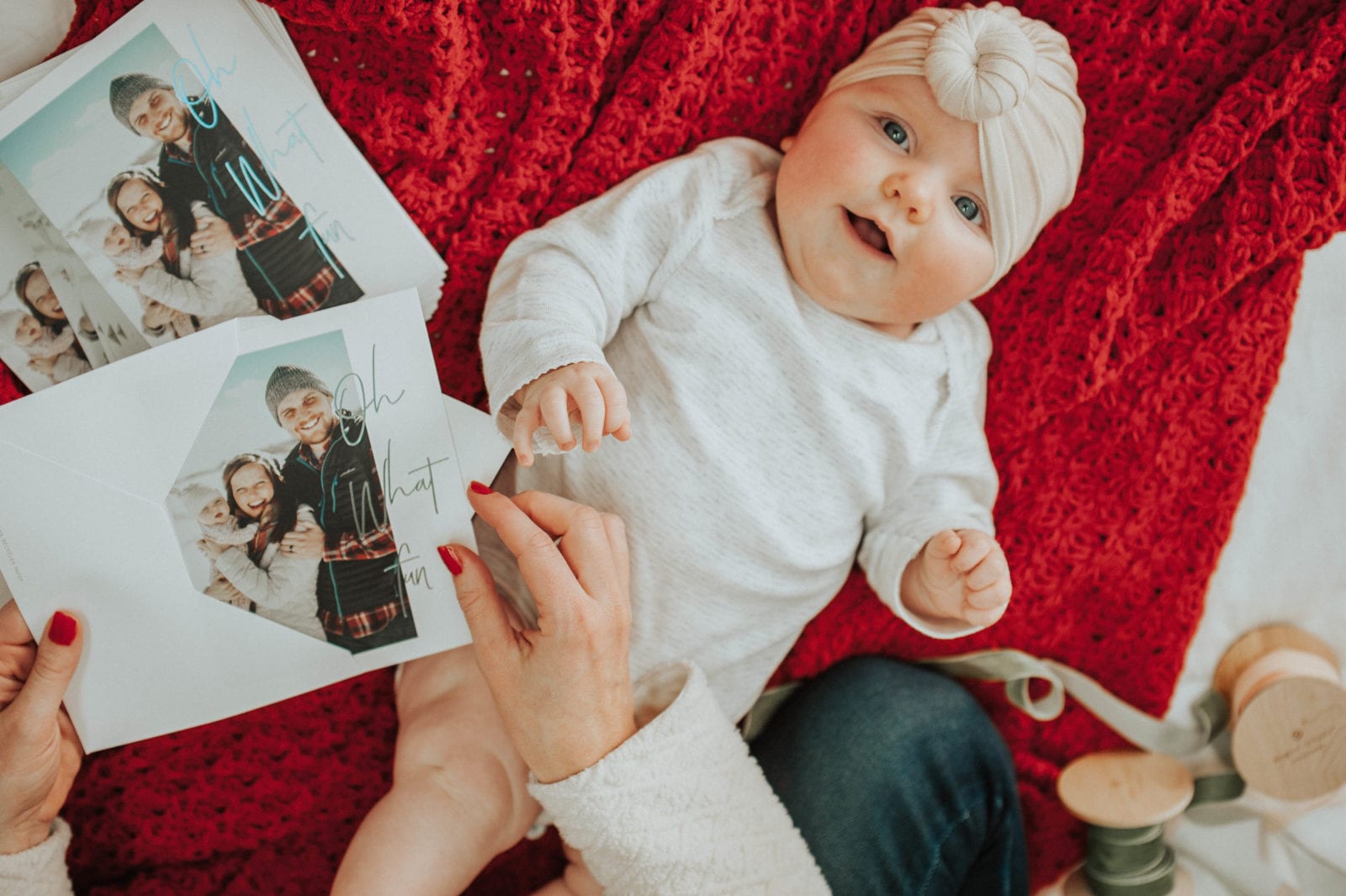 Just for you! Use code OAK20 for 20% off holiday cards at Artifact Uprising!
YAY! Christmas Card season. If you have been around here longer than one holiday season, you know I love sending them out every year! This year we lucked out by grabbing a family photo in the snow! It's been one of my dreams to have a snowy scene on our cards and this year it came true! Not only did we have an adorable addition to our family photo, but I also had a little helper pack up our Christmas cards!
Christmas Cards with Artifact Uprising
This year we went with Artifact Uprising (we have for the last 2 years) and I love how they turned out! In case you missed it, I shared my tips for taking holiday photos! We had so many cute photos from this snow session but I went went this one of all three of us looking at the camera. Hilde wasn't super into smiling out in the cold but she is still adorable. I also put another couple favorites on the back of the card because I can never just pick one photo!
I've really been loving Artifact Uprising for everything. I frequently order their square photos for my home and for handwritten cards, so turning to them for my Christmas Cards was a no brainier. I love their simple yet elegant holiday designs!
We just sent out our cards over the weekend and have been getting one or two in the mail each day (easily one of the best things about December!) I also love that we took these photos. Hilde loves to look at photos (and my Instagram stories) so she pretty much stared at the cards the whole time while I tried to put them in the envelopes!
Also, I did the best thing you can as a new mama, and I uploaded my Christmas Card list to Artifact Uprising and they wrote all my addresses for me! hahah! All I had to do was stuff them and put a stamp on it! YAY!
It's not too late  to order your cards now!
You can always get New Year cards too if adding one more thing to your to-do list before Christmas is a bit too overwhelming. I for one know I love a card in the mail at any point in time! Merry Christmas!