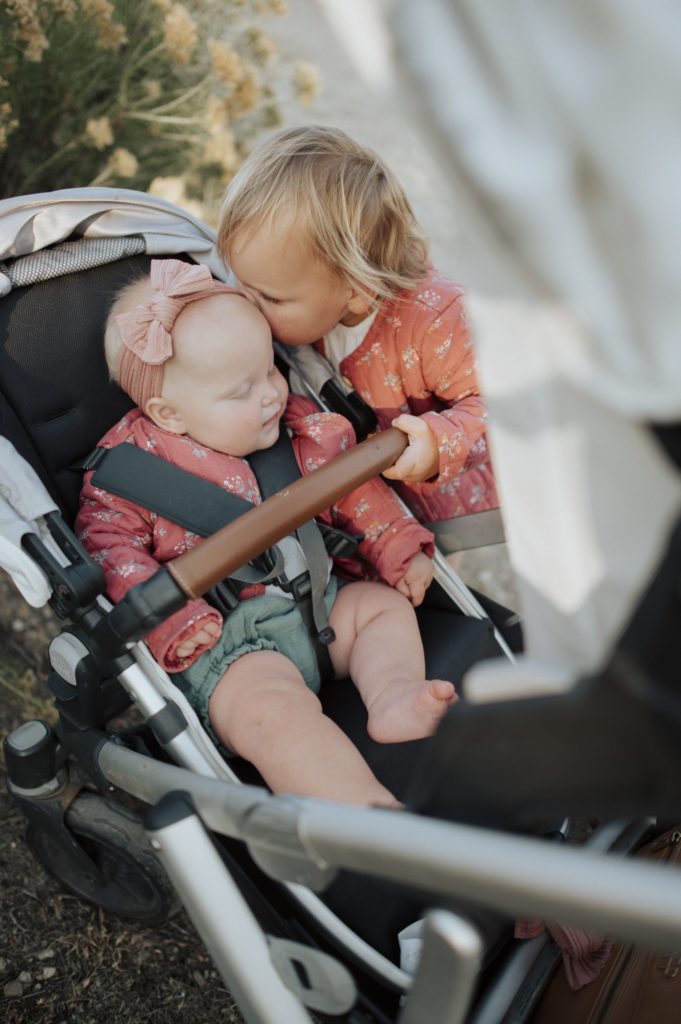 Thank you buybuy BABY for sponsoring this post!
When we found out that Millie was a girl, I was relived I wouldn't have to purchase an entire new wardrobe for a boy. Turns out Millie being a girl didn't really stop my shopping 😉 The big reason being that these babies are in opposite seasons so I still need to pick up a couple outfits to dress her most appropriately for the weather, but secondly, because I love to MATCH THESE GIRSL. So if Hilde get's something new (since she is always growing) and there is a matching size for Millie girl, it is SO hard for me to skip that over.​​​​​​​
As our summer weather has melted into fall, I went online to buybuy BABY to find a couple fall peices for the girls. And I just ended up buying two of everyhting!
These Floral Quilted Jackets were adorable online and are even more so in person! They are my new go-go when we need another layer! I took these photos of the girls while we were walking to meet my dad for dinner on his birthday! We picked a restraunt that was in walking distance so I walked with the girls, Bruce met us after work with the car, and we rode home afterwards!

Oh hey Rudy's! Just eating at our favorite restaurant and sitting outside as long as we can! I love these cotton dresses! They came in a two pack and can match so many colors to switch it up! We were channeling our fall colors with the yellow bows & bloomers!

Dress #2 from the two pack! Love these photos of the girls in the open space next to our house. We love to hike around here and find all kinds of nature treasures! Can't go wrong with a simple, cotton dress!

Trying to get their hands in the candy jar 😉 These little outfits sets are so cute and I'm a sucker for floral. Just some photos in our every day world. Playing outside & playing inside!

What I love about all these outfits is that they are so easy to mix & match! That is a huge win over here in our books because I don't have to buy as many clothes and they don't have to wear the same thing all the time! I don't always dress them the same, but when I do, everyone loves it!