YAY! First new home reveal post! I wish I was doing a bunch more of these right now but moving into a fixer upper the week of Thanksgiving while 8 months pregnant is no joke 😉 We have made HUGE strides since we purchased the house (go watch my these Instagram Stories of all we did!) but the holidays and having a baby slowed us down for a bit. We've got a list of projects that we will get to eventually, but I've been focusing on making a couple rooms as done as I can!
This is the living room, the first room you see when you walk into our house. We eventually want new windows and still need to put on new baseboards, but for the most part this room feels done. Decor is one of the things that needs to be in place before a room can feel finished to me so the addition of this photo wall really sealed the deal!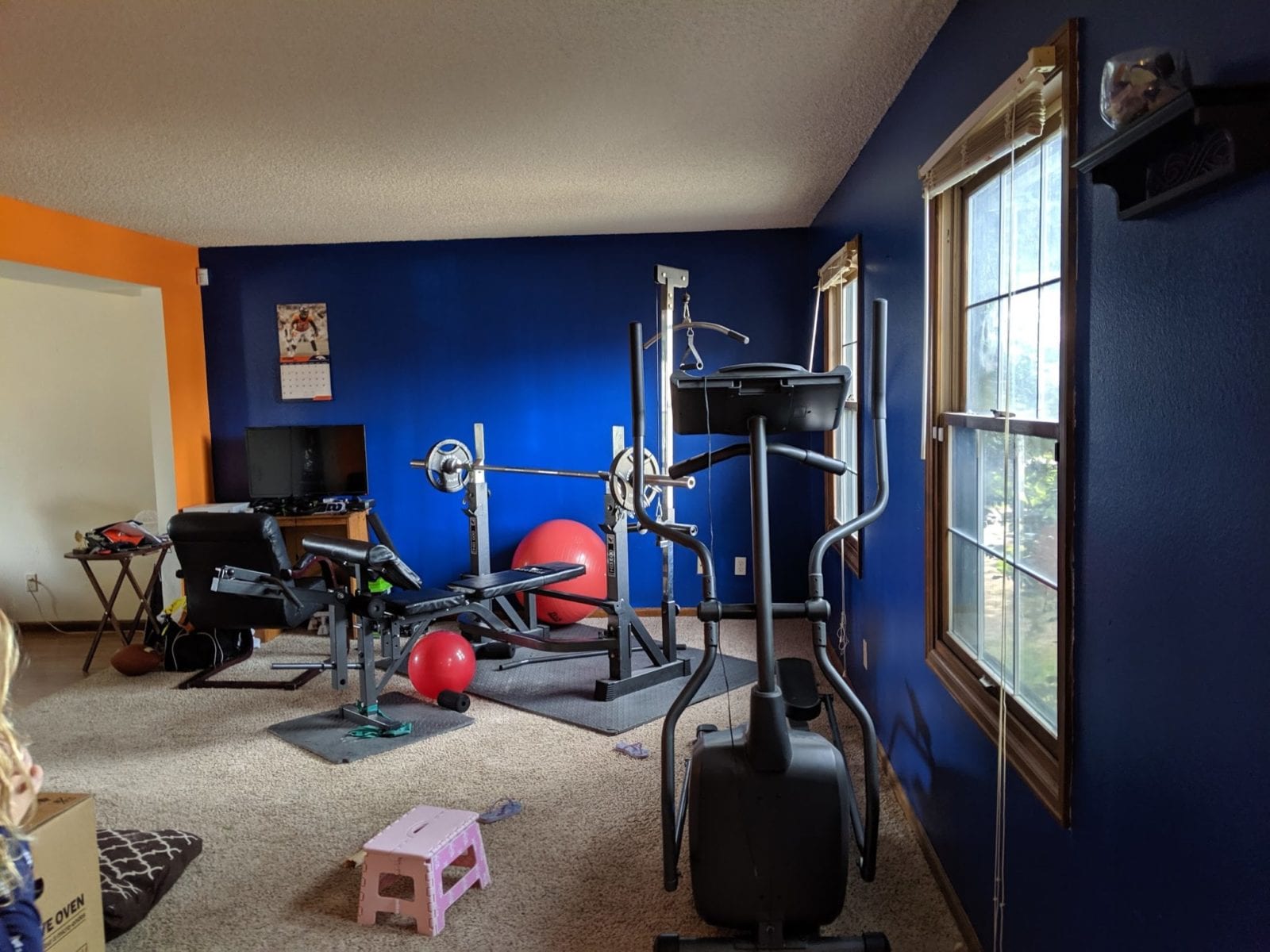 Let's share a good before and after so you get an idea of the space! You'll never guess which one is which! HAHA! Before we get to the beautiful statement photo wall, I want to point out some of the initial changes we made to this room. We put in new flooring, painted the walls white, and removed the popcorn ceilings. With a blank slate, we moved in and started putting this room together. The couch came from our basement in our townhome, the lights & coffee table were from the living room, the side table was in Hilde's room, and the Amazing Grace print was in our guest bathroom. Really when you move into a new house, you have to figure out a new way of arranging things, and it is fun to pull from all over your old house! This space feels brand new when really only a couple things are!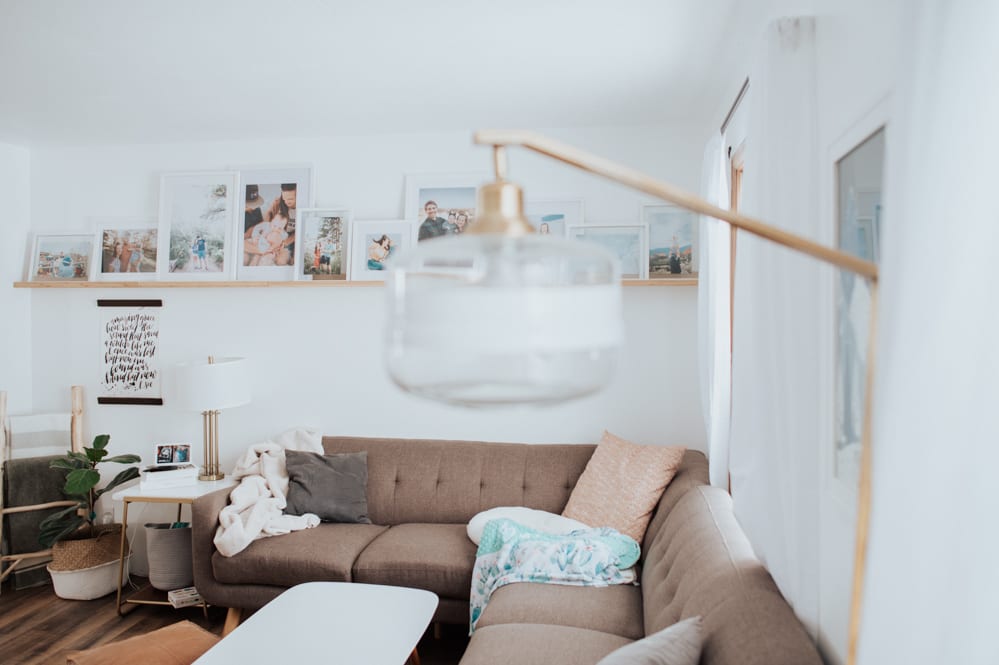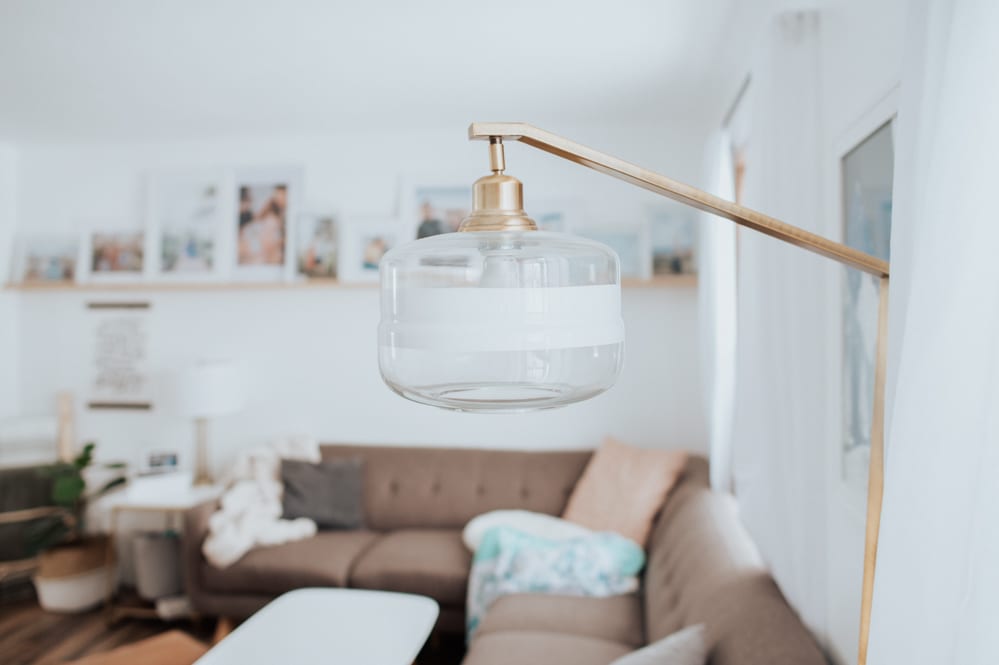 I got the idea for this long shelf from @mkaulgrace on Instagram! I saw it on her stories and it was the answer for this large wall of empty space in our living room! I knew I wanted it to have a photo ledge so that I could stack photos and I knew that I wanted it to go all the way across to make it more of a statement and frame out the space. I figured the only way to do that was to have Bruce custom build it for me. Then one night I was shopping around and ended up on Ikea's website adding up sizes of shelves. Turns out, five of these shelves was almost exactly (2 inches off) the length I needed! So I ordered them and told Bruce he didn't have to build it for me anymore, he just had to help hang it!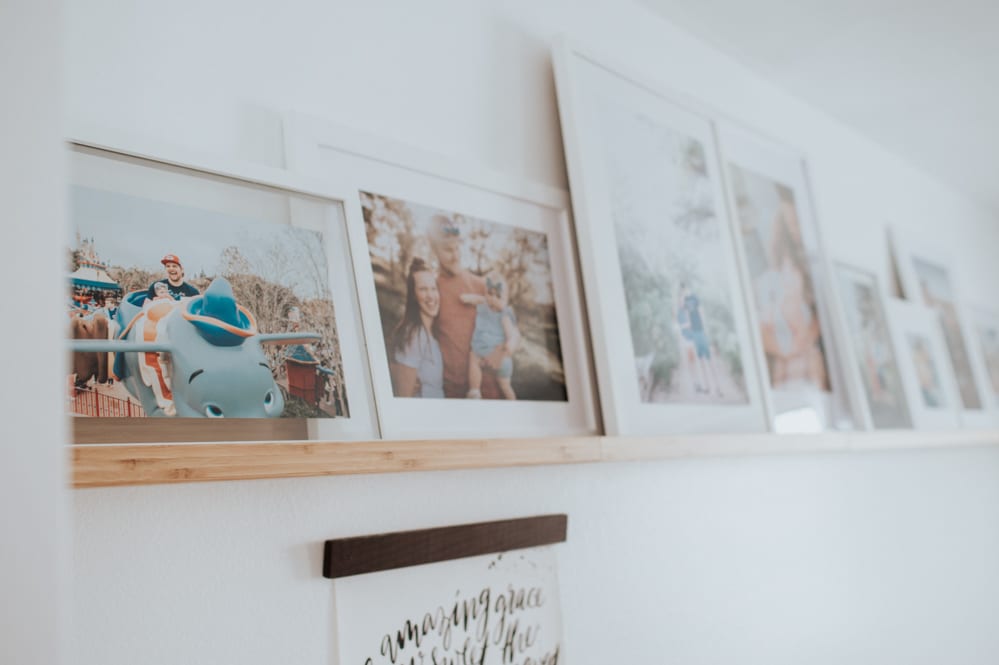 I already had some family photos printed for our old house that I put up as soon as the shelf was installed. One of them came from Keepsake (you can see the original blog post here) and two others were from Frame it Easy (use this link to get 10% off your order!) But I wanted MORE! Haha! I wanted to fill out the shelf and also finally print some of those photos of my family that I love but only live on this site and my Instagram! I did some quick research and decided to order prints from MPix.
I had some of these frames from Target sitting around and I ordered three more on Amazon (one, two, & three).
How to
Measure the wall you want to use for your statement photo wall. I say go big or go home with this one. If you can't or don't want to do a whole wall, do a space that defines a section (like separating your dinning room from your living room.
See if you can get away with using a bunch of shelves next to each other. We got five of these ones from Ikea. I'm sure you could also cut one down to size but you would need to be careful about the hanging hardware. There are a lot of other floating photo ledges out there so you can find one that would add up to your measurements! You can also custom build a shelf to fit if that is what you are into!
Order photos! Get them framed or frame them yourself (check out the paragraph above to see where all mine are from!) Don't just get the posed photos, also get some of you fun memories & moments.
Set up. I find it is better to lay them all out in order on your couch so you can move them around more easily until you find the way you want them to be.
Enjoy!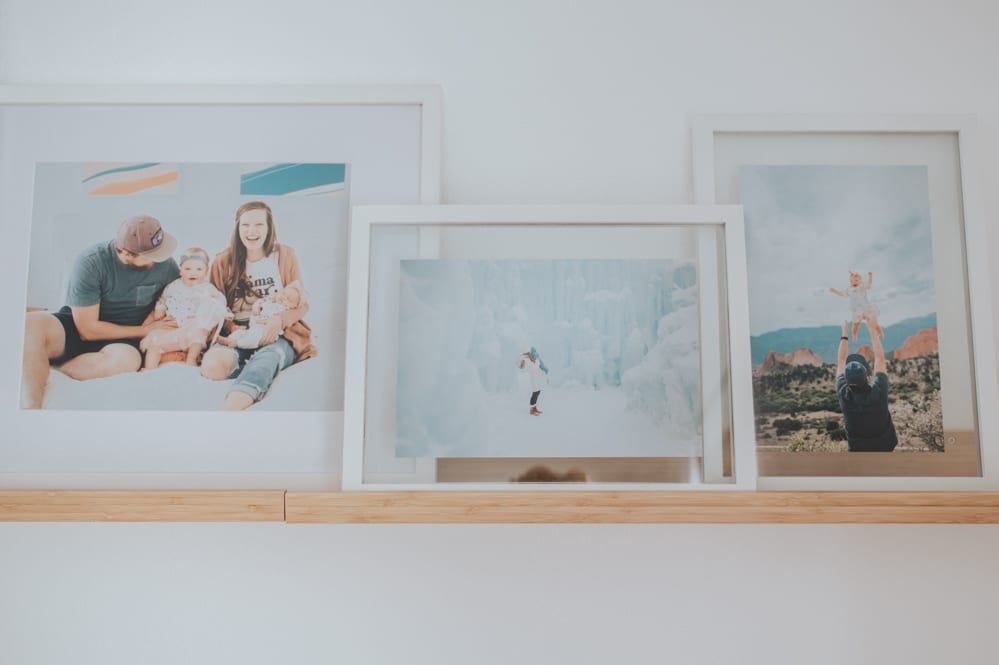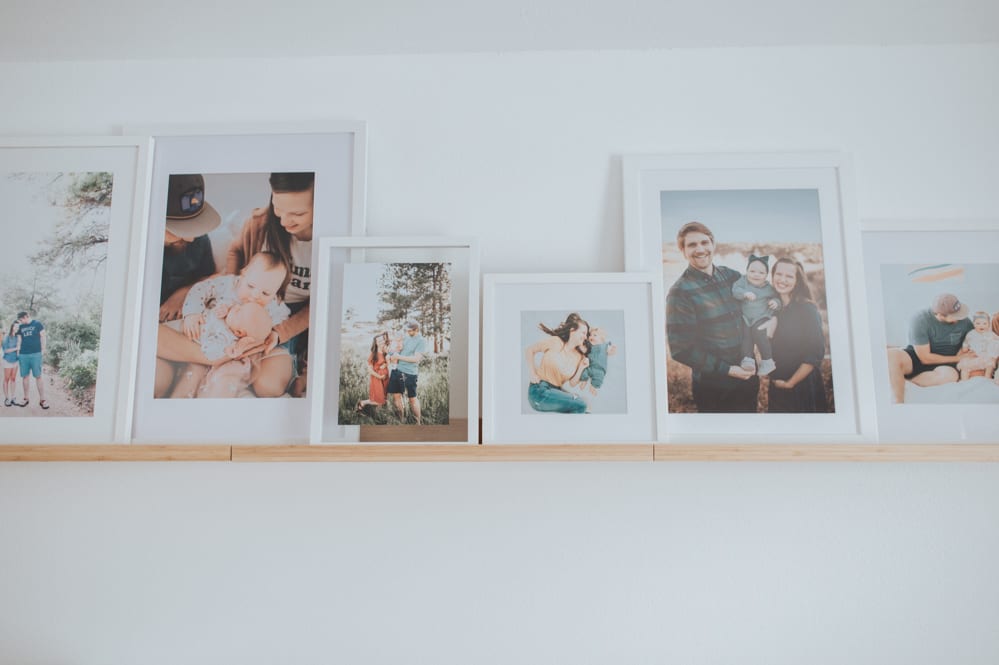 Do you print photos to hang in your house? I was super inspired by this project and now I want to print all the photos! Watch out walls, we're coming for you!