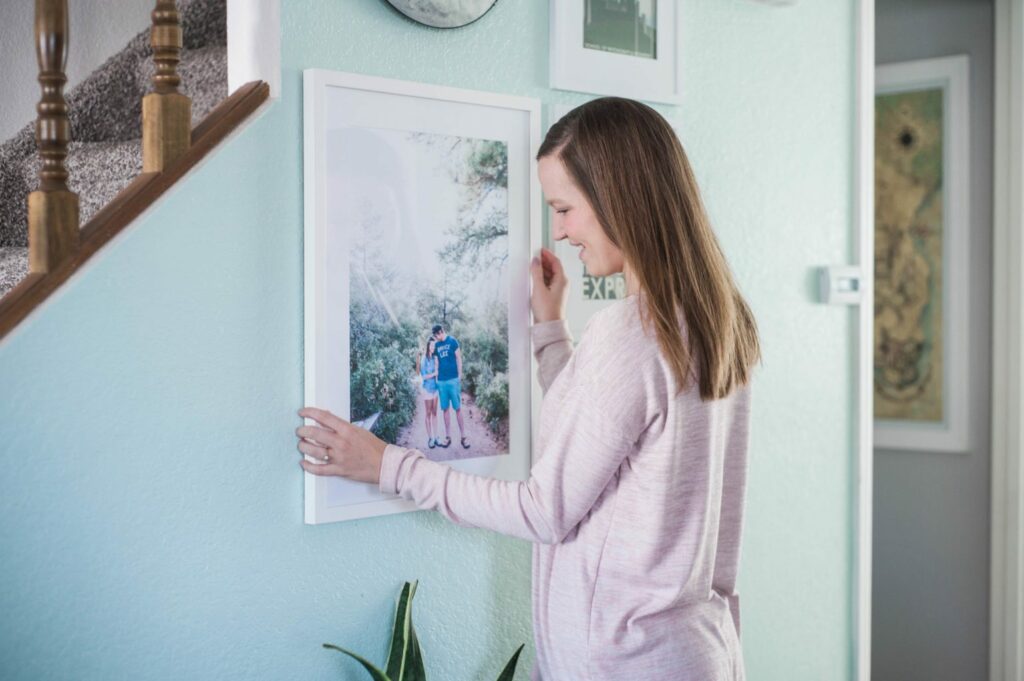 Thank you so much Keepsake for sponsoring this post & filling my home with beautiful memories!
It is no secret that I am obsessed with photos. I've got an Instagram packed with too many and a blog filled with posts a million pictures long. Every time that I take my camera out, I can easily click away – taking hundreds (literally) of photos – to edit & organize them at home and upload them to the blog (and social media.) Then I move on. While it is a wonderful opportunity to create a website where I share all my photos and be able to create albums on FB, it is still important to print things out. If you walk around my house you will see all kinds of print pictures. Our fridge is covered with them, I have instax and Instagram prints scattered around on display, photos in books on my coffee table, and of course prints on my wall. This photo of me & Bruce is the most recent one I hung up.
After 4.5 years of marriage, our wedding photos are very dear to us but we also love the photos of us along our journey. It is important for us to continue capturing photos of the two of us – of our family. We often take turns behind the camera, rarely getting in front of the camera to get a picture together, so I always cherish the photos that we are in together. While my friend Dorien was in town from the Netherlands (long story short, we met in Norway because she was the photographer for a wedding I was in!) we met up to take some Colorado couple pictures. We wore our Chacos and took her on a Colorado hike nearby. This picture is one of my favorite pictures she captured for us that day. I knew I wanted to get it printed.
I discovered Keepsake a couple weeks ago and was really excited to try it out for this photo! Keepsake is SO easy to use – you can download the iPhone app and do it all from your phone or check out on their website. You just upload your photo, pick out your frame, and wait patiently for it to come! It is seriously as easy and 1,2,3! It arrived safe and sound in the mail a couple days later and even came with all the hardware needed to hang it up. After carrying around the frame room to room, I finally decided to make it's home in our living room. Right by our moon clock and HP travel posters. It's nerdy & outdoorsy – just like us!
Do you have a photo (or photos) you've been meaning to get printed! Try out Keepsake and save 20% when you use code Oak20