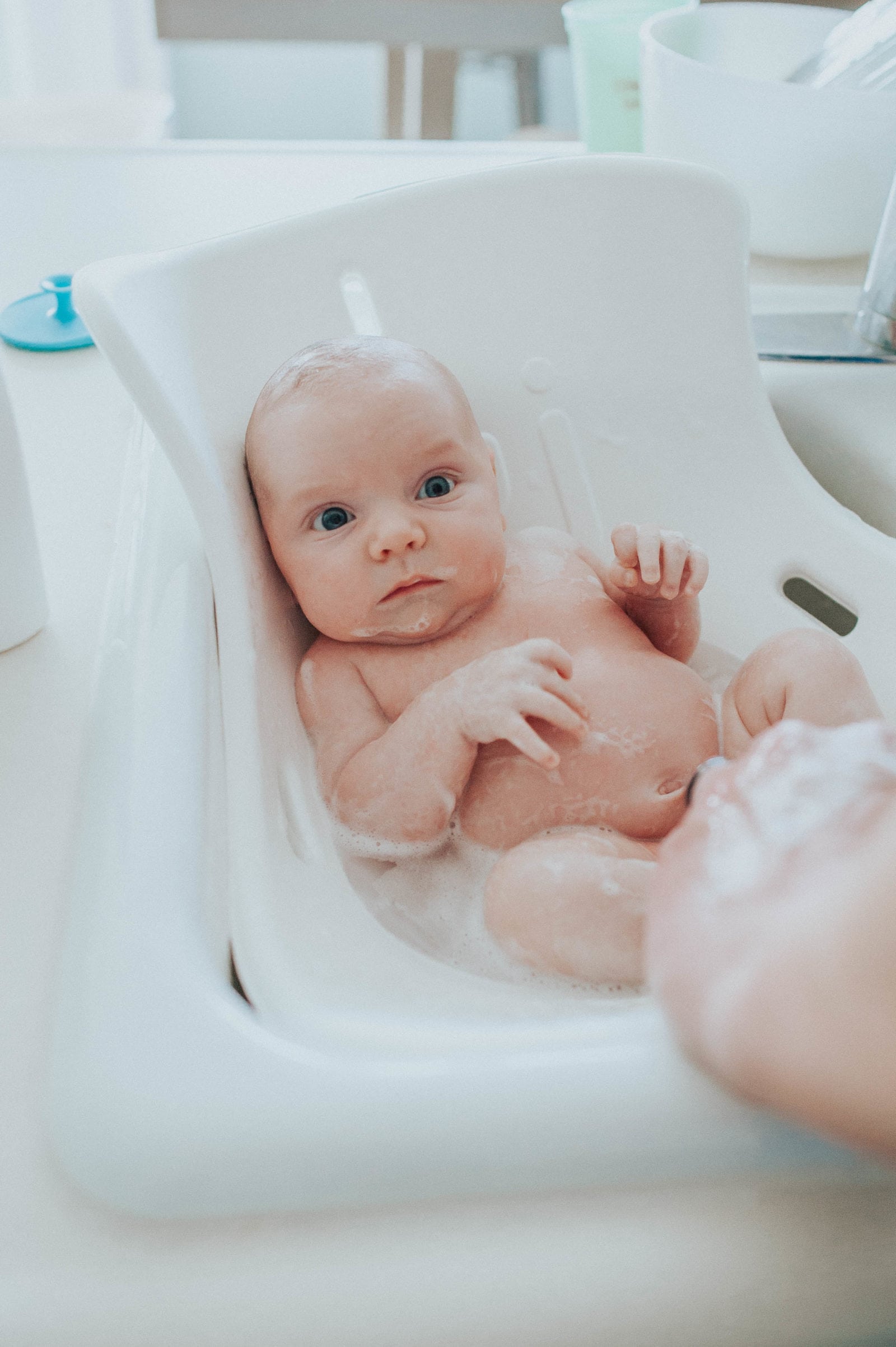 Thank you buybuy BABY for sponsoring this post!
It felt like FOREVER until her umbilical code fell off. Now, it wasn't forever or even longer than normal but I was tried of giving her sponge baths because she would get cold and uncomfortable. I couldn't wait for her to experience a real bath because who doesn't like warm water running over your body?! As you can see from the photos, she didn't hate it but also didn't know what was going on. haha. She did start crying when we took her out, so I take that as a sign she loved it! Plus this bath was before she started social smiling so she just had to use all the other faces she has learned 😉
I brought out the camera to document this moment. You know, document all the things! I am totally that mom 😉 She likes the water as warm as she can! That is why we love that little whale thermometer that shows the temperature with us saying if it is too hot or too cold instead of just guessing. She also loves after bath snuggles in her cozy towels. She usually loves it so much she poops! haha. You can't win them all. I want to write these words and record these pictures because before we know it she will be out of sink baths and taking her own showers. Time stops for no one.
I'm currently holding Hilde in her carrier as I stand at my sit/stand desk and write this post. Her breathing in and out and occasional sucking on her pacifier is one of the sweetest sounds. I write these posts and take these photos because time passes by so fast. The Sleeping at Last Eneagram song Seven came out today and I am a seven! I've been listening to it all day and crying at this part every time:
But I want to be here
Truly. Be. Here
To watch the ones that I love bloom
And I want to make room
To love them through and through and through
And through the slow and barren seasons too
So my goal is to be here, love this little girl bloom. Make room to love my people through and through and through. And take a ridiculous amount of photos!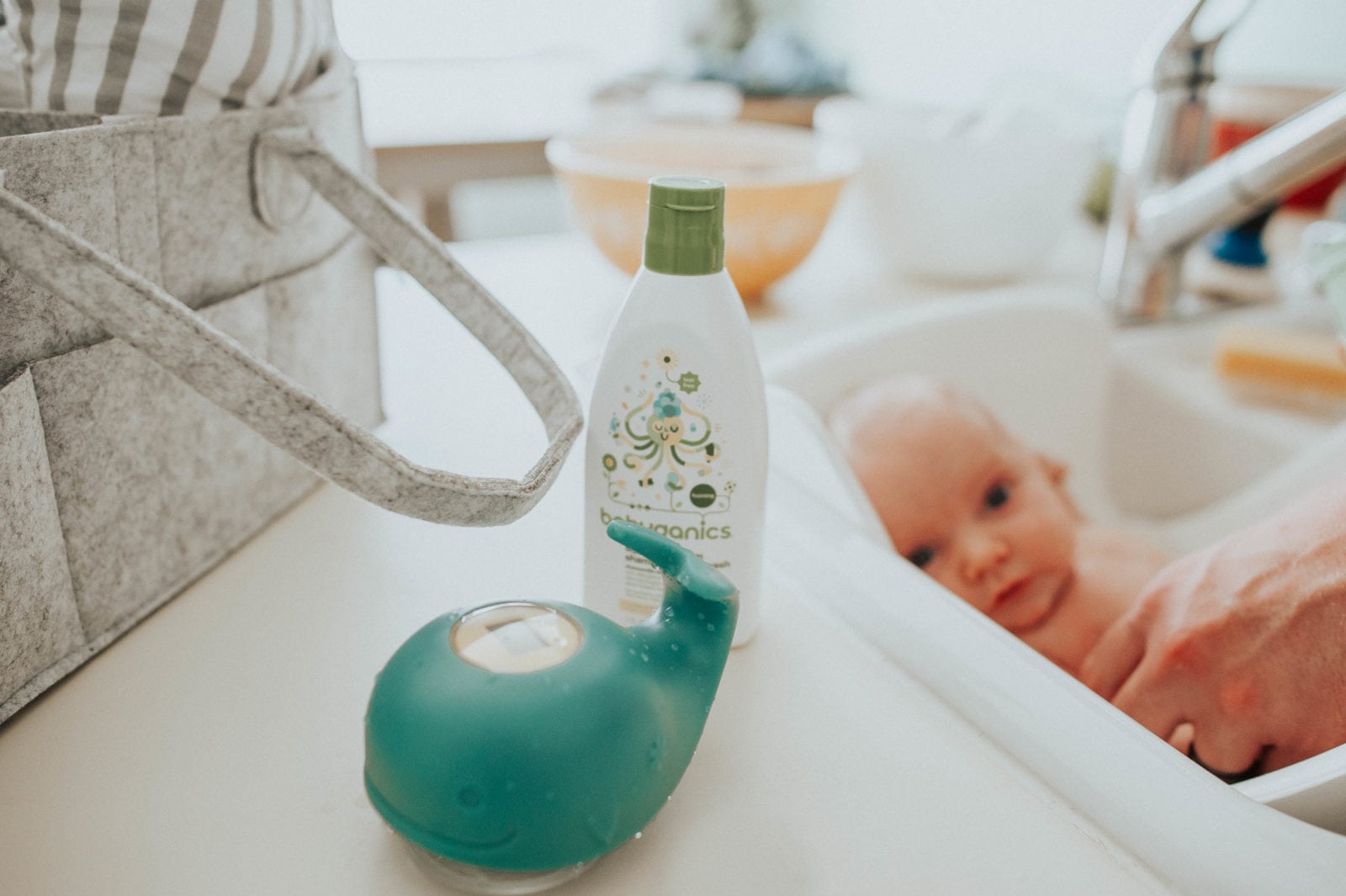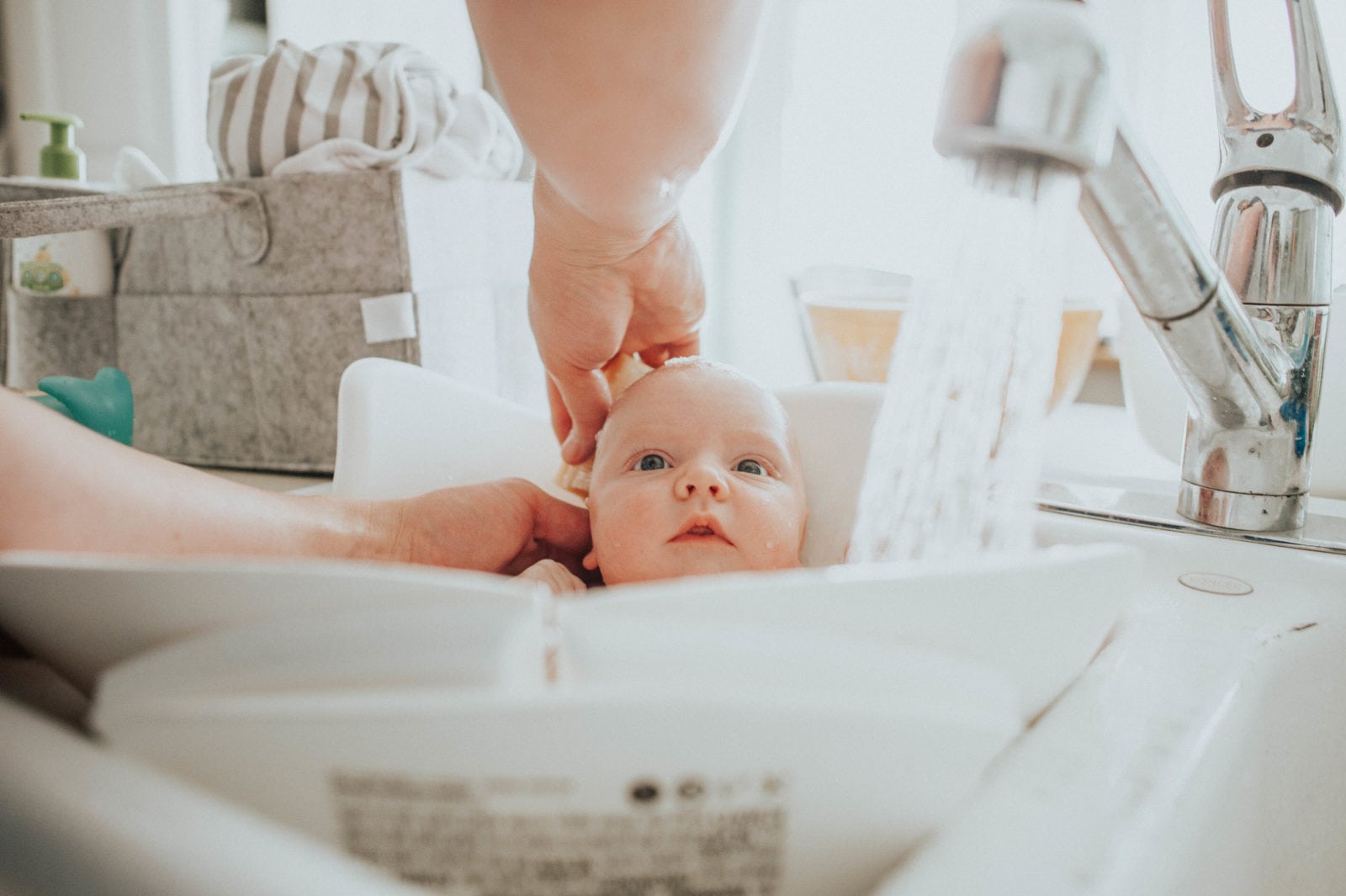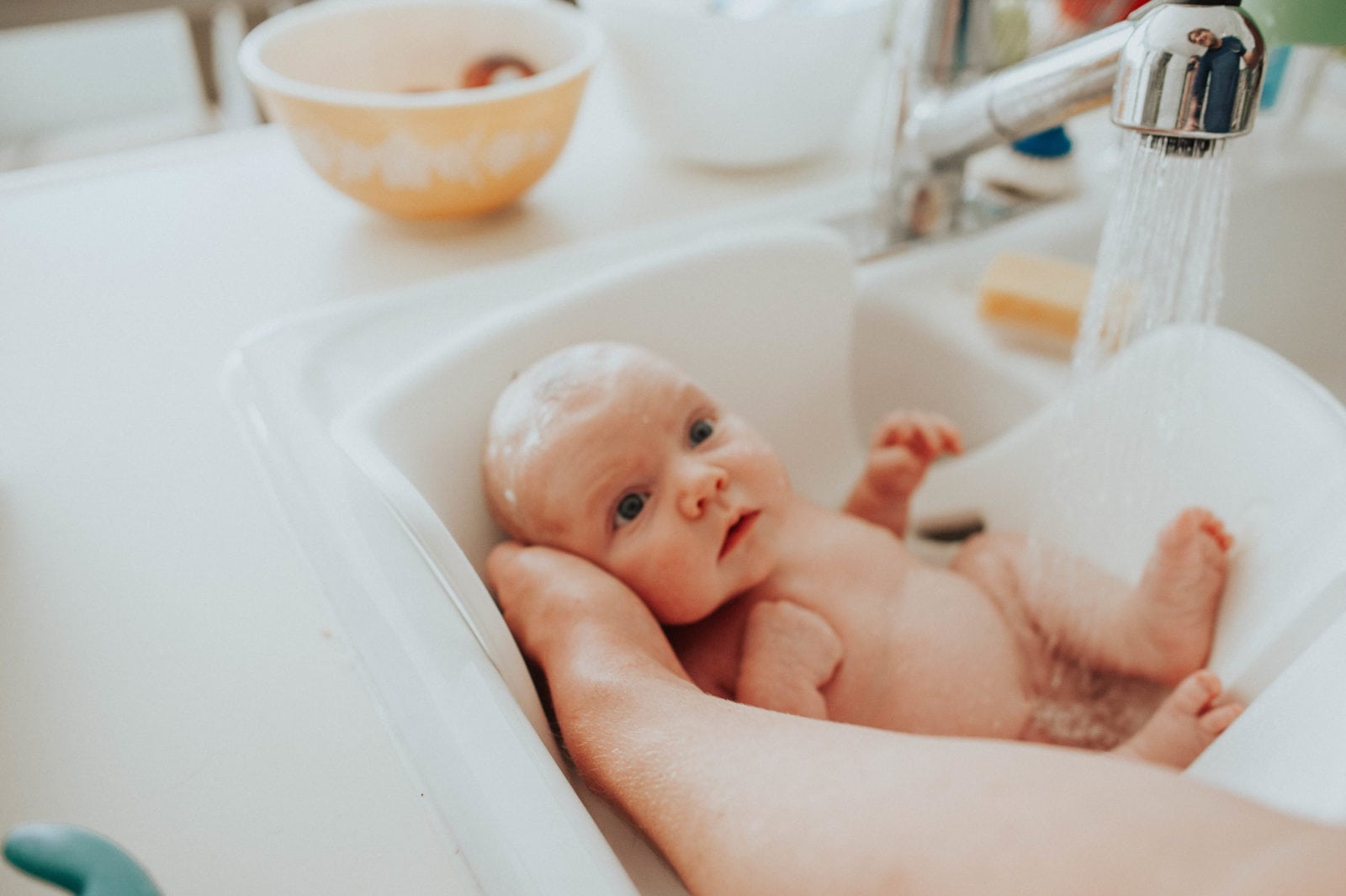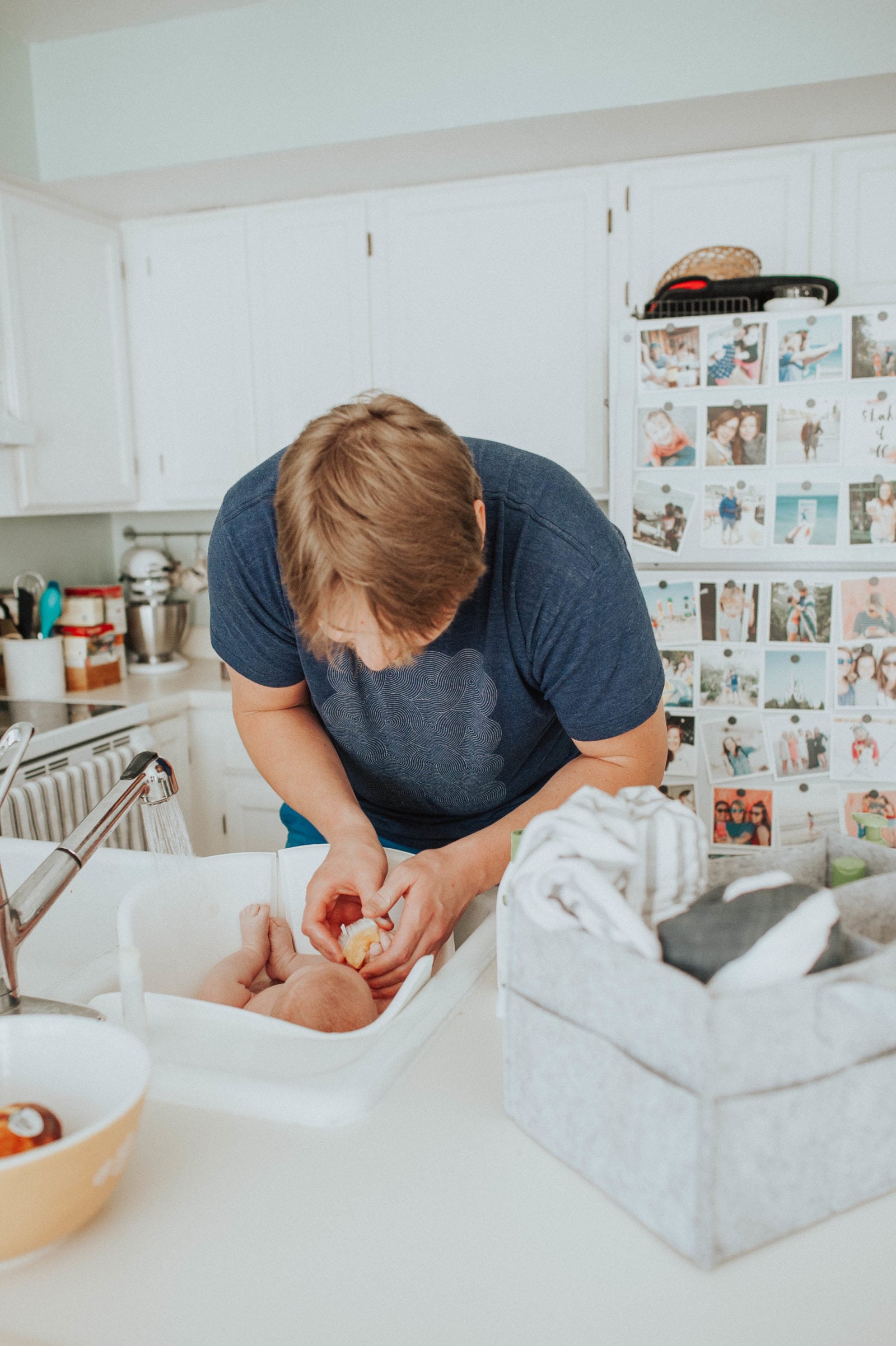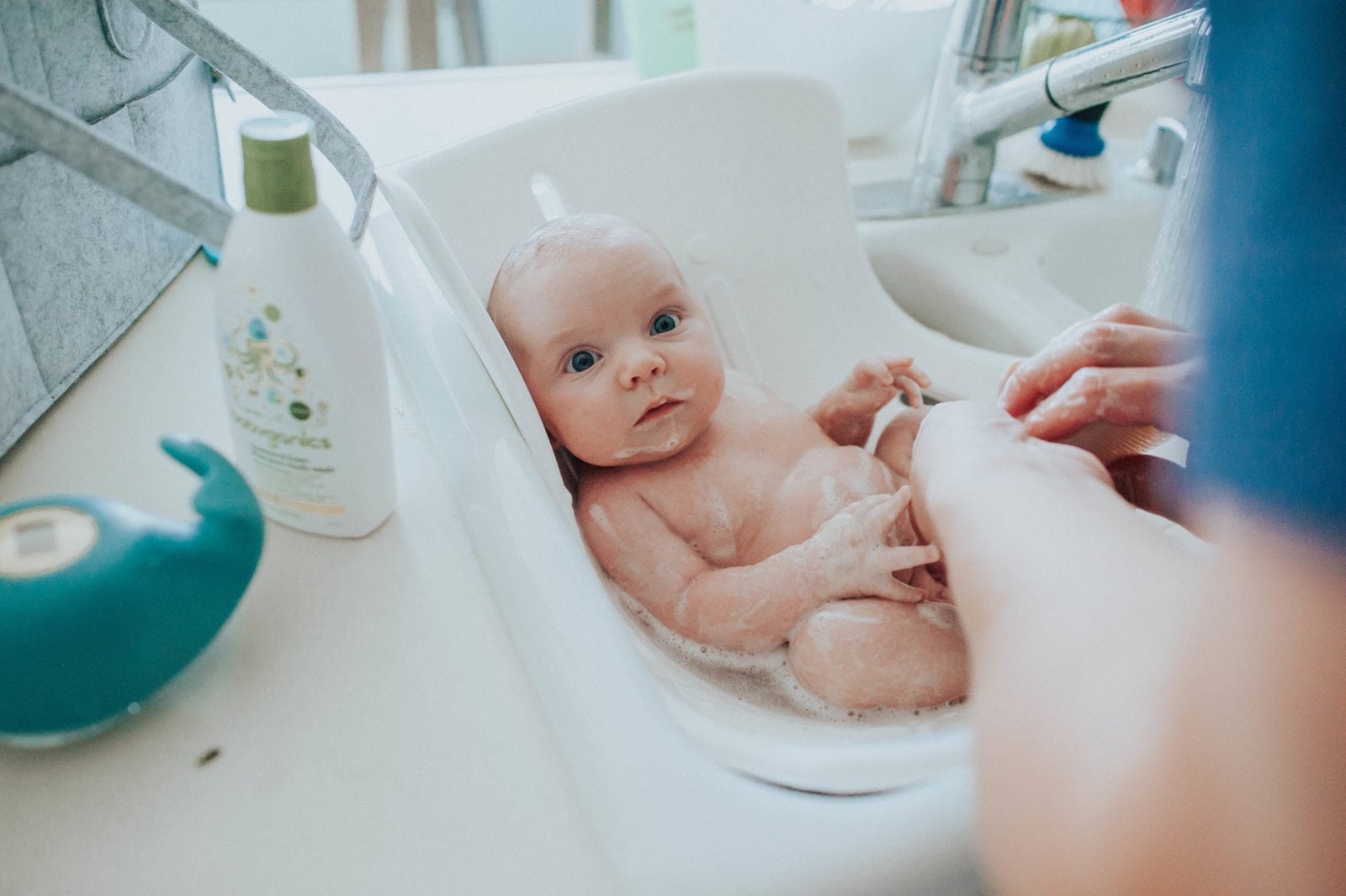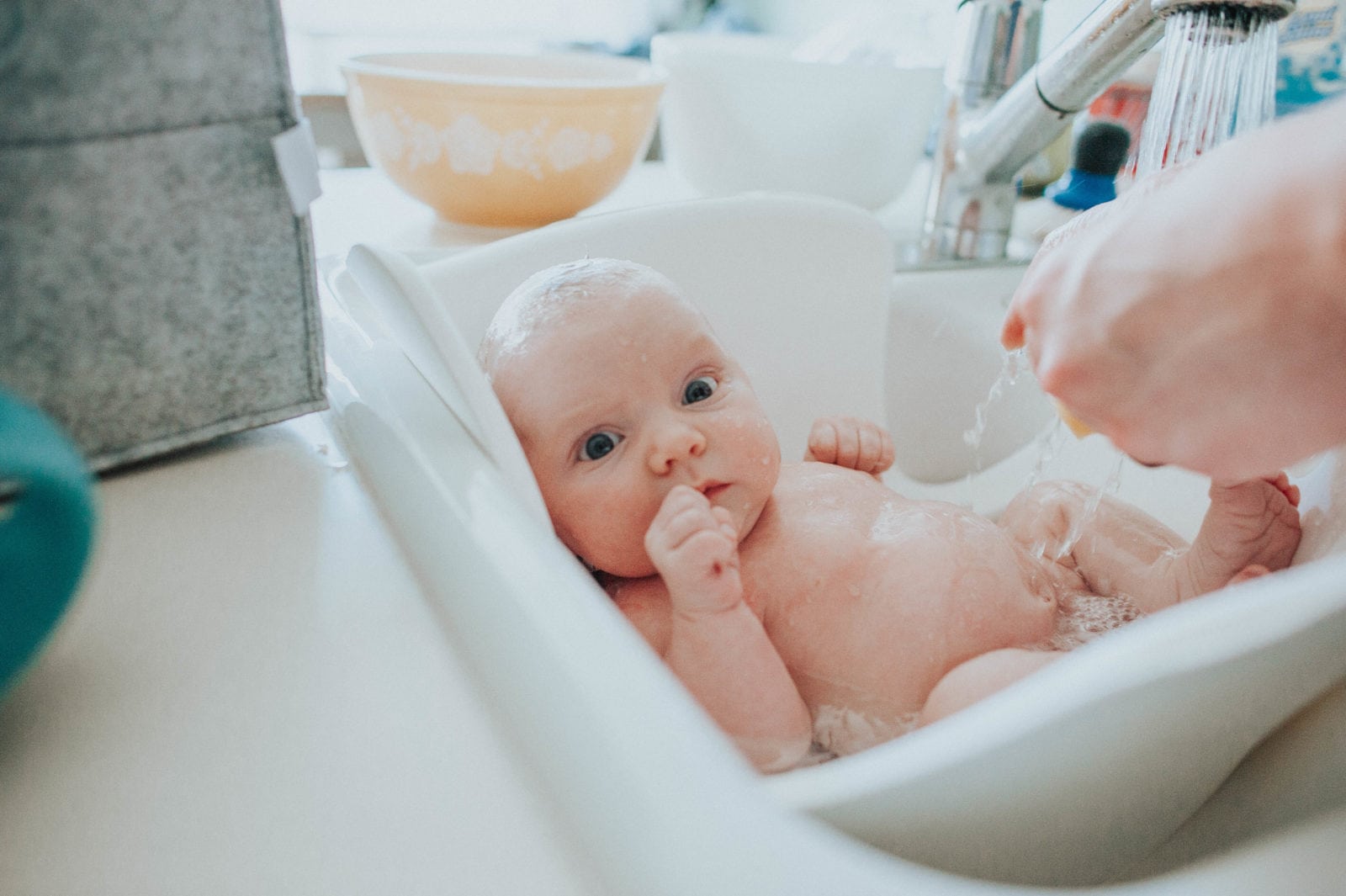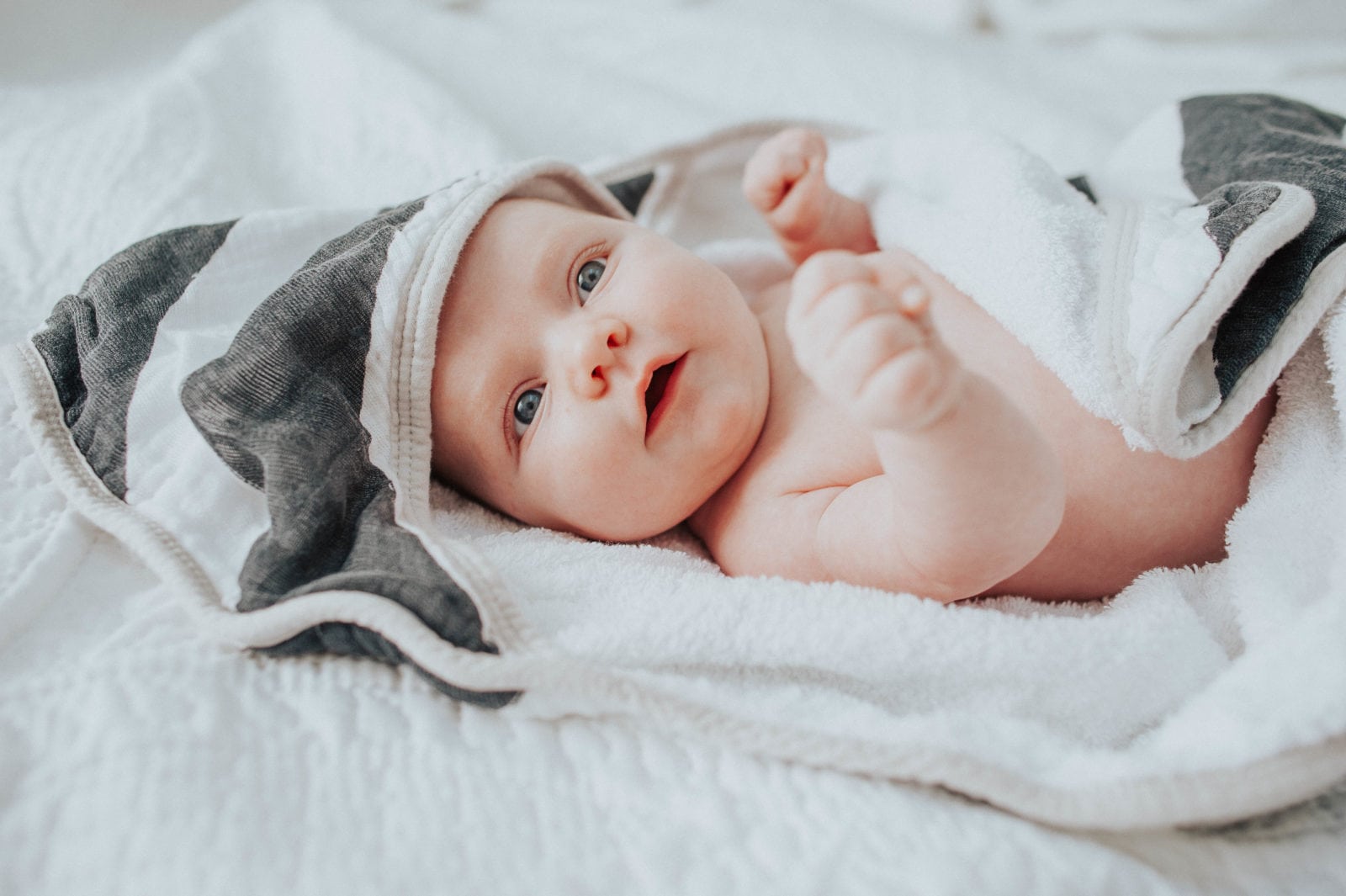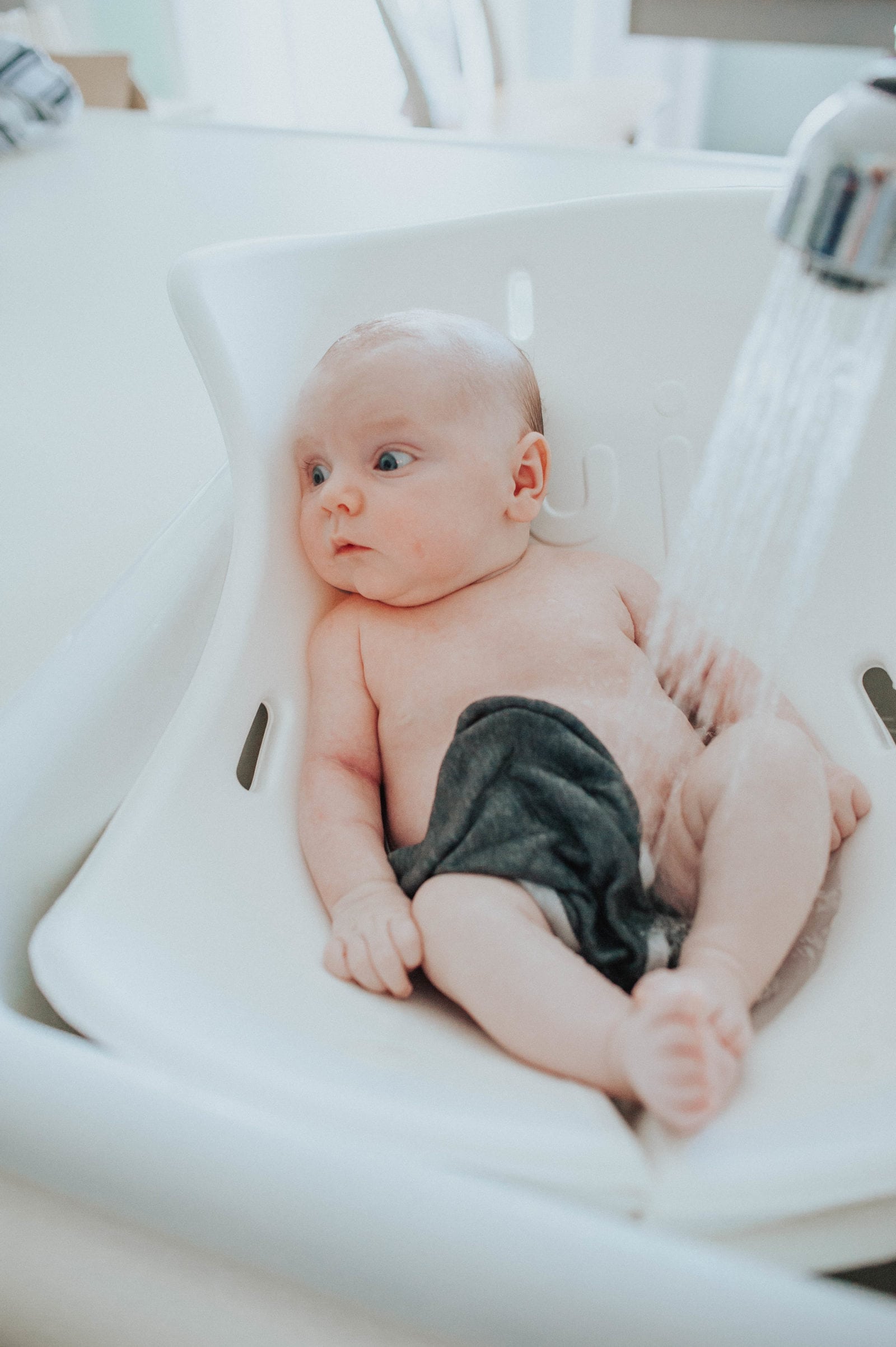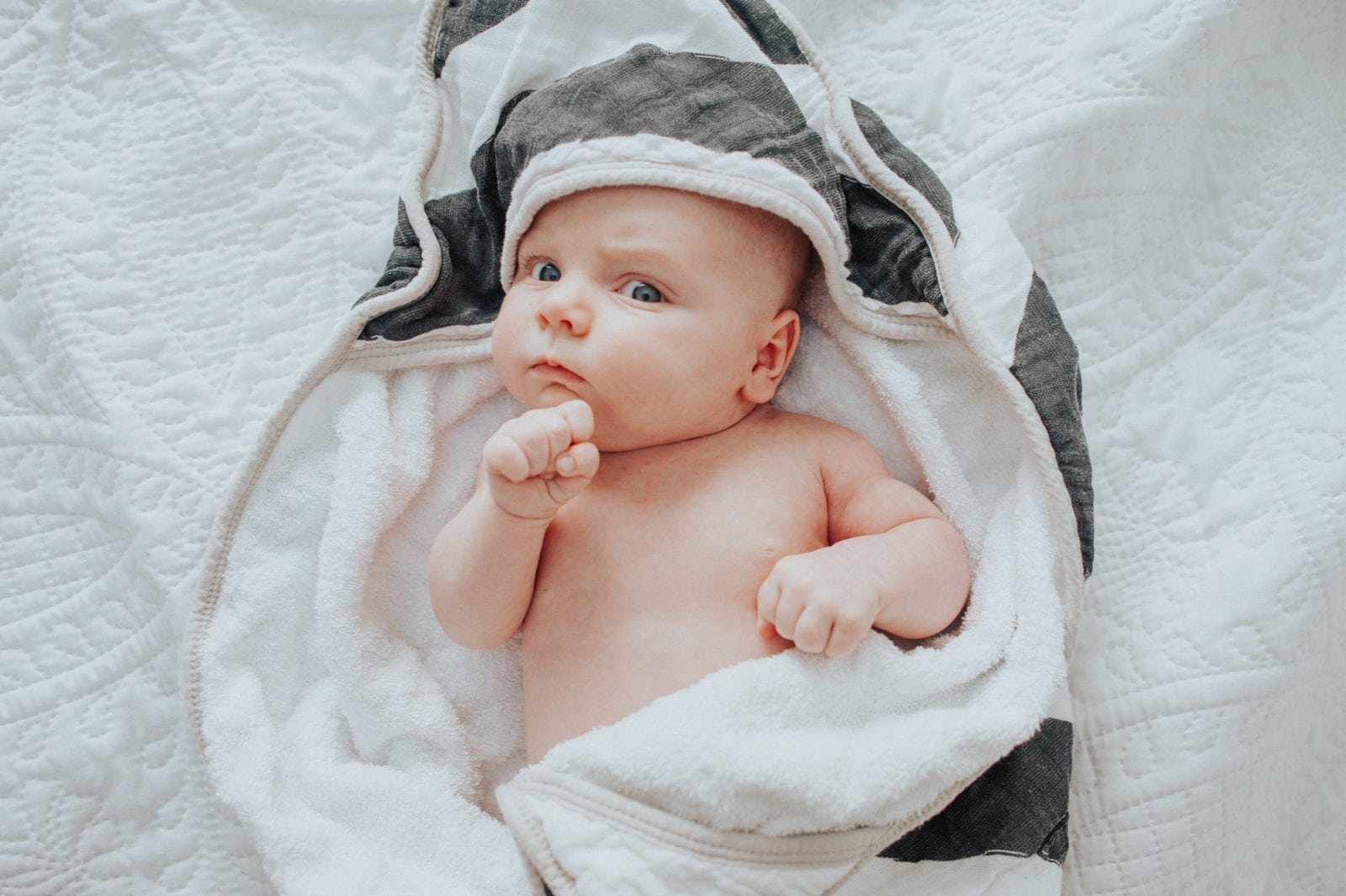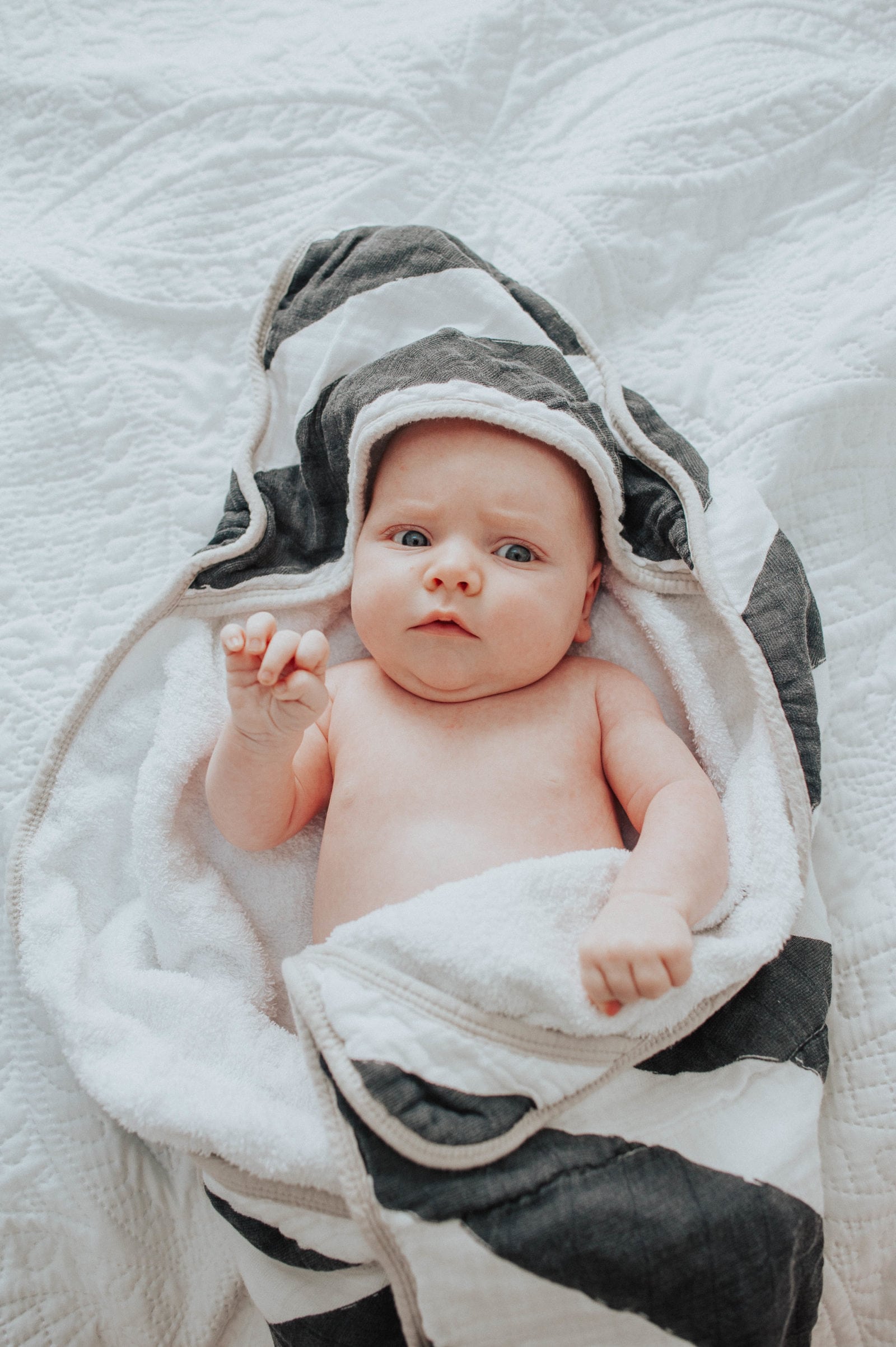 All our bath time goodies are from our registry and buybuy BABY! It was so fun experiencing this first with our little girl! Here are all the goodies we have in our bath caddy for bath time! PS: We are HUGE fans of the Puj bathtub because it fits so nicely in our sink to hold her and it is very easy to dry. I read so many reviews of other tubs getting moldy but not this one! And it stores flat which is super helpful since it takes up like zero space!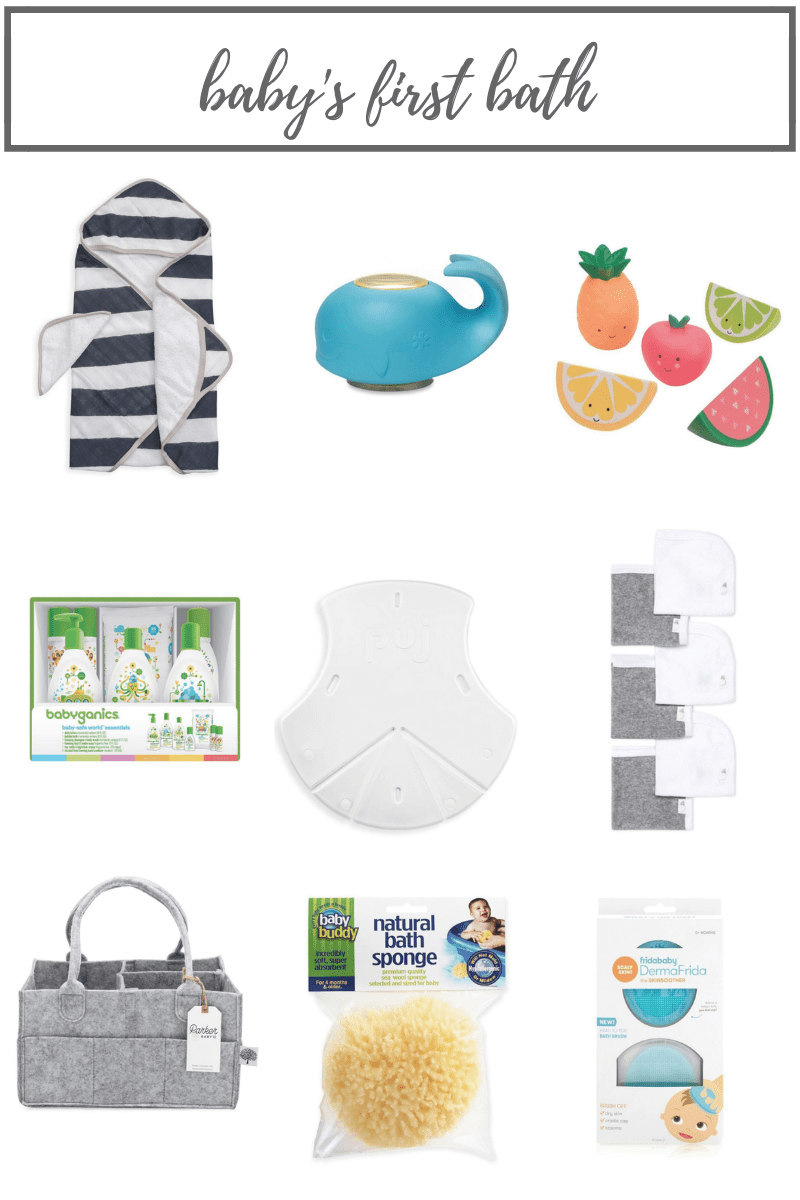 Little Unicorn™ Cotton Hooded Towel and Washcloth Set in Navy Stripe – $35 || SKIP*HOP® Moby Floating Bath Thermometer – $15 || Elegant Baby® 5-Pack Fruit Party Bath Squirties – $15 || Babyganics® Baby-Safe World™ Essentials Gift Set – $30 || Puj® Tub in Soft Infant Bath Tub in White – $45 || Burt's Bees Baby® 6-Pack Organic Cotton Washcloths in Heather Grey – $13 || Parker Baby Diaper Caddy – $20 || Baby Buddy® Natural Bath Sponge – $10 || FridaBaby DermaFrida the SkinSoother Silicone Bath Brush – $10