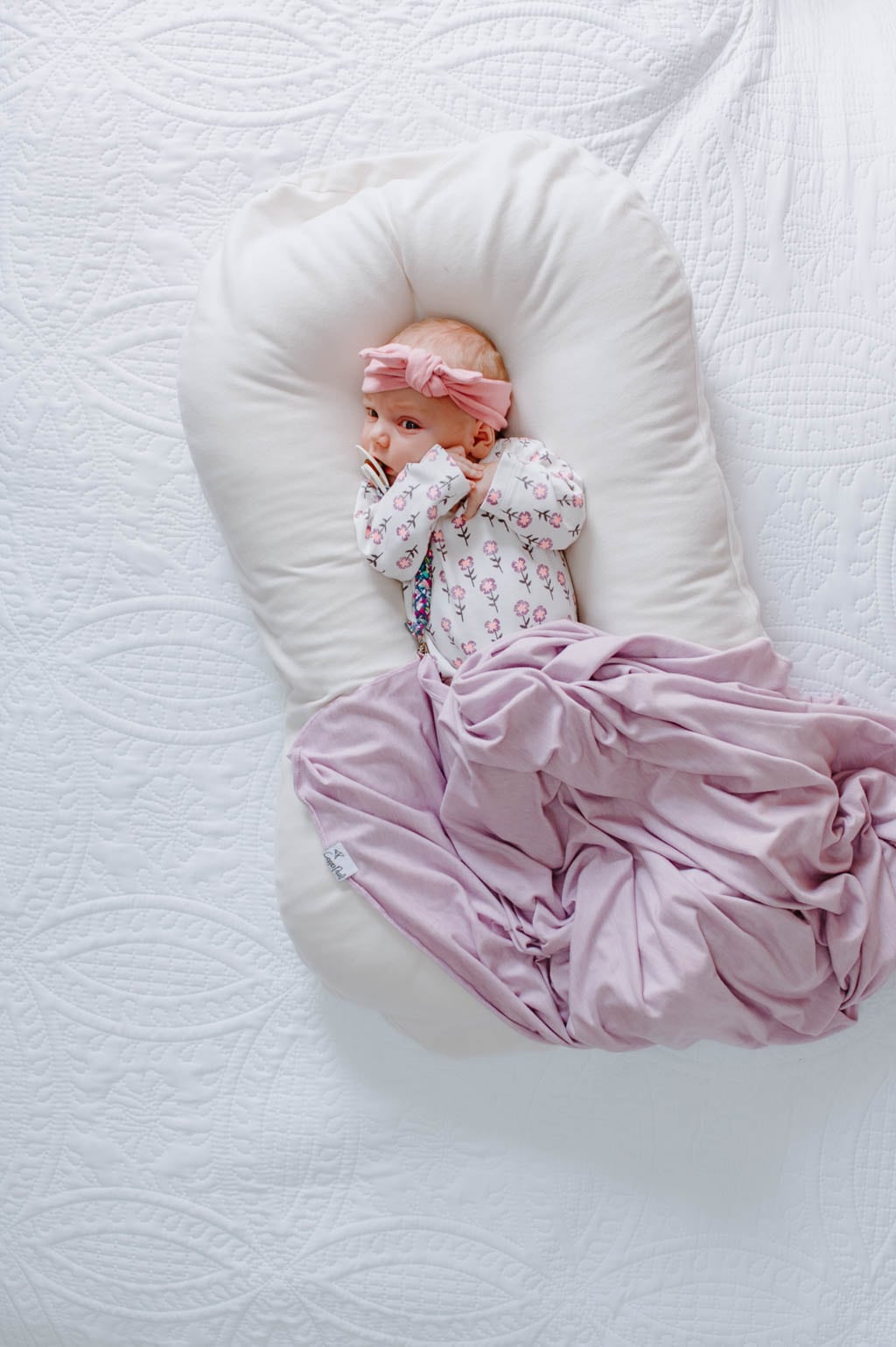 I've been spending a lot of time on my phone these days watching Instagram stories… I've got to find some other nursing time activities (haha) but while I was there asked if you guys had any questions for me about these first days. I'll be honest, these first days and weeks have been a bit of a blur. Because I got a c-section and because I have a newborn – we've been hanging out around the house healing and figuring out life. I have a friend who told me that she was praying I would have an easy baby and I totally got one. I am a prepare for the worst kind of person so I've honestly been pleasantly surprised with how things are going!
She loves to sleep, loves to eat, and doesn't cry all day. It's wonderful. Also, this has been so much more of a natural transition than I thought it would be. I have quite a few friends who struggled with postpartum depression so I didn't want to rule that out. I'm thankful that at least this time, I instantly bonded with my daughter and took on my new role with great joy. Bruce has also been a huge help. He did everything besides feeding for the first weeks while I was healing and I think would have done that regardless of if I had a c-section or not. He has just been super involved and comes upstairs to hold her during lunch everyday.
Anyways, I want to answer some of the questions you all have been asking me! Feel free to add anymore in the comments! I'm always up for another blog post!
Do you use natural baby wash/ care products? If so which ones do you like the best?
We are using some natural products! I am trying to keep them as natural as possible but also things that work! haha. We tried the Young Living Seedlings Baby Wipes but they were super irritating to our little girl's bottom! I think it is because of the fragrance – they smell strongly of lavender. We'll wait to see if when she is older she is still sensitive but for now we've put them back in the drawer (or we may use them for these other uses!). We switched to Water Wipes which we like but don't like the packaging – it is hard to get them out. Also a couple of the packages came dryish already so that was a bummer. Honestly our favorite so far is Natural Care Wipes by Huggies. They are gentle on her baby bottom, affordable, and we like the packaging. I'll probably still try other natural wipes to see what ones are worth it for us….and I just realized while writing this that maybe we should get a wipes dispenser…haha! That will help with the packaging issues.
We are using Babyganics for body wash, lotion, hand sanitizer, etc. We got this gift pack that we use. I have also been putting coconut oil on her skin because it is SO dry here in Colorado and she got her mama's super dry skin. That's about all the baby care products we are using at this time.
Do you have/ use the Bodomint diaper bag? How do you like it??
I do have the Bodomint diaper bag! I really loved it so much that I gifted it to my best friend who was pregnant the same time as me (since I have a couple other diaper bags already!) Here are some IG photos of it (here & here) It has great pockets, feels and looks well-made, can be worn as a back pack or cross-body, comes with a changing mat, and looks super cute! I have nothing bad to say about it.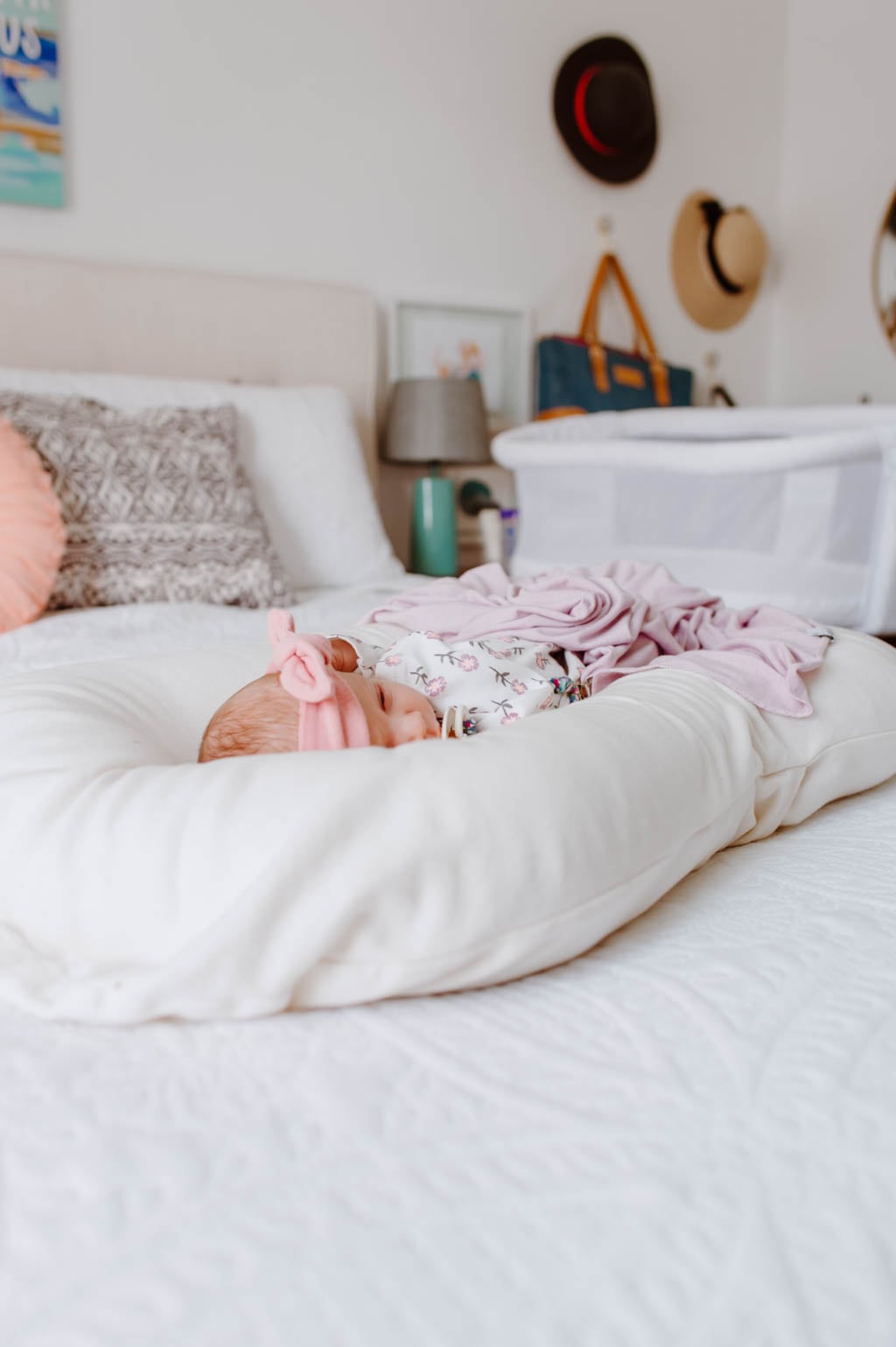 Baby must haves for the first few weeks/ favorite baby products?
Oh man! It is funny to see what you use all the time. In our house these are the must haves:
What was the hardest thing to adjust to when you brought Hilde home?
Right before we left the hospital, I began to worry about going home alone with her – I loved the nurses and the safety of the hospital. Bruce on the other hand was eager to leave and helping us check off our list so we could get discharged. We've lived in this home for 6 years without kids and now bringing one home was exciting and scary! I think the biggest adjustment is just always caring for a baby. There is no "weekend off" or "quitting time" – It is an all day, every day job. Bruce and I both share a lot of responsibility in caring for her but it is still a lot of work for us both. We can't just do our own thing all the time anymore, sometimes our baby girl needs us.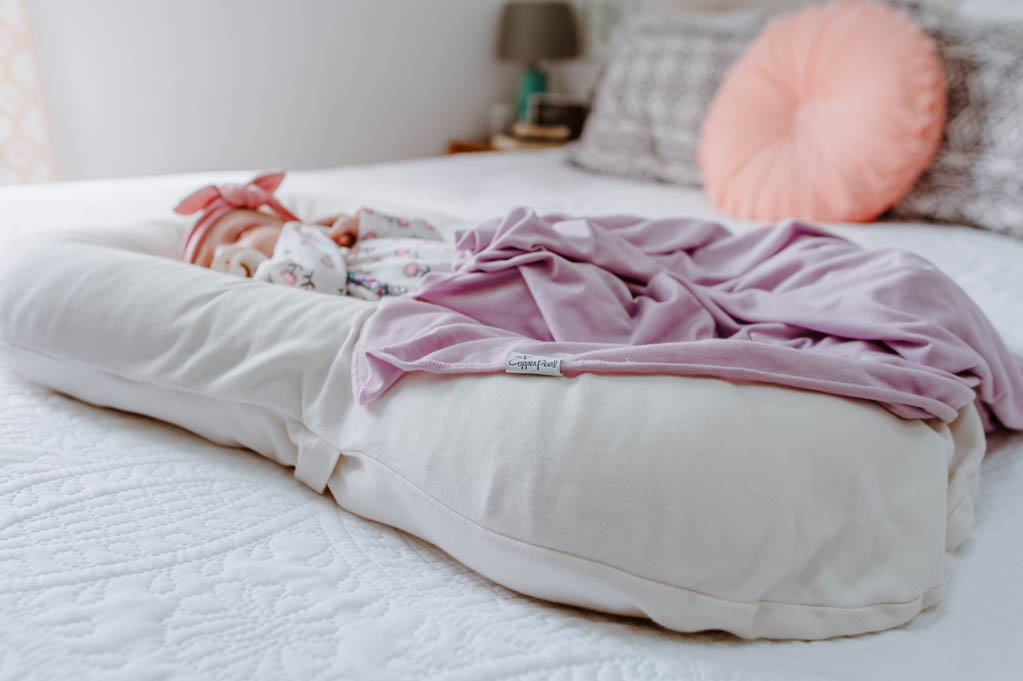 Sleep! Are you sleeping? How are you managing? Etc.
We are sleeping! Not as much as I did before (because I am a sleeper!) but totally still sleeping which has been a pleasant surprise. Hilde does two longer stretches at night both between 4-6 hours. One of them we are still up for (she goes to bed around 7-8) and the other we are sleeping for (around 11-5 ish.) Bruce changes her, I feed her, and then we all go back to bed until 7 or 8. We are also taking the Taking Cara Babies newborn class that has helped as well! She is a pretty good napper during the day but sometimes she fights those. We're not that consistent on a sleep schedule yet!
What was your favorite "surprise" when you brought Hilde home?
I love her so much. Haha. But really, I had no idea I could love a little human so much. I find myself staring at her and marveling over the fact that she grew in my belly and is now here with us. She is a little bit of Bruce and a little bit of me and that is such a magical thing. Honestly, what surprised me the most was how natural things were. I was so scared to bring her home from the hospital but something really does kick in to give you the strength and wisdom to take care of this little one.
What are your hopes & prayers for your little girl?
Oh man! So many. I find myself praying Luke 2:52 over her often – "And Jesus increased in wisdom and in stature and in favor with God and man." That she would grow in wisdom and in stature and in favor with God and man! My prayer is that she will know how loved she is – worthy, beautiful, chosen. I pray she would know God as her savor, Father, and friend. I don't know what her future will be, but I know she will experience darkness, hurt, and pain. This world is full of it. But I pray she knows hope and she is a light. That's my prayer for her!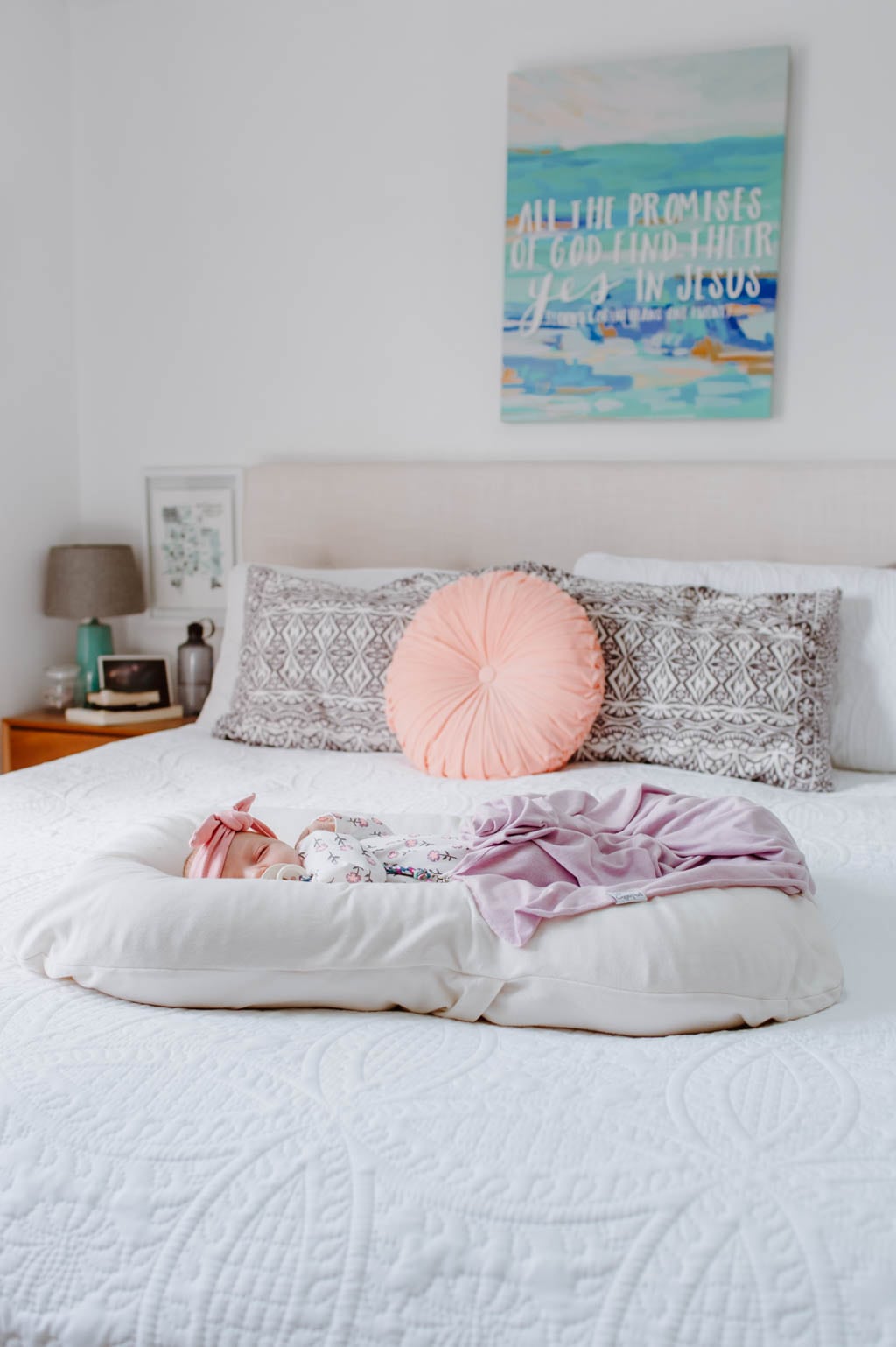 Are you nursing? I'd love to hear about pumping (tell us about the Willow Pump!) and flow. 
I am nursing! I was hopeful that I would be able to and it has been easier than I thought it would be. She latched right away at the hospital and my boobs grew even bigger than I could imagine when my milk came in 😉 She loves to eat and is already up 2 lbs since she was born! We have the Hatch Baby Grow so we can track all that which has been too fun (especially for Bruce!)
Also I am pumping in addition to breast feeding. We have the Willow Pump which I LOVE. I've never used any other pump so I can't really compare it to anything else but I am a fan. The suction feels just like nursing and you just pop them in your bra and walk around hands free! It is also super quiet and they are SO easy to clean. I've got a bunch of milk in the freezer we have not used yet but we will one day when we have sitters or when I leave the house longer than 30 minutes without Hilde 😉
What has your schedule been as a work from home mom?
No schedule yet! haha. I'm still on that Maternity Leave plan I set up. I work when she naps and I feel like working 😉 I've had lots of help from family and friends who hold her while I answer some emails or take some photos. Now that she is 4 weeks old (what?!) we have her napping on her own (not always in arms) which allows me to get work done around the house or shower or on Oak + Oats! Also using the Solly Baby Wrap for a nap allows me have both hands free for typing.
Sometime the next couple months we'll get more on a working schedule. I'm thinking we will hire some help for a couple hours to get designated work time.
What are your favorite postpartum/ nursing outfits?
I spend a lot of time in t-shirts, a simple nursing bra, and work out shorts. These underwear really came in handy with my c-section because they are high rise. I've been wearing this bra when I go out because it provides more support and is still easy to use for nursing! As far as nursing friendly outfits go, I have like one dress and a couple button ups. I just ordered some clothes for a nursing capsule wardrobe and I will share them with you (future post!). I no longer fit in my maternity clothing or my pre pregnancy clothing so it is a weird stage!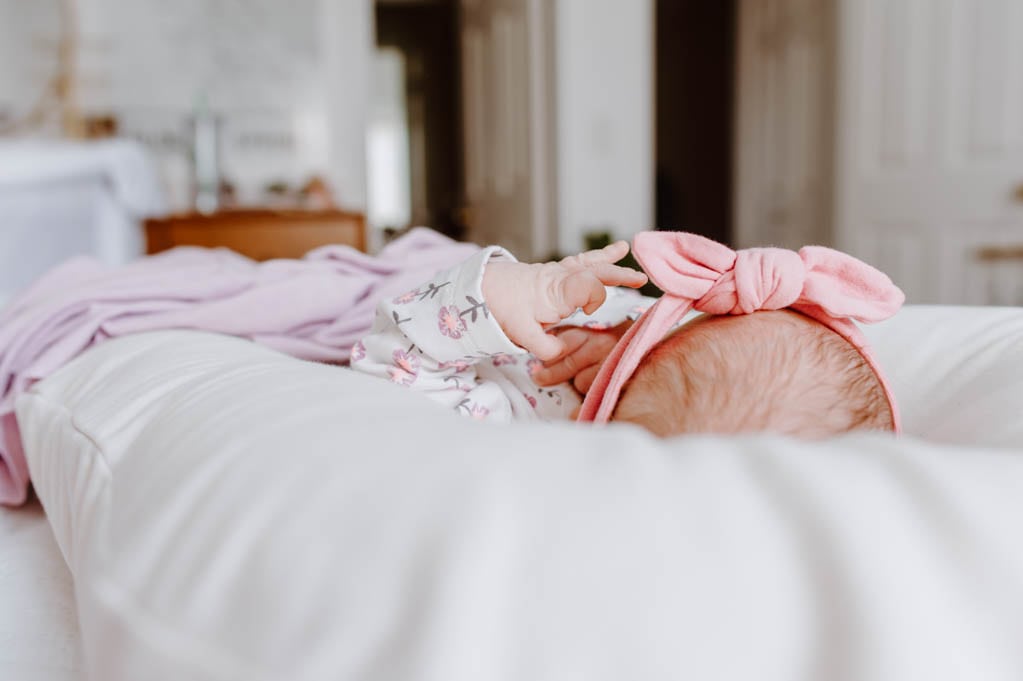 That is that! These days have been sweet and challenging all at the same time. In fact, it has taken me so long to finish this post since I only get random amounts of time to work on in. Right now as I finish up this post, Hilde is starting to fuss as she wakes up from her nap! So I'm going to go snuggle her now! Feel free to leave any other comments or questions below!