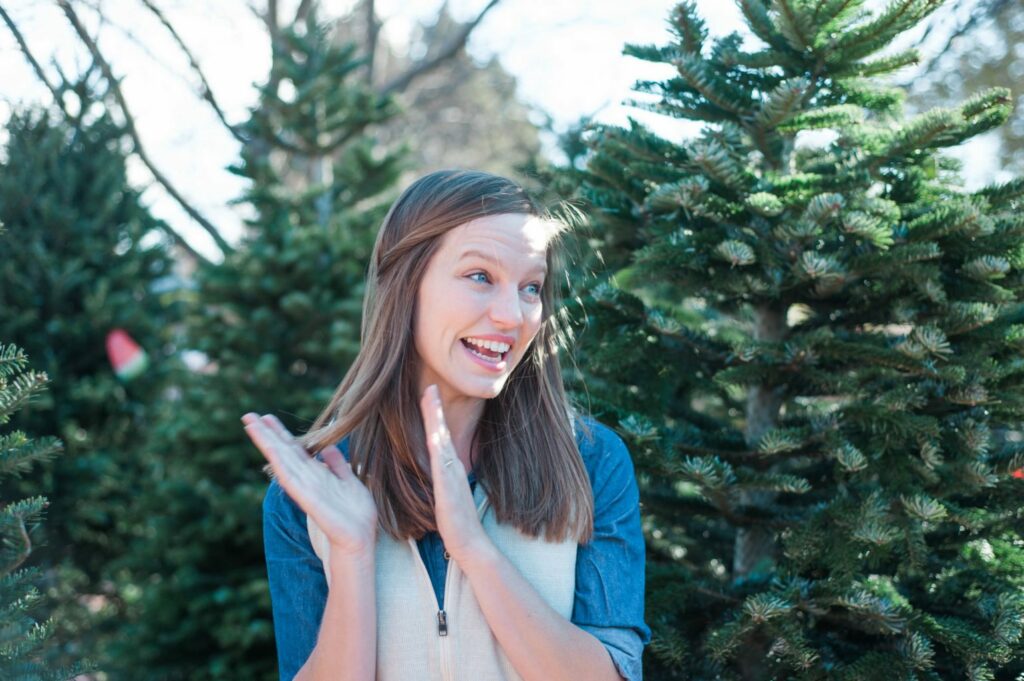 LOCATION: Good Earth Garden Center
OUTFIT DETAILS: Patagonia Better Sweater Vest || Chambray Shirt Dress || Outdoor Research Puffy Vest || Slim Plaid Flannel Shirt
Growing up we never had a real Christmas tree but we did have strong traditions of decorating for Christmas the day after Thanksgiving. Transforming our house into Christmas Thanksgiving weekend is so dear to me and three years ago we started the tradition of picking out a real tree to place in our home. I'm such a tradition queen (and a lover of Christmas) that both have to happen before the end of Thanksgiving weekend.
This year we celebrated Bruce's birthday with both sides of the family, met Chris (my little brother's) new girl friend, saw Fantastic Beasts and Where to Find Them (finally), and played a bunch of new games with my family – all good (great!) things but that made Sunday the only unplanned day and so it became the day to pick out our tree. As I was falling asleep Saturday night, I noticed that the place we always go to (2015, 2014, 2013) was closed on Sundays and I had a mild mini crisis 😉 I have a hard time when things don't go according to my plans. My personality is just so wired that way – it's something Jesus and I are working on (being more flexible.) It is tradition for us to go to Ricks, but I resolved to break out of that tradition to keep my other tradition of decorating. Sunday I called up another local garden center we like to go to and asked if they had Christmas trees. When they said  yes, I cheered!
Meg joined us as we picked out our tree and helped me with all the set up. I joked that I won't know how to put Christmas lights on my tree when she can't help me set up anymore because she has done it the last couple years! We also watched Frozen while we set up for Christmas which was completely magical and will forever remind me of seeing it in Theaters Thanksgiving Weekend 2013. Bruce was busy setting up the HTC Vive we bought on Black Friday for his Birthday so the Christmas decorating was followed by all experiencing virtual reality in a crazy way! Playing games in the Vive is seriously unlike anything else!
Picking out our Christmas tree is an experience I'll always cherish (even when my plans don't go as planned.) There is nothing more concrete that Christmas is coming than setting up your Christmas tree! It's good to fully embrace the season. Here's to Christmas 2016. May your days be merry & bright.
On the Mantel: Oh Holy Night || Let Light Shine || Yeti