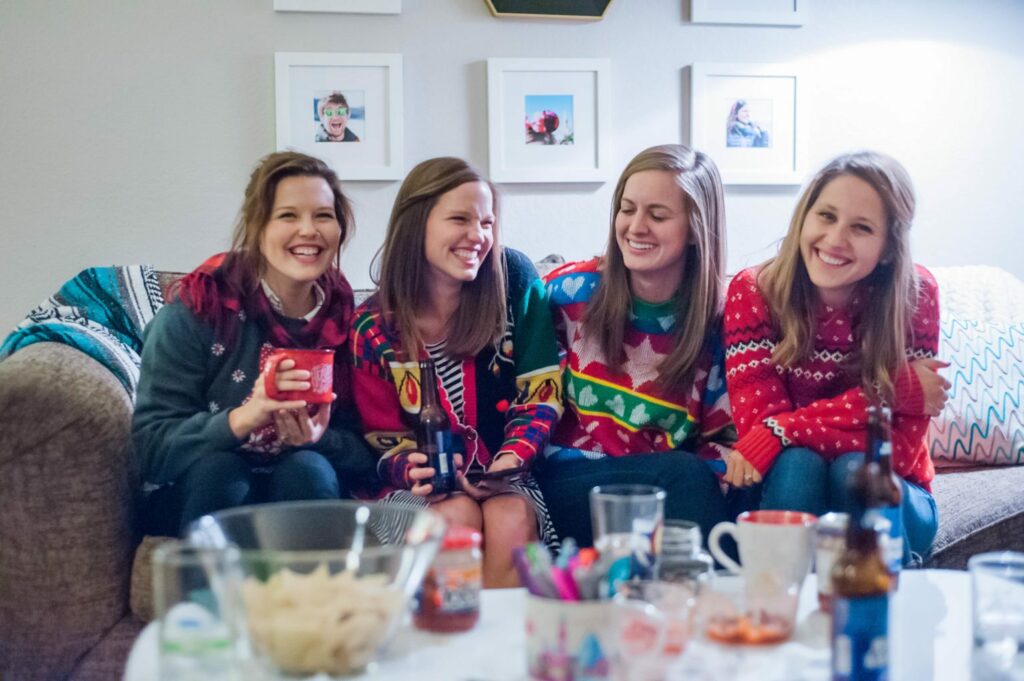 Thank you to Tostitos for sponsoring this post. #ad
I love Christmas. I really do. There is just something so magical about it. Of all the holidays ever, this one you get to celebrate all month (or even for two months if you are me and cranking the Christmas jams Nov 1st 😉 )Throwing a Christmas party is a great way to get your friends & family together to celebrate but often the idea of planning a party & the feelings of needing to be the perfect host can get in the way of inviting people over.
Bruce and I used to host parties all the time but over the last couple of years we've tapered off. I think a lot of it has to do with the fact that I feel like our house is too small and doesn't look like a magazine. When we realized that perfection was getting in the way of fellowship we decided to throw a party anyways because that is a silly reason to not spend time with the people you love. I want to challenge you this Christmas season (and all year) to open up your home and invite people in. It doesn't have to be perfect to be fun. And I'll tell you what, people don't really care that your house doesn't look like a magazine.
I feel like Festive (aka Ugly) Christmas Sweater Parties can be some of the most fun! You get to dress up but not in a fancy way – more of a fun way! It is like the Christmas version of Halloween. We've thrown several Festive Sweater Parties over the years and I would love to share some tips with you:
SET A DATE
Sometimes this can be the hardest part! Don't stress about finding the time that works for everyone, just chat with your spouse or best friend about the best date for you guys. Then send out a text to all your friends letting them know the details. Paper invitations are fun but you don't need them for every party. If you have time to think that far ahead, go for it! If you don't have the time, don't stress! Your friends will still be excited to get a text like this: "Ugly Christmas Sweater Party. The Mayberrys House. December 6th. 7 pm. Get ready to get FESTIVE!!!" We invited a good handful of our friends and not everyone could come but those who could stopped by and we still had a blast!
FOOD & DRINK
Make sure you have some snacks and drinks for the party! You don't need to make it a dinner or have tables of appetizers but snacks are good! Everyone loves snacking while they chat & catch up. I went to the grocery store the day before and picked up some Tostitos Chips & Salsa, Bud Light, Mist Twst Cranberry, and Nut Harvest Dark Chocolate Almond Toffee Bites (because you need something sweet!) According to Joe " Chips and Salsa are the most underrated snack! They are sooo good!" AKA Chips and Salsa make for a great party snack!
HAVE A FESTIVE BASKET/ PILE
Not everyone has a stash of Ugly Christmas sweaters in their closet to pull out year after year or the time to hit up multiple thrift stores in town to find the perfect sweater. Bruce and I like to collect fun Christmas wear just in case the situation arises where we need to get our festive on. When we have parties, I let people know they can still come if they cannot come up with anything festive and borrow from the festive pile! It is a basket of sweaters, vests, and hats so people can still participate even when they don't have gear at home!
PLAY A GAME
We love to play games and playing a game ends up being a focal point of every party we host! It is fun to allow time for chatting and catching up but gathering people to play a group game is a fun way to get a little competitive and get people laughing! Salad Bowl is on of our go-to group games. We always play boys vs. girls in this one!
Essentially you have everyone in the room write down three things/known phrases on separate pieces of paper. We always set a theme for the game so we made this one Christmas! Then you fold them and put them in the a bowl. Examples from our game were "White Christmas," "But the Children love the books" and "Jolly Old St. Nickolas." You take turns between boys and girls with a thirty second timer trying pulling out one and getting your team to guess it word for word and keeping score of how many each team gets.
The first round you go through the whole bowl being able to say anything except for what is on the piece of paper (like taboo.) For round two, you put them all back and have to act them out (no words) but you have already gone through them all so you can draw on your memory. The third round, all the pieces of paper go back into the bowl and you do one word. This is a trick one word so if you say "um" your group just has to list off all the ones they remember in an attempt to guess it! It always turns into a blast and this night the girls took home the gold!
HAVE FUN
Don't stress about being the perfect hostess or having a perfect home. Your whole house does not need to be perfect – just tidy up the places that people will be (  I just picked up the kitchen & living room and shut the doors to our bedroom and office because they were not very tidy!) Set up the food and drinks so that you can forget it and let people enjoy them all night. You don't want to be running around like crazy trying to refill things or get people things. Enjoy the night and spend time with the people you have over!
This year I challenge you to do something different. Invite people into your imperfect life and just enjoy the community. You don't always need a million ducks in a row to throw a good party, sometimes the best parties come from the simplest plans!