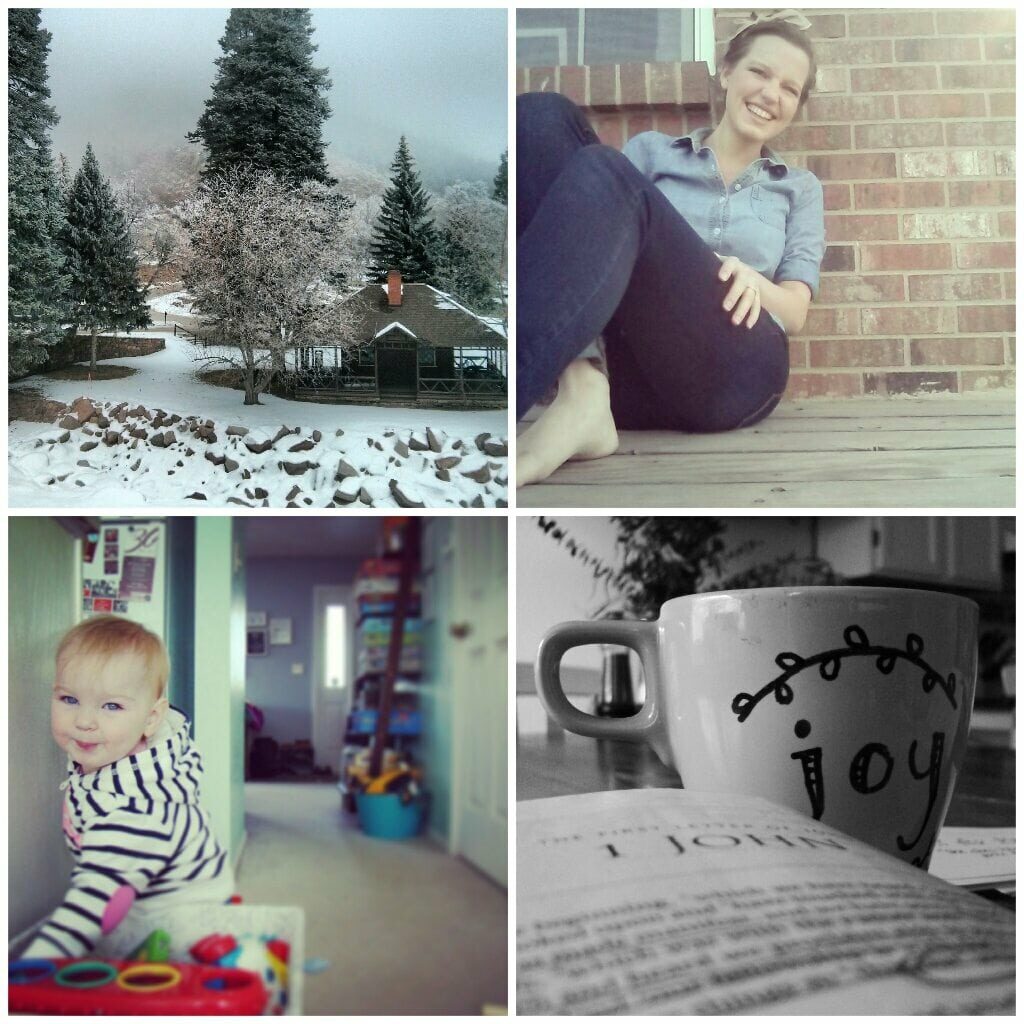 SNAPSHOTS:
1. the tri-baby shower which was not for triplets but for the three pregnant ladies in our bible study. three of the eight of us – due in march, april, may. it is going to be wonderfully crazy. we wanted to make this time so special for these ladies so we had a private tea at Glen Eyrie! we also created tote bags for each one stuffed with goodies for baby AND mommy! i don't know what i would do without these girls!
2. wonderful Colorado weather all week! it is always all over the place! snowy one day and in the 60's the next. over the weekend we ate lunch on our porch, went on a long walk without coats, and had our windows open! is this spring?!?!
3. babies are the cutest ever! and this little one is another of our Bible study littles. we had a date this weekend and it was hilarious. she is still scared of Bruce but she will get over it soon – i mean he is a friendly giant!
4. time with Jesus has been so sweet this week! remember when i said to the world via instagram that i just needed to bit the bullet and get up a bit earlier to spend time with Jesus! due to the accountability i did it all week. i noticed such a better mood/ purpose with each day. i'll continue doing it – it literally is life giving! will you join me?
OTHER FAVORITES:
– overhaul on the office (the affordable way) and it is looking good. i even used my sewing machine (dedication!) just a few more touches and i'll be ready to show you the room!
– the Olympics. every night.
– hot valentine's date to the movies to see….. THE LEGO MOVIE! it is actually pretty hilarious. i smiled the entire time. "everything is awesome" anyone else seen it?!!?
– NEW VACUUM! for real. we ordered this vacuum from Amazon (Prime of course, free two-day shipping) and it is wonderful. granted our old one was the worst and we haven't vacuumed for months… but i went on a cleaning spree and our house looks so good.
YOU MAY HAVE MISSED:
those things
the Disney magic
etsy swap spring fever
it is Valentine's day!
good morning (and don't forget FREE shipping at Lindsay Letters with code: OAKANDOATSSHIP)
GOOD READS: 
– make sure to stop by Rivers + Roads and take part in an adventure you wont regret!
– these adorable DIY scrabble cards are great for any occasion!
– LOVE this turquoise ring. it is SO classy!
– make sure to download these free note cards!
HOW WAS YOUR WEEK?!