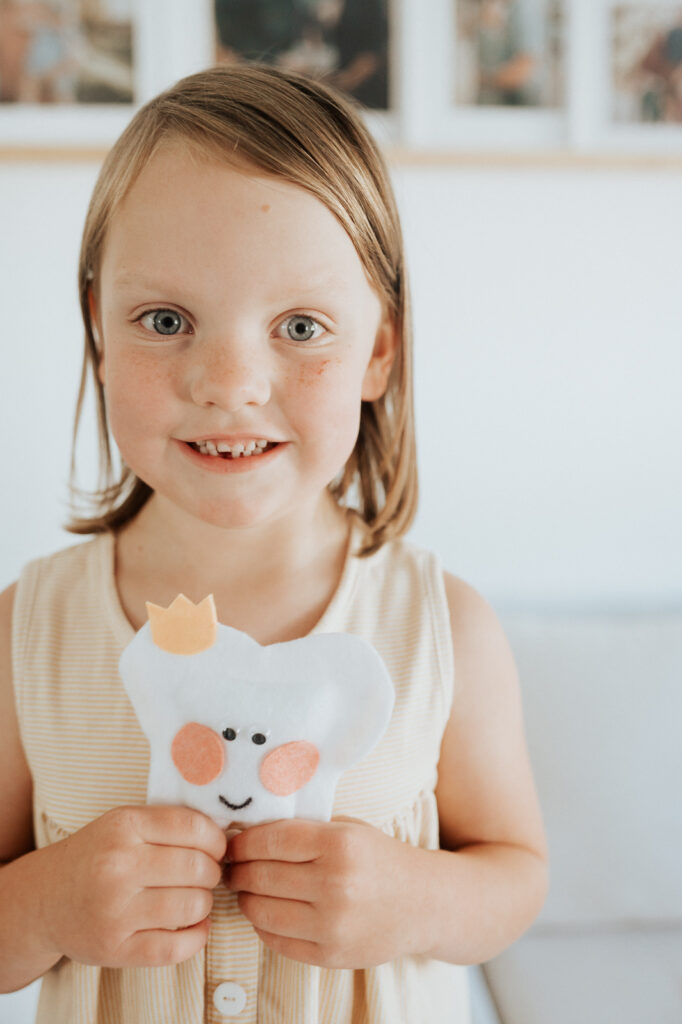 We've hit a new milestone over here folks, Hilde has lost her first tooth! Just two weeks shy of her fifth birthday, the tooth that was wiggly for only two days fell out during quiet time. Hilde was so excited that she rushed out exclaiming she lost her tooth! When we asked to see it, she said she didn't know where it was – she really may have lost it! Millie quickly found it in the carpet much to everyone's relief and we took a picture to remember it forever.
The tooth was wiggly for several days, but I just wasn't thinking about what I would need to do to prepare for my tooth fairy entrance, so when Hilde kept going on and on (and on) about what it would be like for the tooth fairy to come and wondering about what she would get, I realized I needed to get my act together fast.
We put the tooth in a ziplock bag and at bedtime we slid it under her pillow. She insisted that the window needed to be open so that the tooth fairy could fly in but we wanted the AC on so I told her no – reminding her that the tooth fairy is just a game. To which she replied, "I knooooooow Mom but you can come in through the roof to be sneaky!" Spoiler alert, I didn't come in through the roof to be sneaky but we did play pretend other ways that the tooth fairy could sneak in!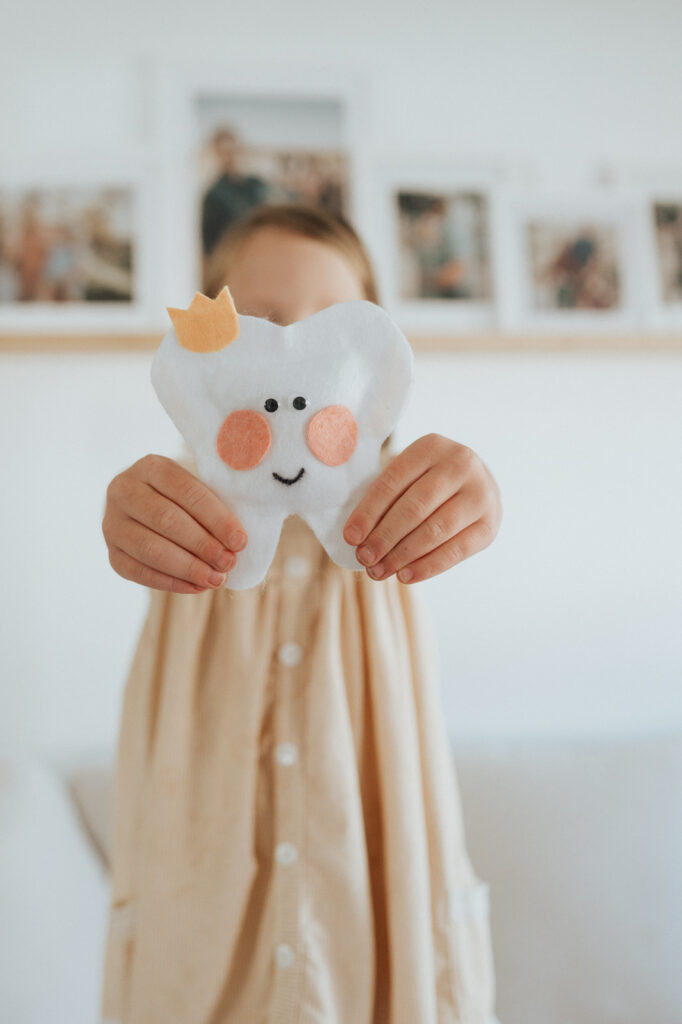 What you Need
When the kids were all asleep, I grabbed my craft supplies and got to work making this no-sew tooth pillow. I used this template kind of but made my own changes with what I had on hand. And the wings were just NOT working out for me so we skipped them entirely! I was unable to use my sewing machine, but I had some iron on tape sitting around from my Halloween crafting and it worked perfectly. Using felt, I cut out a crown, cheeks, a pocket, and two teeth. I ironed on the crown, cheeks, and pocket to the two pieces of tooth felt. Then I ironed the edges of the teeth together to make one tooth, filling it as much as I could with fluff, closing it up afterwards. Using a sharpie, I drew on the smile and added two googly eyes! It took me the better part of my post-kids evening, but it was way worth it and very doable!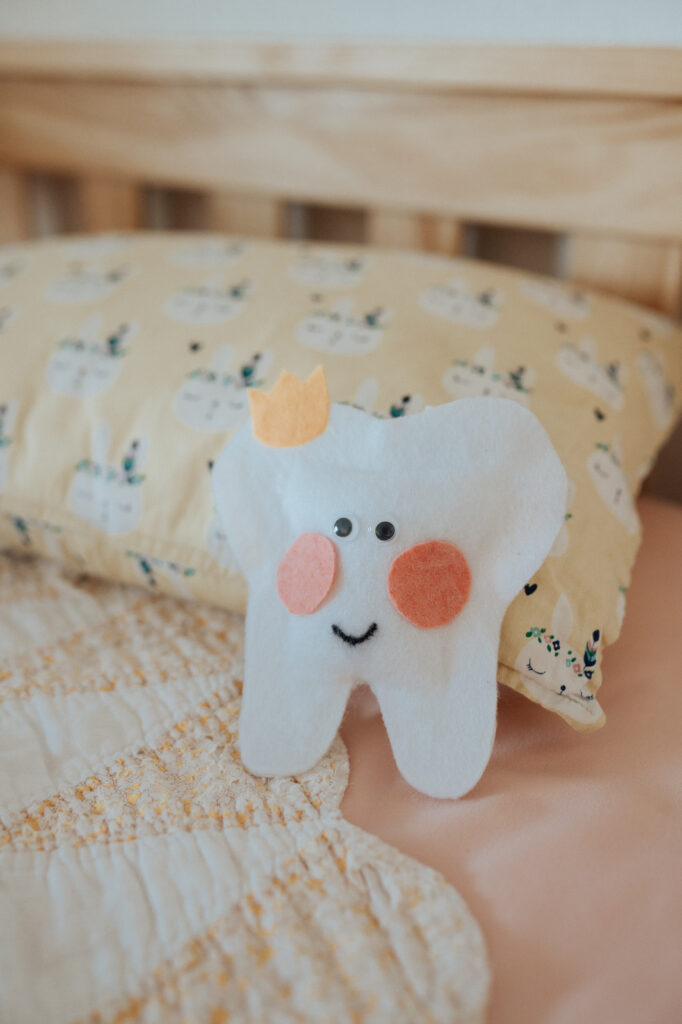 I found a chocolate coin in our candy stash in our closet. It was ooooold but Hilde didn't seem to mind 😉 She kept talking about how she hoped there will be a chocolate coin in the morning (she had no idea one was in our candy jar at the bottom) and I couldn't not include it. I also slid in a dollar bill because #inflation.
If she didn't lose her tooth on a Sunday, I would have run to the bank and picked up a dollar coin to use instead! Coins like that are so fun! My plan is to get to the bank before tooth #2 so that can be our tradition. I'll also need to find a bag of chocolate candy coins to have on hand in the future as well.
Before we went to bed that night, Bruce snuck in the room and did the switch out. It went without a hitch! In the morning, Hilde was overjoyed with what she discovered, rushing into our room to show us. She couldn't believe there was a chocolate coin and opened it and ate it just moments after waking up! Not exactly what I want to do first thing, but for her that alone was pretty much a dream come true!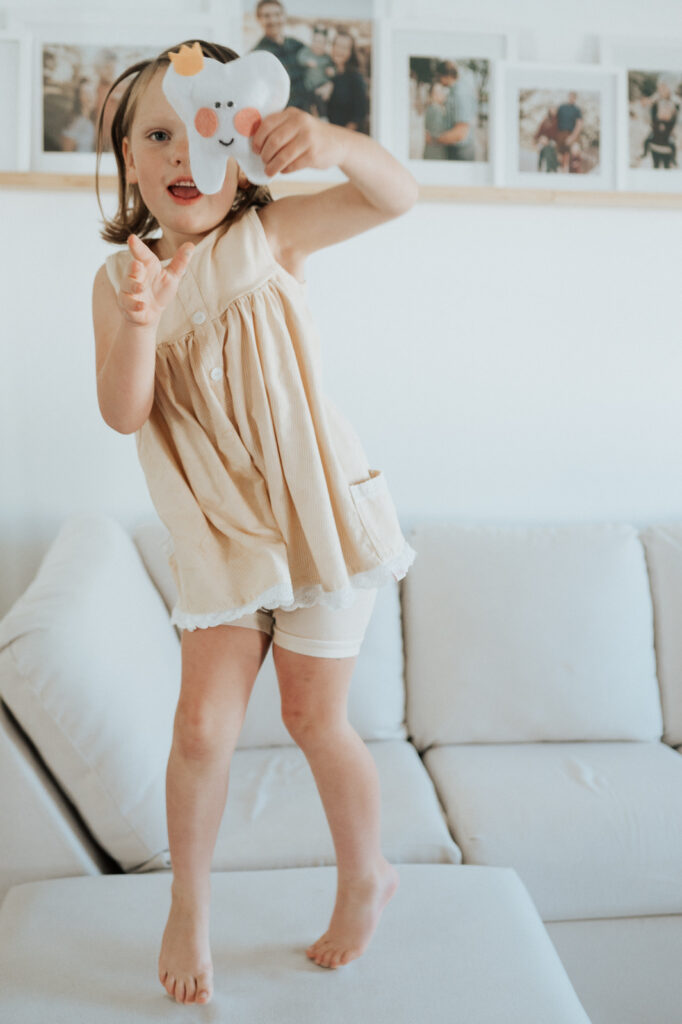 Long story short, this no-sew, last-minute, tooth fairy tooth was just what we needed to make losing a tooth even more magical! I may try to make another one in the future that I sew, but if this one never falls apart, then I may never get around to it 😉 We've got lots of teeth to go around here, and this little pillow will be perfect for many more tooth adventures!