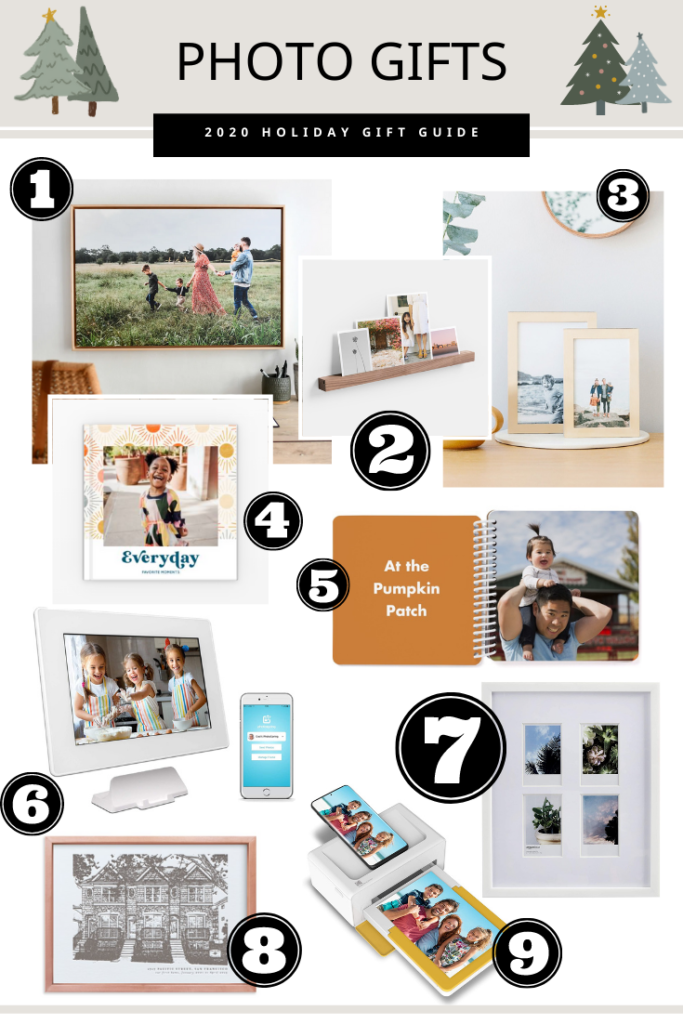 Second Gift guide coming at you hot! This one is all about the photos because I LOVE all the photos. I think photos make the best gifts because they are memories and decoration and just all good things in one! Just a quick look in the archives of Oak + Oats reveals all the photo projects and gifts I fill my home with and so I'm giving them their own gift guide!
Floating Frame Canvas Print – $89+
We just got one of these and they are stunning in real life! It is the same photo we did for our Christmas cards which makes it extra fun!​​​​​​​
I think these are such a beautiful and effortless ways to display some of your favorite photos! You can also easily swap them out as you find new favorite photos!
Brass & Wood Display Box – $55+
I love how these look! What a fun way to display your favorite photos and be able to easily rotate or change them out!
You know how much I love our yearbooks! Give the gift of memories! 2020 has been a crazy year but maybe that is even more reason to document it! ​​​​​​​​​​​​​​
Okay, I just discovered these and I need to make cute books for the girls! How fun to make them personal and kid friendly!
I'm not always into digital photo frames because I think they can look tacky, but this design looks great and would add a fun variety of photos to any room!
I think this frame is so fun that I bought two of them for our house! HAHA! It is a fun way to show off a couple favorite instax photos!
Custom House Letterpress Portrait Art – $128+
I love the idea of documenting the history of your homes as a family! This is such a fun way to turn a photo of your house into a piece of art!
Want to print photos at home for you and your friends? This is a great way to get those photos off your phone and into the hands of the people you love!