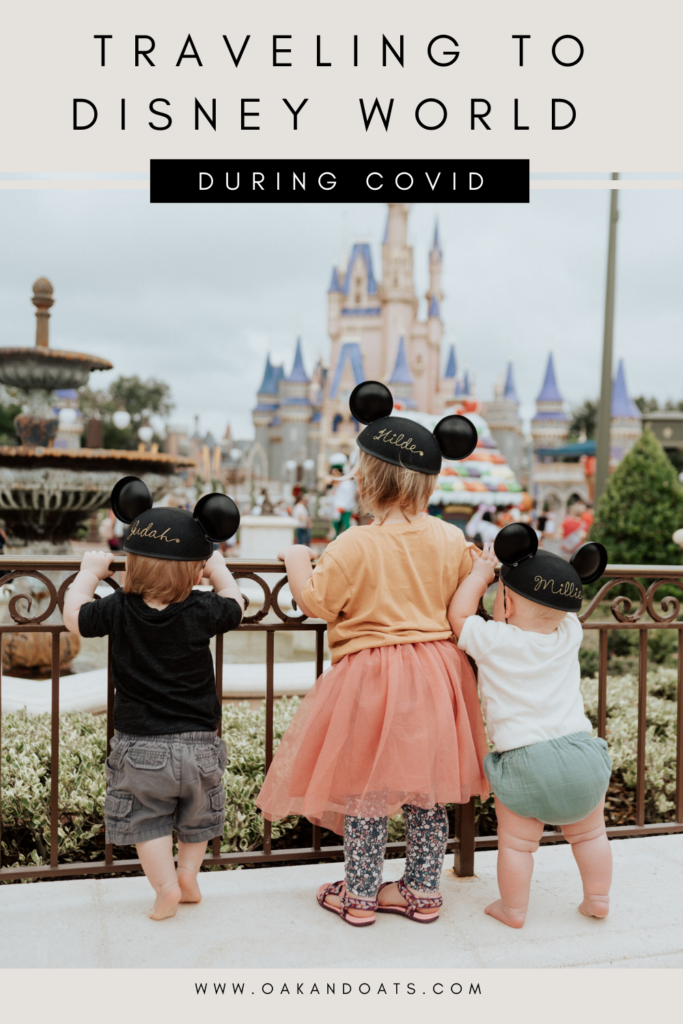 Ask Elizabeth: Is Disney world open??? What was it like? Did you have to wear a mask? Do you think it will stay open? I'd love to take our kids in Jan or Feb! Also how was flying?!​​​​​​​
AND
We're supposed to go to Disney in 2 weeks. We also planned back in January and now have a 15 month old. Did you fly or drive? I'd love to know direct and real feedback- especially about feeling safe as a mama to little ones that can't wear a mask just yet in life.
These are not the only questions I got about going to Disney! I got so many messages asking for my Disney COVID and flying with kids during COVID and all the travel/ Disney related questions about this very historical and strange season we find ourselves in! We went to Orlando and Disney World at the beginning of the month. I didn't do much chatting on social media about our upcoming trip. We planned it pre-COVID and honestly there were many times I didn't know if we would even be able to go. Then I deleted Instagram for the week so that we could really enjoy getting away and spending time with family. I figured all my siblings would be getting to leave work behind and I wanted to as well! So it was a bit of a surprise when we got back and I started sharing some photos from our trip!
I know there are a lot of options about traveling during COVID​​​​​​​. I think you need to do what is best for you and your family. There is no blanket statement here like "everyone needs to stay home" or "everyone should continue on as before." We felt that getting away, supporting tourism, and spending time with family was a healthy choice for our family. We weighed the pros and cons (as everyone should do when making decisions) and landed in the camp of continuing with our vacation plans. This post is for everyone considering traveling to Disney or traveling in general so that they can make informed choices. I know everyone isn't going to come to the same conclusion that we did and that is okay.
I'm trying to figure out the best way to organize this post and I hope it comes together 😉 As I mentioned above, I got a lot of questions! Instead of answering each question Q&A style, I am going to answer them through the content. If you feel like your question wasn't addressed or answered, leave it again in the comments and I will add it!!​​​​​​​ ​​​​​​​And just to clarify, Disney World in Florida is open and has been since July. Disneyland in California is still closed because the state will not allow them to reopen even through Disney World has proven they can safely do so. So keep that in mind while you are thinking about planning a trip.
PS: Bruce wanted me to let you know the alternate post title for this post is "Disney + Me… + COVID"
WHAT WE PACKED
We packed mostly the same way we normally pack for Disney and Travel (like this post) but it was a bit different with two girls and COVID times. Masks obviously were an addition to our normal flying garb. I bought these masks for Hilde just in case she was required to wear one. I wanted a mask that she would like and I made sure they fit her before our trip. I packed one in my diaper bag and one in her carry-on. These ones are fun and very soft which makes them way more likely to be warn by a toddler! I also brought hand sanitizer and sanitizing wipes for the trip but I always do that! Right now airplanes are abiding by really strict cleaning protocols so plans are actually WAY cleaner than they normally are. It's still not a bad idea to have some on hand for peace of mind!
I packed an entire bag for Hilde this time which was a first. I figured having her be able to carry a bag with her toys and snacks would help keep her occupied on the flight! We didn't have any headphones before the trip so I ordered these Frozen ones from buybuy BABY! They are not in stock anymore but these Beauty and the Beast ones are!! We also brought two blankets each for the girls. One we packed in our luggage and the other we took on the plane so that when we were done with the travel we could switch blankets (letting the airplane ones get washed!)
I also packed a water bottle, snacks, stuffed animal, book, and water wow packet for Hilde to play with. The goal was to keep her entertained and in her seat.
I defiantly go into it more in detail on this post, but we always bring our car seats & stroller. We use travel bags for them all to keep them clean and safe. We check the car seats with our luggage and then we gate check the stroller. SO worth it to have your own car seats and stroller because you know how to use them, your kids know them, and you have the freedom to move around once you get to your destination.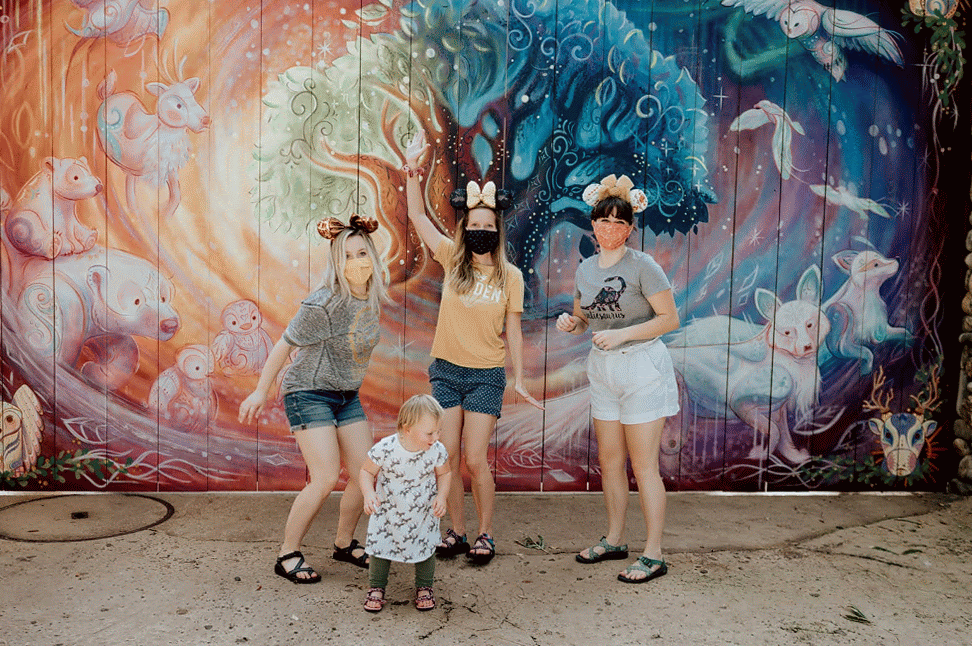 FLYING TO ORLANDO
Since it is a 3 day drive to Florida from Colorado, we opted for Flying (as we always do! HAHA) We flew Southwest which (at the time of our flight) was still doing no middle seat. This is one of the best things to happen because of COVID and I honestly hope they keep it up! It is so nice not feeling squished into your seat! Bruce and Hilde got a whole row to themselves and that helped the crazy of flying 3.5 hours with a toddler! ​​​​​​​
I was in a row with my mom and Millie was my lap child. We went back and forth with bringing the car seats on the plane for them both and in the end opted to just check them with our luggage to save us from lugging it around.
According to Southwest & their employees, everyone 2 and up has to wear a mask or 2 and younger doesn't have to wear one. It's a little confusing where the line is drawn and what two-year-olds need to do. From what I've seen and read, it looks like there is some grace with this (but not always.) It depends on the employees you interacting with. In fact, Southwest has changed their policy on this and staff members don't always enforce the same age (which is something that happened at Disney too). I was SO nervous about this. I have seen stories about people getting kicked off planes because their kids wouldn't wear a mask and I would be lying if I said it didn't worry me. I did a lot of praying leading up and just preparing as much as I could leading up to this. Ultimately trusting that the Lord would still be good and in control even if we got kicked off our flight.
Like I mentioned, I bought these masks for Hilde. My plan was that if anyone asked her to put a mask on, we would comply. I didn't do any "mask training" beforehand because I really don't think it is something I need to or want to get her used to. Hilde rode in the stroller with her sister through checking our luggage, security, and to our gate and no one said a thing. Bruce and I and my parents we're all wearing masks and obeying COVID rules and regulations. Both the way there and the way back, Hilde didn't have to wear a mask. No one even asked, mentioned, or pointed it out. ​​​​​​​
AIRBNB & RENTING A CAR​​​​​​​
This year we rented an Airbnb and also a rental car. We were meeting up with family and an Airbnb accommodated us better while also giving us a full kitchen to make meals. It was also just down the street from my little sister's house where all my Florida family lives! AND we knew we wanted to go to the beach this time! Neither of the girls had seen the ocean yet. ​​​​​​​
I've seen some reviews that say the Disney buses are slower than normal. I assume a lot of this has to do with social distancing and not being able to fit the same amount of people on a bus. If you want to go other places (besides Disney) and don't want to wait in line for a bus (plus deal with the unloading/ folding of a stroller) you may want to consider renting a car. We loved having our own space to keep the stroller, our car seats, and our stuff. We also typically only eat in Disney when we go on vacation but this year because of the hours of the parks and how hard it is to get a reservation at the restaurants on property/ not all of them being open, we ate at our airbnb and off property several times. It was nice to have a car for all that.
If you are staying at a Disney Hotel I am pretty sure you get free parking at the parks and your hotel if you end up renting a car but you should connect with Disney about that just to double check.
DISNEY DAYS
Disney has changed a lot to be able to open. If you are going to plan a trip to Disney now, just know it will not be the same. Some of it is lovely (like no lines and no one touching your butt in line) but others are disappointing (like no fireworks or closed/ hard to get into restaurants.) Here are some things Disney is doing to keep you safe and stay open:
Masks required for ages 2 or 3 and up. Only allowed to take off while stationary eating or drinking (not walking) and in mask break zones.
Temperature checks as you come into the parks.
Hand sanitizer before and after every ride plus all over the place. There were several times I walked right by one because I hadn't even touched anything since the last time I used one.
Smaller capacity. When we went it was 25% – that may change as they continue to be open.
No scheduled events or parades but pop-up shows and small cavalcades.
No hugging or meeting characters but they lots more out around the parks waving and performing.
Shorter lines that look long because of social distancing. They are not doing fastpass right now so you just get in line if you want to ride a ride.
Plexiglass and barriers set up on rides and in lines where other parties would be closer than 6 feet.
Some restaurants are still closed. Others are hard to get a reservation at because of capacity and social distancing.
No park hopper option, you can only do one park a day. In addition to a ticket, you need a reservation so that they can keep track of how many people are coming into the parks.
OUR EXPERINCE
We went to Animal Kingdom, Epcot, and the Magic Kingdom for our three Disney days. I took a similar plan of action when it came to masks for Hilde as I did on the plane. She just turned 2 and IMO is too small to wear a mask. I can barely keep a bow on her these days let alone a mask! I brought masks that would fit her in my diaper bag and was prepared to try to make her wear it if anyone told us she needed to. Not once did anyone say anything to us about her needing to wear a mask as we went through temperature check points, rides, all these parks, and Disney Springs. One time I got asked how old she was as we were getting on a ride, I didn't lie (as I was tempted to do) and said she was 2. He then said "Sounds great! Have a great day!" So we continued on like normal!
Wearing a mask the whole day is not my favorite. And I actually tried to avoid them a bit as I was taking pictures just because I don't love a bunch of photos of us wearing masks. lol. Not something I want to hang on the wall but I am glad I still brought my camera because as crazy as this season is, it is still worth documenting!
The longest line we waited in was 40 minutes but most were 20 minutes or less! That was a huge plus about going during COVID times! I also mentioned it above, but I was joking with Bruce that this was the only time I have gone to Disney and not been bumped by a stranger trying to get a better fireworks spot, trying to cross traffic, or getting to close to us in line! Everyone is so spread apart and there are barely people around you – you can seen how empty the parks look in our photos!
I felt more than safe the entire time we were there. Granted, I feel safe going to parks, stores, and restaurants here at home, but Disney goes above and beyond to make things feel safe. Bruce even commented commented about how normal (besides the masks) it feels to be at Disney. It feels as though they effortlessly have spaced everything out, removed separate parties from interacting, added even more sanitizing & cleaning to their already high cleanliness standards. I even felt the same way flying. Both Disney and the airlines (for sure Southwest) have put into place new practices that make it cleaner and safer than ever to travel.
We had a lot of fun despite the circumstances. I will be sharing more photos and posts because I took a bunch of photos (surprise, surprise!) but I wanted to get this post out to you first to help answer the flood of questions I received!
Tips
Bring extra masks. Florida is hot and humid and if it rains or you go on Splash Mountain, you may want to change out that face mask.
If you have older kids, be prepared for them to wear a mask. I heard that if I kid looks like they are not in school yet, Cast Members won't ask them to put their mask on or kick them out but that is not guaranteed. Disney is strict about the mask wearing (and wearing it correctly) and they will say something if you are not. This is how they are allowed to stay open so they take it seriously.
If you want to eat at a Disney restaurant, get reservations as ahead of time as you can. Most of the sit downs are not doing any walkups at all.
Bring your own water so you can stay hydrated.
Stay home if you feel sick and contact Disney and your airline to let them know – they will work with you.
Set your expectations accordingly and plan for things to be different.
Okay! That was a loooooooong post but hopefully I worked my way through all the questions! Feel free to leave any comments or questions below and I will get back to you on them! YAY Disney even during this crazy 2020.
Thank you buybuy BABY for sponsoring this post!