Ask Elizabeth: With Bebe number two on the way are there things you look pack on with Hilde and think "I'm definitely doing/using that again" or "that didn't work too well/we didn't really need that?" Sleep training techniques that worked, or products you decided you can't live with out – if that makes sense? In general, what will you do the same with Bebe number two and what will you do differently?
This is one of those posts I had every intention of getting up months ago but it just didn't happen 😉 So now while I have a rare moment to myself as both girls are asleep at the same time, I thought I would pull this post out of my "drafts" and finish it!
It also gives me a great excuse to post these photos I took on Sunday of our girls in matching outfits! If you came here for that, they are from H&M (which is one of my favorite places to shop for kids clothes) – Dress & Leggings. And yes, they were featured in this Galentines Day Outfits post!
Now to the main point of this post, what are we doing the same and differently with our newest baby girl.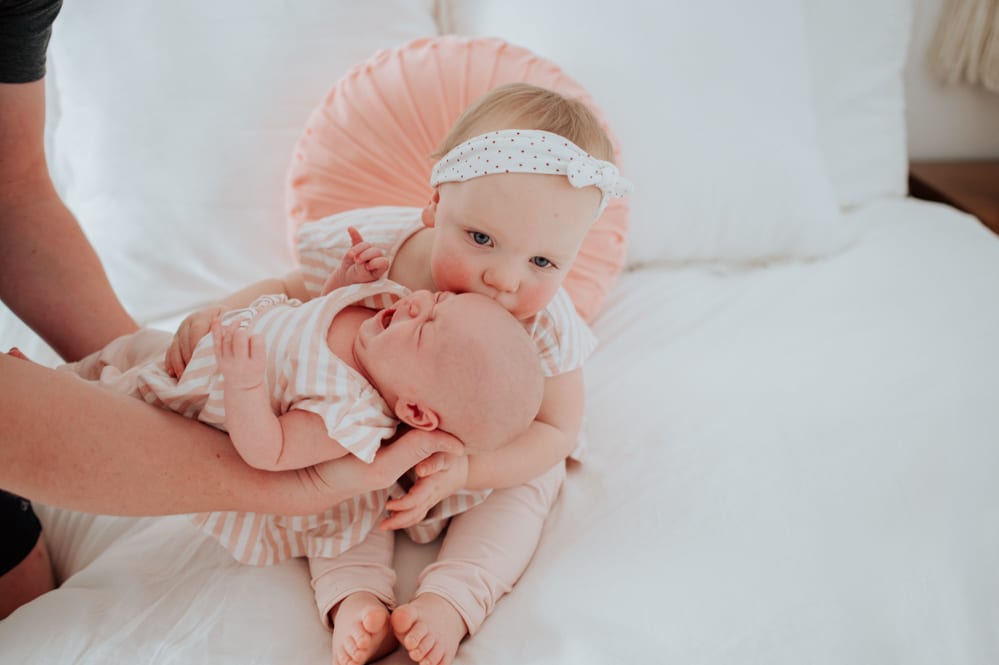 THE SAME
Move Baby out of our room sooner than later.
I am a little nervous about how this will go down with the girls sharing a room but we all slept better when Hilde moved to her own room. I held out longer than I wanted because I felt bad kicking her out but it was what we all needed. Because I was a first time mom I was SO hesitant to move her because so many studies and people told us to keep her with us. But at the end of the day, you really need to make the best decisions for you and your family.
No video Monitor.
We did this for Hilde and we're keeping with it. I didn't want to be attached to the screen (whether on my phone or on a device) making sure my daughter was still breathing. I can easily fall into the trap of anxiety and I knew one way to help me was to take away the temptation to always be checking. The cheap, simple, sound monitors work just fine for us for now.
Right before Millie was born, I ordered some new pacifiers that could be just for Millie (at least for awhile) Hilde loved/ still loves her pacifier and Bibs was the winner in our book! I was afraid to give one to her in the hospital because of "nipple confusion" but quickly got over that.
Funny story, so far Millie is not into the idea of a pacifier. Bruce has got her to take them a hand full of times but I never have! We're still trying but this may be one of those things we are doing differently but not on purpose!
Sleep Training/ Taking Cara Babies.
We are going to take what we learned from Taking Cara Babies to start creating sleep habits for Millie. It worked so well with Hilde and was a game changer for us to get more sleep at night! We also did the Ferber Method as she got older which worked like a dream for us. Now she sleeps a good 12/13 hours straight every night.
In the realm of sleeping, we also swear by the Halo Sleepsack swaddle and are using it again with baby #2!
DIFFERENTLY
Pump consistently.
I didn't do this for Hilde. I mostly just randomly did it when I needed someone to watch her. But I want to pump once a day so that I have milk stocked up for sitters and bruce. I should probably start soon! Note to self: Order more milk bags for my Willow Breast Pump!
Not worry about all the things.
This is easier said than done, but as a first time mama I worried about all the things. I was much more high strung when it came to things like putting her in bed next to me or letting her cry for a couple minutes while I finished using the bathroom. With Hilde, I would get so stressed when she cried and I was also pretty stressed about being 100% safe at all times. This is much more a mindset than actually anything, but I don't need to worry about things so much.
Get out of the House.
With Hilde it took me so long to do things on my own with her. This time I've already gone on several outings with just the girls! I can't stay in the way I did with my first because I have a toddler too! I'm more capable than I thought I was!
I'm trying to think of any products that we got but didn't use. It wasn't that long ago that Hilde was a newborn, but I really can't remember every bit of it! Even things I thought I would never forget (like her first steps) I have to look back to see what I wrote down! Haha. But I think this post pretty much sums it all up!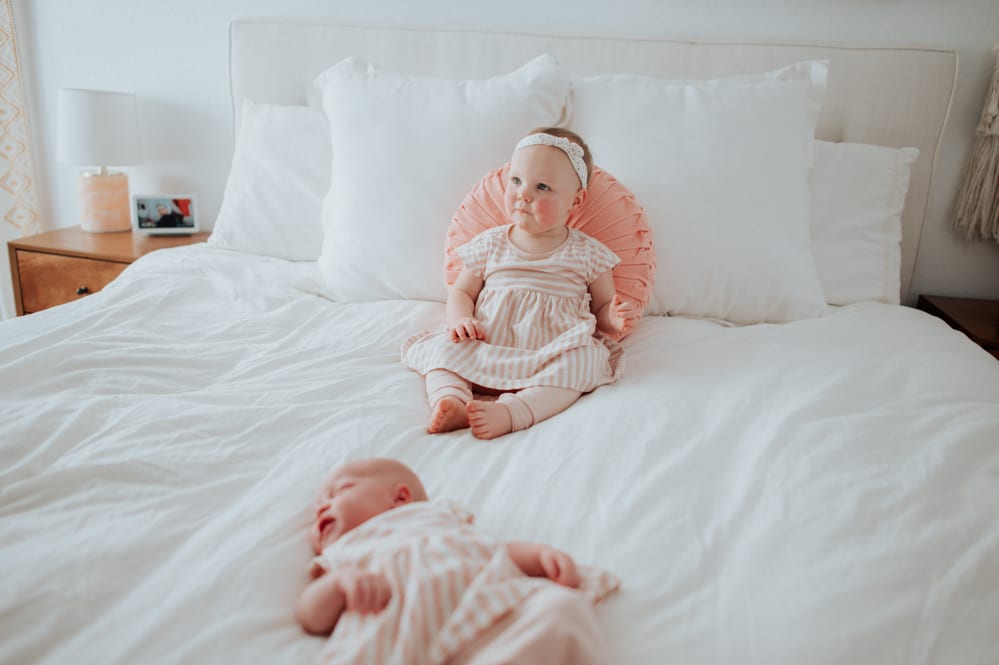 If any of you have two or more kids, what were some things you kept the same with all of them or things you did differently?!