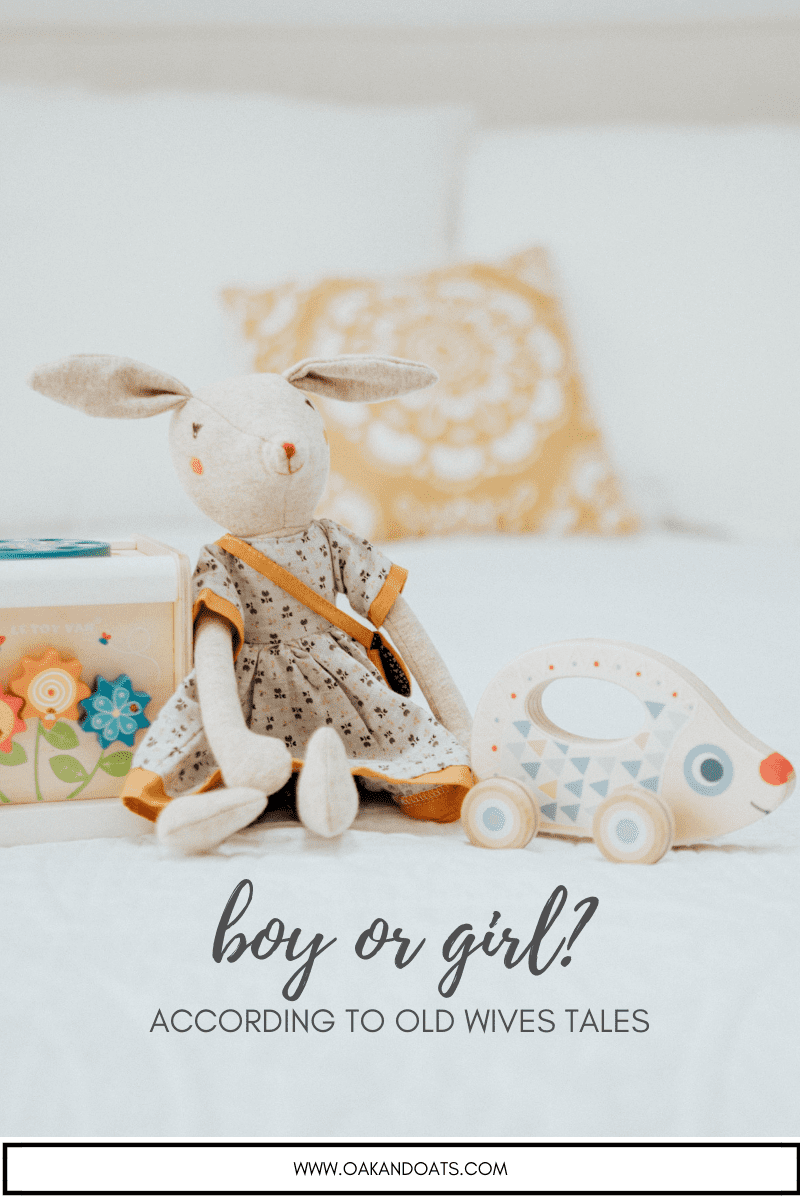 It is that time again!! Tomorrow we get to find out if we are having a boy or a girl! I have been asked countless times what I think I am having and I have NO IDEA! When I was pregnant with Hilde, I was so sure she was a boy that when they told us at the ultrasound she was a girl, I was in shock! I was thrilled of course and more than happy with either gender, but being so sure and so wrong just messed with my brain! So this time I have been trying hard not to pick sides just yet. I will be happy with either (and can get so excited about either) that I am attempting to stay neutral. Although, I have called the baby a her several times but I think that is because I feel like I am still pregnant with Hilde 😉
With Hilde we went through a list of all the Old Wives Tales I could find on the internet to see if they would be right. Spoiler alert, they were wrong! Haha! So let's see if second time is the charm!
ARE YOU CARRYING HIGH OR LOW?
If you are carrying high it is a girl, low it is a boy.
I think I am carrying lower (again) so we will say BOY.
WHAT DOES YOUR BUMP LOOK LIKE?
In the front like a ball it is a boy, all around it is a girl.
Bump is front and center and round… BOY.
ARE YOUR FEET HOT OR COLD?
Cold feet it is a boy, hot feet it is a girl.
My feet are cold right now because the windows are open… BOY.
WHAT IS THE BABY'S AVERAGE HEARTRATE?
Above 140 bpm is a girl, lower than 140 bpm is a boy.
At our last appointment the heartbeat was 145! GIRL.
ARE YOU CLUMSY OR GRACEFUL?
Clumsy is a boy, normal is a girl.
Well it may be the fact that my daughter leaves her toys all over the floor, but I have stubbed my toes countless times being pregnant! BOY.
ARE YOUR FEET GROWING?
Yes – it is a boy, No – It is a girl.
My feet did grow my last pregnancy but are the same since then! GIRL.
ARE YOU CRAVING SALT OR SWEET?
Salt is a boy, Sweet is a girl.
Both!! But probably more sweet this time around. GIRL.
WHAT DOES THE WEDDING RING TEST SAY?
When dangling your ring with a string over your belly, if it makes a circle is a girl, if it goes back and forth is a boy.
I just made Bruce do this with me again. He can't believe I am leaving this one in a second time around too! HAHA. But we did it and it was clearly a back and forth motion. So BOY!
DID YOU THROW UP A LOT IN YOUR FIRST TRIMESTER OR WERE YOU JUST NAUSEOUS?
Vomiting is girl, nauseous is boy.
No throw up! Just lots of nausea! BOY.
ARE YOUR NAILS GROWING or BREAKING?
Growing boy, breaking girl.
They are growing! I just got a manicure to cut them all for me! BOY.
IS DAD GAINING WEIGHT?
Sympathy weight is girl, normal is boy.
Nope! Pretty sure he is losing weight! BOY.
DO YOU HAVE THAT PREGNANCY GLOW?
Bright, clear complexion is boy, dull, acne complexion is girl.
Again with the no glow! I always get that hormonal pregnancy acne! Boo 😉 GIRL.
WHERE DOES YOUR LINEA NIGRA STOP?
At the belly button is a girl, above is a boy.
I still have a faint line from last pregnancy! It almost goes up to my belly button so I say GIRL.
HOW ARE YOU FALLING ASLEEP?
Left side is a boy, right side is a girl.
Left side for sure. BOY.
WHAT IS YOUR URINE COLOR?
Brighter it is a boy, normal it is a girl.
I have been having such an issue drinking enough water (so unlike me) but it is making my pee a bit brighter than normal. I guess if I am having a boy we can blame it on that and not the fact that I should be drinking more water! BOY.
WHAT DIRECTION IS YOUR PILLOW?
North is boy, South is girl.
My pillow is West…Just like last time. Because my bed hasn't moved. This one makes no sense!
DO YOU HAVE HEARTBURN?
Yes is girl, no is boy.
No. BOY.
ARE YOU MOODY OR MELLOW?
Moody is girl, mellow is boy.
Mellow for sure. Pregnancy always makes me more even keel! BOY.
HOW ARE YOUR EYES?
If they are dilated it is a boy, normal is a girl.
Well, I am in a dimly lit room and just went to the bathroom to check. I'm going with normal on this one. GIRL.
WHAT DOES THE MAYAN SYSTEM SAY?
Apparently the Mayans determined a baby's sex by looking at the mother's age at conception and the year of conception. If both are even or both are odd, it's a girl. If one is even and the other is odd, it's a boy.
Age 30, Year 2019. BOY.
HOW DOES YOUR SKIN FEEL?
Dry is boy, silky smooth is girl.
Not Colorado in the winter but still Colorado. Dry for sure. BOY.
Drum roll please… the results say BOY (again!) With 14 votes boy, 6 votes girl, and 1 vote inconclusive. Now leave your guess in the comments! Remember, winner gets bragging rights! 😉