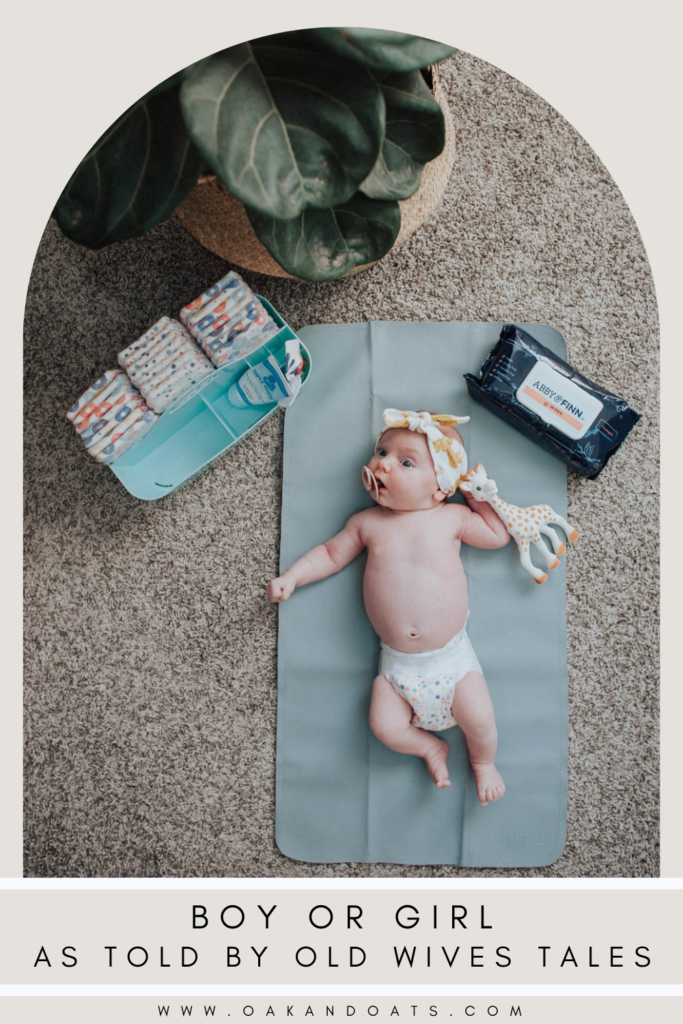 Ask Elizabeth: Do you know what you are having? Do you think you are having a boy or a girl? Have you done any of the old wives tales? My mother-in-law swears by them!
Today we find out if we are having a boy or a girl and we'll announce the news soon (on Monday!)… but before we do – let's play a fun game! Today's Ask Elizabeth has been one of the most asked questions by family, friends, and followers – What do you think you are having? A baby?!!? HAHA. I'm not sure I have that mother's intuition yet and I never know what to say. I've had boy dreams but Bruce has had both boy and girl dreams. I have fun ideas for a nursery for both boy or girl and I can envision us with a boy or a girl. I honestly have no preference, I just want a healthy baby. So really, I have no freaking idea. Once I finally spit all that out, someone throws out one of their favorite ways to guess what I am having. "Well, are you craving salty or sweet?" "You look like you are carrying low, you know what that means!?" "Did you throw up a lot your first trimester?" " Are your feet warm or hot?"
So today I wanted to go through all the ones I could find on the internet and answer them! I actually did some of these weird things just for you – so be impressed 😉 We'll see what the survey says and then you can cast your votes in the comments! Whoever gets the gender right wins bragging rights! HAHAHA. Okay, let's begin!
ARE YOU CARRYING HIGH OR LOW?
If you are carrying high it is a girl, low it is a boy.
I'm carrying low (I think) so we will go with BOY.
WHAT DOES YOUR BUMP LOOK LIKE?
In the front like a ball it is a boy, all around it is a girl.
I would say round in front for now at least so BOY.
ARE YOUR FEET HOT OR COLD?
Cold feet it is a boy, hot feet it is a girl.
My feet are cold right now… BOY.
WHAT IS THE BABY'S AVERAGE HEARTRATE?
Above 140 bpm is a girl, lower than 140 bpm is a boy.
Typically the heart beat is around 145 or 155… sooo GIRL.
ARE YOU CLUMSY OR GRACEFUL?
Clumsy is a boy, normal is a girl.
I'm always clumsy… BOY.
ARE YOUR FEET GROWING?
Yes – it is a boy, No – It is a girl.
I actually think my feet are bigger. I had to switch to my other Chacos. BOY.
ARE YOU CRAVING SALT OR SWEET?
Salt is a boy, Sweet is a girl.
Mmm… Salt. BOY.
WHAT DOES THE WEDDING RING TEST SAY?
When dangling your ring with a string over your belly, if it makes a circle is a girl, if it goes back and forth is a boy.
I made Bruce do this for me and he wants me to make sure my blogging community knows he doesn't approve of this because it is ridiculous. The ring didn't move… so we don't even have an answer! lol.
DID YOU THROW UP A LOT IN YOUR FIRST TRIMESTER OR WERE YOU JUST NAUSEOUS?
Vomiting is girl, nauseous is boy.
Nauseous. BOY.
ARE YOUR NAILS GROWING or BREAKING?
Growing boy, breaking girl.
Growing. BOY.
IS DAD GAINING WEIGHT?
Sympathy weight is girl, normal is boy.
Normal. BOY.
DO YOU HAVE THAT PREGNANCY GLOW?
Bright, clear complexion is boy, dull, acne complexion is girl.
Yeah, no glow here. GIRL.
WHERE DOES YOUR LINEA NIGRA STOP?
At the belly button is a girl, above is a boy.
I have a very light one right now and it stops at belly button! GIRL.
HOW ARE YOU FALLING ASLEEP?
Left side is a boy, right side is a girl.
Whatever is most comfortable. I would say right side more. GIRL.
WHAT IS YOUR URINE COLOR?
Brighter it is a boy, normal it is a girl.
Well, I am drinking tons of water but I would say it feels normal. GIRL.
WHAT DIRECTION IS YOUR PILLOW?
North is boy, South is girl.
My pillow is West… this has to be a joke.
DO YOU HAVE HEARTBURN?
Yes is girl, no is boy.
No. BOY.
ARE YOU MOODY OR MELLOW?
Moody is girl, mellow is boy.
Energy wise and general typical "Elizabeth personality" I'd say I'm more mellow (but obvi still prego) BOY.
HOW ARE YOUR EYES?
If they are dilated it is a boy, normal is a girl.
I don't know about dilated but I have had a twitchy eye since getting pregnant. BOY?
WHAT DOES THE MAYAN SYSTEM SAY?
Apparently the Mayans determined a baby's sex by looking at the mother's age at conception and the year of conception. If both are even or both are odd, it's a girl. If one is even and the other is odd, it's a boy.
Age 29, Year 2017. GIRL.
HOW DOES YOUR SKIN FEEL?
Dry is boy, silky smooth is girl.
Well, it is Colorado in the winter which is always dry… but BOY.
And the survey says…. 13 BOY, 6 GIRL, 2 inconclusive. HAHA. Now leave your guesses in the comments! We cannot wait to see what the ultrasound says since the majority of these things really don't mean anything! And just a reminder, winner gets bragging rights so you don't want to miss out on this incredible opportunity 😉