Oh hey! Me over here. Looks like I'll be still recapping 2018 until the end of January 😉 But really, so many times this year I've answered "I got it from Amazon!" to the age old question, "Where did you get that?!" and I wanted to share some of my favorites from this past year. We buy SO MANY THINGS from Amazon so I wanted to limit this post to things that I discovered on Amazon and had not seen in real life before I bought it (because I know I am not the only one who price hunts for something I saw in a store on Amazon! lol) So here they are! All things I found on Amazon and loved when I got them in the mail!
I love my Sollybaby but we also wanted a carrier we could both wear. Honestly, I liked that the reviews said this was good for long torsos because Bruce has one but also easy to switch to fit each parent. I ended up going with this one because it was cheaper than the ergobaby and you didn't need an extra insert for a newborn. Also, this carrier is Hip Safe which worked perfectly for us once we found out about Hilde's Hip Dysplasia. I end up wearing this carrier almost daily because I love the support and I love how easy and fast it is to clip on!
I bought these for hand towels for our bathrooms and I love them! They look nice, dry fast, and wash well!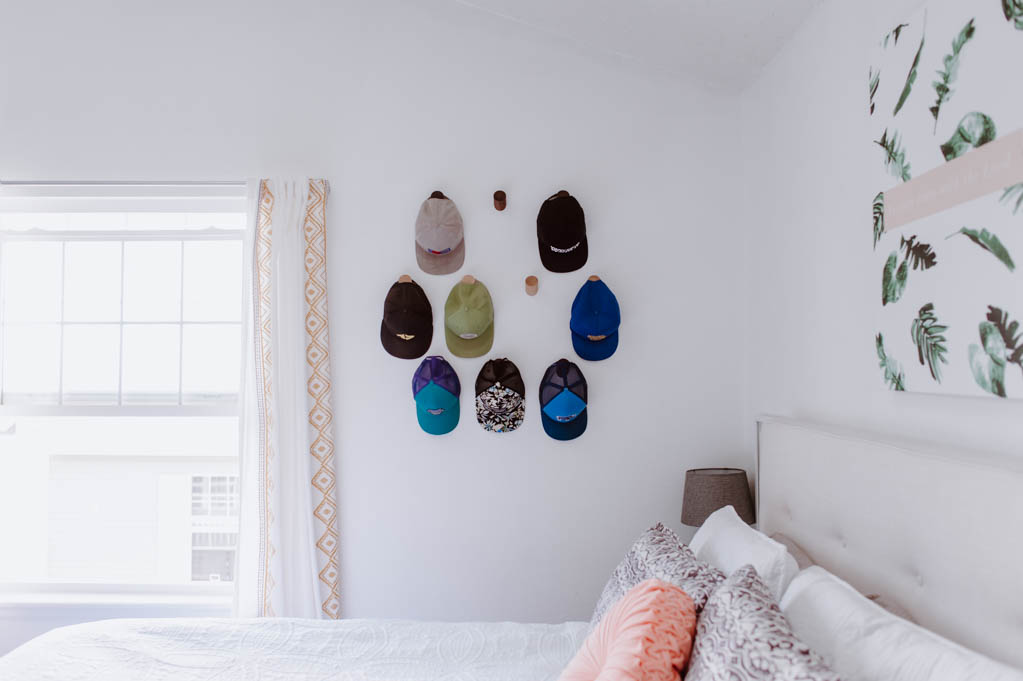 Bruce is a hat guy (I'm pretty sure he is in a hat in 90% of my photos of him!) and so we wanted to find a home for them while also making it look nice. I found these hooks and ordered them. They were perfect so we mixed and matched with the dark and light colors to create a hat wall. At the time of this photo, two of my hats were hung with his. That quickly changed when we continued to gather all the hats and he was gifted a couple more. haha. I think Bruce now has one more hat than hangers so that is the one he gets to wear!
Hilde is currently trying to put all the things in her mouth for teething but some of the toys we had for her were hard for her to hold and/or chew on. I looked this up on my phone at my parents house and it came two days later. She LOVES this thing! She can hold it herself and easily get it into her mouth!
I bought three of these in the large size for Hilde's room and I love how they turned out! They are also well made and look nice! I was having a hard time finding ones that didn't look like they would fall apart if you put anything on it! They are holding even more books now and still going strong!
I bought one of these and ordered another one right after I wore it for a day. Early on in my pregnancy I needed a new bra and I knew I wasn't going to just put up with it for 9 months! It was one of the best purchases I made because I wore them my entire pregnancy and now nursing! They grow with you so they are really comfortable and perfect. lol.
Okay. I wore these every day of my pregnancy no joke. They were the only shoes that fit me and were insanely comfortable! I still love them, I just had to buckle them tighter after my feet went back to their normal size. I love a classy pair of Chacos!
I bought this mug because it looked cute and it looks just as good in person. Plus it works better than any travel mug I've ever had. haha. I also adore that it fits into the cup holder in my car! I had one once that didn't and it was the worst thing ever. lol.
I quickly realized I wasn't a fan of the pants and socks outfits for these cooler Colorado days so I went looking for stockings. I found these cable knit ones and thought I should try them out. They are so wonderful! They fit Hilde well and I just pair them with all her adorable onesies! haha. It is the perfect solution for keeping her toes warm!
These barely make it into my 2018 purchases because I bought them the week of Christmas but they are ADORABLE! They also don't dent Hilde's head and I can pull them over her ears if it is chilly out. I got ride of most of her bows because of these ones!
This is one of the things I actually found at another store before finding on Amazon but it was all online so it counts! I saw it online at Anthropologie and didn't want to pay for shipping (#truestory)
My favorite Amazon purchases of 2018: