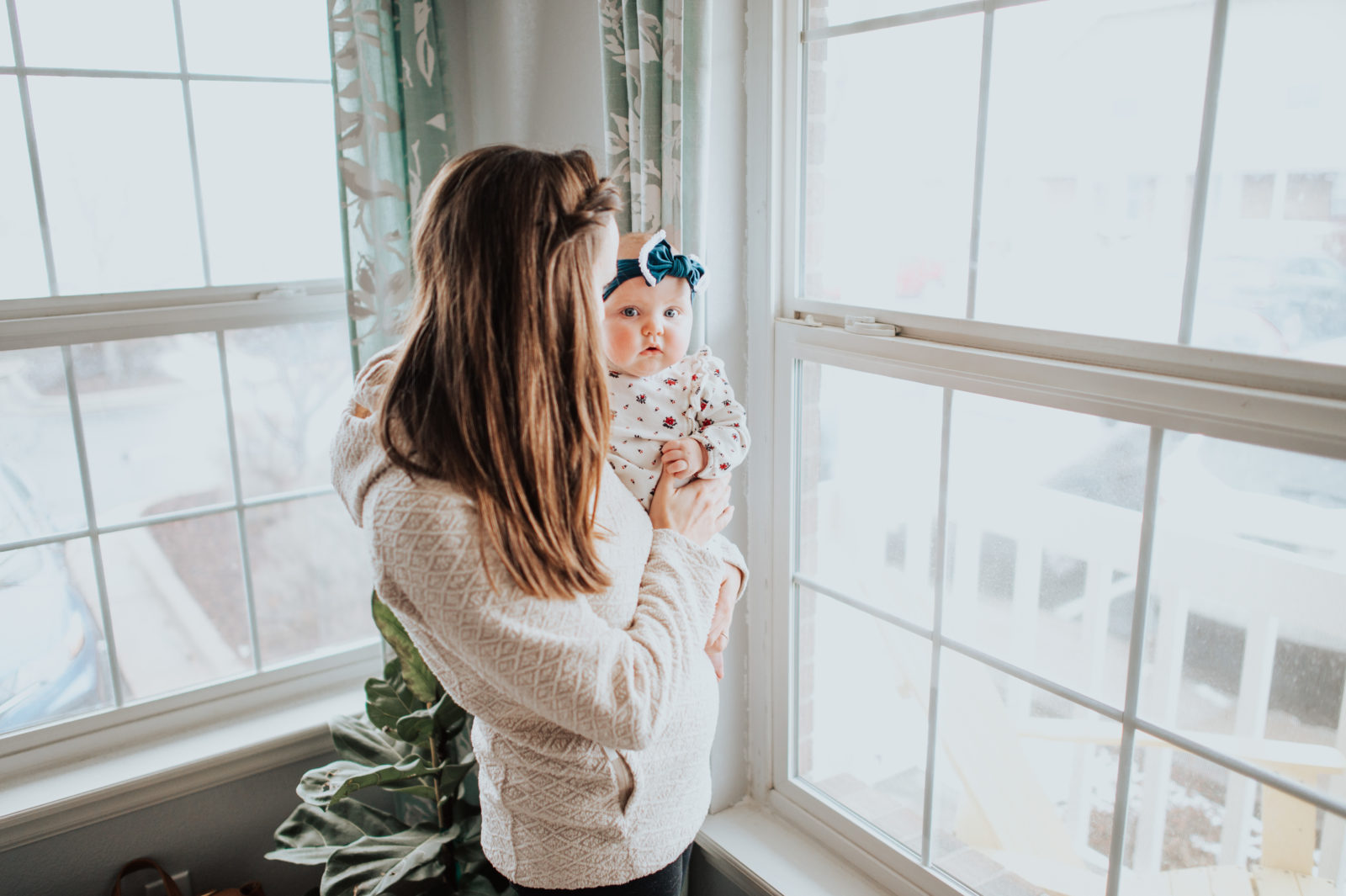 I'm currently holding a sick baby while she naps in her carrier. Keeping her close and upright helps her be able to sleep best with her snotty congested head. This is her first cold (not one of the most exciting "firsts") and this mama heart is heavy about it. Her little sick face is so sad and just breaks my heart. I've got the humidifier running, the NoseFrida on my desk, eucalyptus in the diffuser, and I keep kissing her head every couple minutes.
There are so many fun and exciting firsts and then there are the less exciting ones like first time getting puked on, first cold, first blow-out in public without an outfit change* (hasn't happened to me yet because I am so scared about it and always have a least one extra outfit! hahah). Right now we are in the midst of those less exciting firsts and while I know it is completely normal, it is still making my emotions a bit of a mess. That mom guilt for letting her get sick, that unsureness that comes with being a first time mama, and those sad, sick eyes that water when she coughs. So to bring my mind out of this fog, I wanted to share some things I am loving.
10 Things I Love:
1. First off, the bow & romper from these photos are too cute.
2. This Patagonia Sweatshirt is the one I throw on nearly every time I leave the house. You can tell by my IG feed. I'm thinking about getting it in another color since it is my favorite. Like the Kiln Pink or Birch White. Is that weird?
3. These sign language alphabet blocks are so fun. I want to order them for Hilde's toy box!
4. My friend Ashlee just started Cast & Copper and I cannot wait to get her budget journal in the mail!
5. Less than two weeks until Disney World!
6. Speaking of Disney World, I just ordered this outfit from Amazon! I had a bunch of adorable 3-6 month Disney stuff but little girl already outgrew all that! haha.
7. Our local Tuesdays Together for Colorado Springs. These ladies are THE BEST! If you are local, please join us!
8. Were plowing through Suits and it makes me want to rewatch White Collar.
9. We've also got some new favorite games – Azule & Wingspan!
10. Family. I'm so thankful we live in the same city as so much of our family.