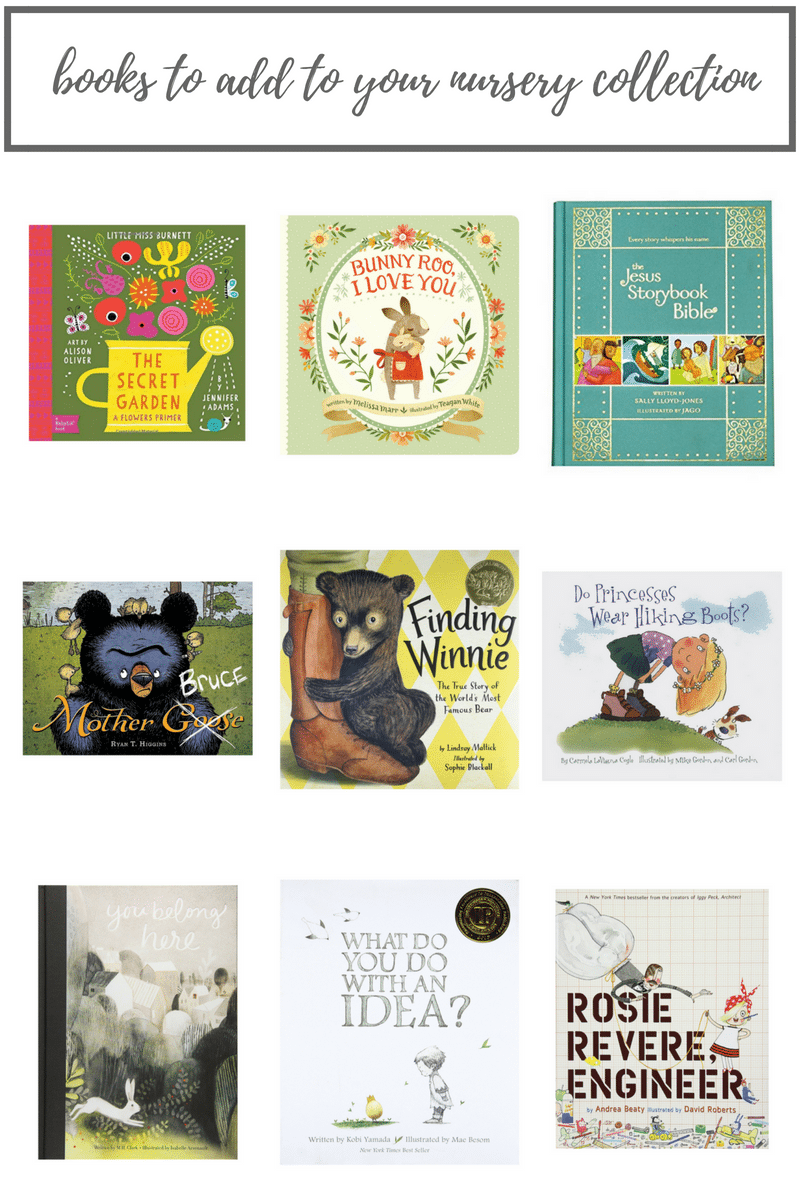 We asked for books from family and friends at Hilde's showers just because both Bruce and I love to read. We really wanted to encourage and inspire learning in our little girl's life. We thought building up her book collection from the beginning would be so fun. Plus her room has so many nods to other great novels – Harry Potter, Lord of the Rings, and the Chronically of Narnia. We bought three shelves and got so many books for kids that they are already over flowing (see photograph evidence)… so maybe we need to add more storage somewhere as she grows! haha! I wanted to share 9 of the books we received that you can add to your little one's collection!
Books for Kids:
I've loved Babylit books since I discovered them! I cannot tell you how many showers & birthdays I've brought these to as gifts! It is so fun to now be able to collect them for our little girl as well! I love how they take classic stories and make them into beautiful books for babes!
This adorable book was a gift from my BFF. She sent me the sweetest package (since we are long distance) filled with things her little girl loves! This book is one of them and I know Hilde will love it too!
When I was in college I had several friends who were Children Ministry Majors. I remember when this book was on their syllabus one semester and they started reading to us from the book before bed. I loved it and knew from that moment that we would have this Bible in our house for our kiddos one day. I also am obsessed with this gift version (for $15) – it is so pretty! I just might buy another copy because I love the way it looks!
This is a book that came from one of Bruce's close college friends! We couldn't love it more! First off, it is just fun to have a book with my husband's name in it, but the story is also just so fun! It is about this grumpy bear named Bruce who finds himself suddenly the mother of some young goslings! When I was looking it up for this post, I saw that there is a whole series of these! Hotel Bruce, Bruce's Big Move, and Santa Bruce just to name a few. I am totally buying the Christmas one for a family tradition!
This one came from my SIL and nieces! It is a family favorite in their home and wanted us to be able to enjoy it as well! Plus, it is about the bear that inspired Winnie the Pooh which is one of my all time favorites. I had like 3 versions of Winnie the Pooh themes in my bedroom growing up… and countless t-shirts! This book is historical and so sweet! There are even pictures in the back from WWII (I'm a huge history nerd!) so it combines so many things that I love!
Okay, this is the perfect book for any child of mine/ the perfect book for me! I love princesses and I love the outdoors. They totally go hand in hand and I want my daughter to know that she can just be herself! Also adding Do Princesses Make Happy Campers? to my list!
I saw this one on Joanna Gaines baby picks once so you know it is good! My BFF gifted this one to me and before my shower told me that she quote: "Just read the book I got for Hilde and now I'm crying. You're going to love it!" end quote. haha! It is so sweet.
A gift from my little sister, I love this fun story and inspirational book! It is really cute and inspires creative thinking and dreaming big!
One of our good friends picked this one out with Bruce in mind! Bruce is an engineer and we love fun books about math, science, and curiosity! It is such a cute book that talks about not quitting but always learning! We just may need to also add Ada Twist, Scientist and Iggy Peck, Architect to our collection as well!
…
What are some of your favorite books on your shelves or your kid's shelves?