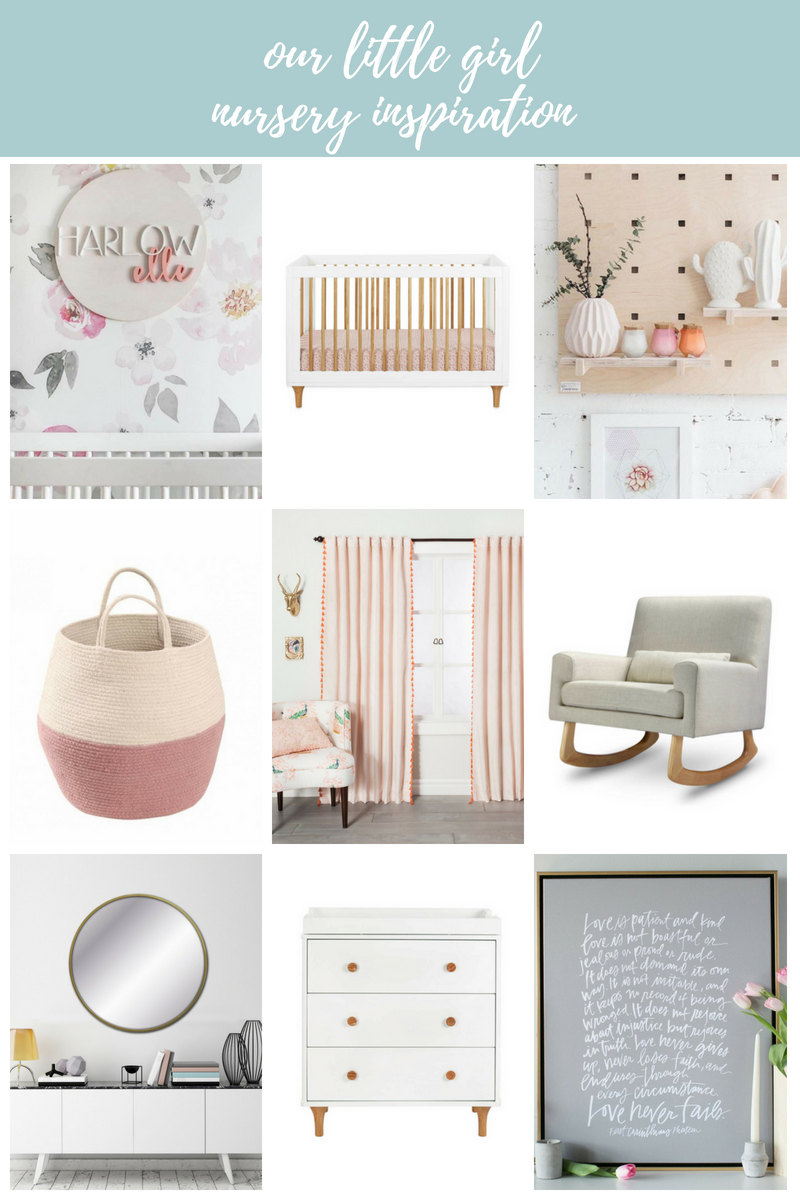 The nesting bug has set in full fledged! When I was in the depths of my first trimester sickness, I couldn't even imagine having the energy to think about her room, let alone the energy to actually do it! Bruce and I were talking that day and while pregnancy has it's aches and pains, it is nothing like week 6-12 of my pregnancy. And in fact, what I thought I would never forget, I am starting to! I find myself saying "It wasn't that bad!" Which is crazy because in it I thought I could never have another baby again. lol. I guess that's how we survive – our memories suppress those harder seasons.
Anyways, back to the nursery. We're going with a mid century modern look. Clean, bright, neutral with those rose pinks thrown in! I really want our room to feel girly but to also have the neutral elements that can be passed on to the next baby. Most of the big things are true to that neutral look! Also, the nursery has this terrible boob light ( you know, the ones that look like this) on the vaulted ceiling that I have wanted to remove forever! So I think now is finally the time – the baby gets all the nice things! 😉 I want a fun hanging light that adds that modern element. There is plenty of space for a hanging light (it is a vaulted ceiling) so here is hoping that the popcorn ceiling doesn't ruin the look too much 😉 The 80's were not good for home building! haha. Although… we may end up going with a ceiling fan instead of a fancy light as I sit here in my hot office and think about summer coming!
Over the weekend we finally made the big move to our new bedroom so the nursery is all ready to start being put together!! I am really excited about these next steps! Getting the nursery together is one of the things I REALLY wanted to finish before our baby girl arrived. I would like both my hospital bag & the nursery to be  ready by week 35! We are on 29 now so I think we are doing great with time! Today's Thursday Links are all about the things I love for our little girl's room!
So I feel in love with these signs and really want one! Right now the shop is closed but I'll be stalking it for the next time it reopens! haha. I really want one for her room!
I have loved a lot of cribs on this journey but this one is the winner! I just love the modern look and the mix of white with the natural wood! Fun fact, we already bought it and it is sitting in our living room in a box! Bruce will probably put it together this week and I cannot wait! Keep an eye out for Instagram Stories and more blog posts with this beauty!
I love the look of pegboard but I wanted a prettier version. I found this DIY on Pinterest and asked Bruce to make it for me. Then I found this Canadian website and Bruce told me to just order from them because the price of making it would be similar and it would save time! haha. We have a million other projects so it is a smart idea! haha. I also found these ones on etsy and they are so cute too!
I saw this when I was ordering our Lorena Canals Rug and fell in love with it! How cute is this basket?! This basket has so many uses in a baby girl's room and I just adore it!
Okay, how cute are these?!? The tassels are just so fun. And they are totally velvet but I think that will help with light coming in when they are closed all the way! I feel like they are totally quircky but also fun and I want them!
I need a rocker in the nursery. Not only do I love the idea of rocking my little girl to sleep, but I also know that having a comfortable chair for nursing and late nights will be essental for my sanity! haha! This is a cute one that has drawn my eye!
I want this Target mirror for my bedroom too! I think it would be so cute to put over the changing table or just somewhere in this room! BUT this mirror is hard to find in stock or with shipping! I found this one at Wayfair that I love too!
This matches the crib and I couldn't help myself! This one is also packed in a box in the living room for Bruce to put together sometime this week / weekend. I can't wait to share more with you as things get set up!
I love Lindsay Letters and have been a fan of this print for years now. I think it is important to cover the walls in our daughters room with truth & beauty! Really thinking about something like this for over the crib!