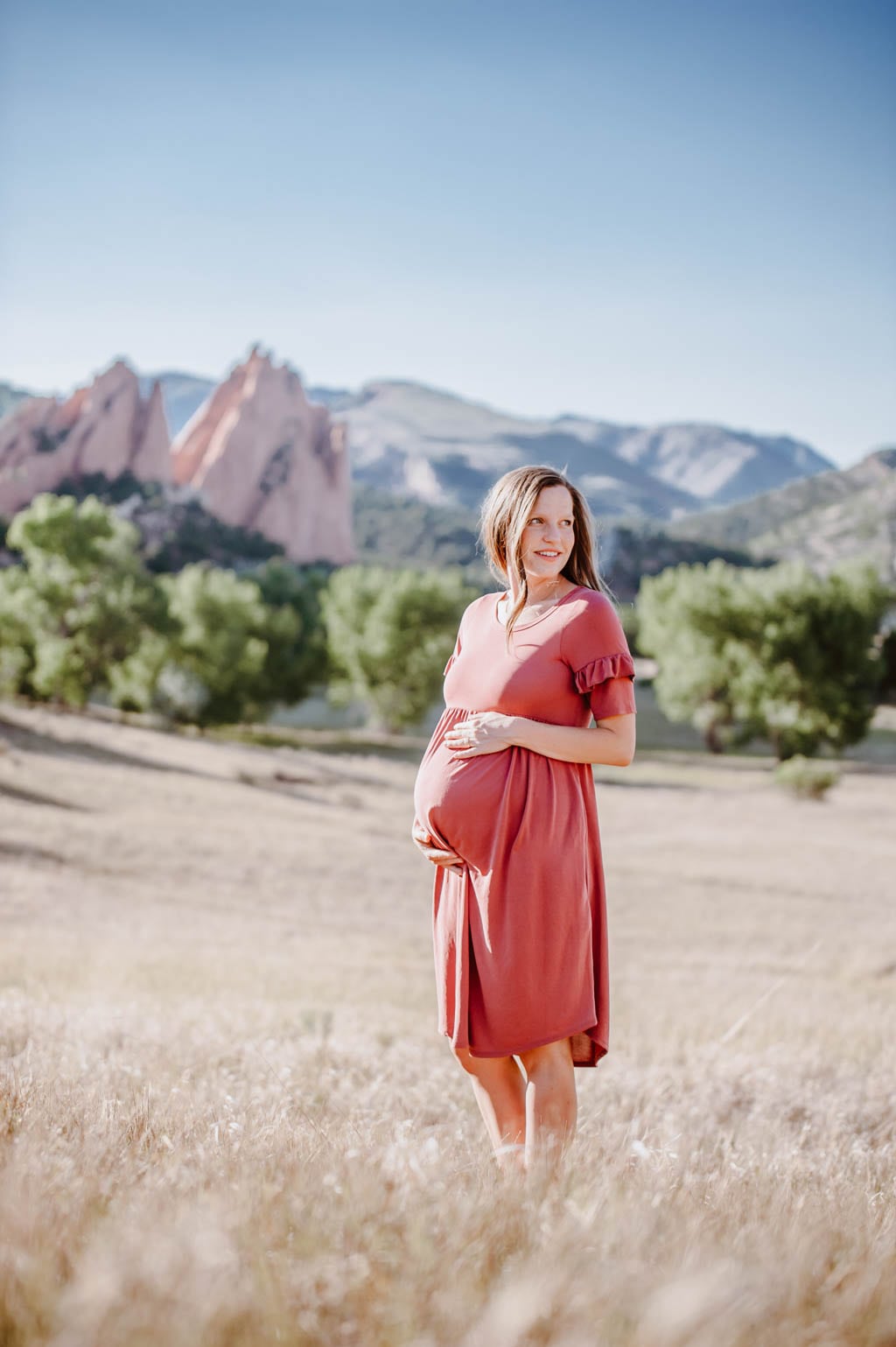 LOCATION: Garden of the Gods Meadow OUTFIT DETAILS: Mauve Solid Ruffle Sleeve Peplum Maternity Midi Dress || Chaco Women's Wayfarer Sandal
Before I became pregnant, I thought it was so confusing when pregnant people talked in weeks. Nowhere else do you measure time by weeks. I would always try to convert to months in my head and usually say something like "sooo.. seven months." Now that I am pregnant, I've turned into a week talker. So much happens week to week that waiting a whole month for a new milestone would simply be too long! That is why babies also get to go by their "month" age instead of "years" like the rest of us. According to my month math my thirty-six weeks translates to 9 months – at least with every month being 4 weeks. I guess that is also where you can go wrong in measuring by months! haha.
I haven't always been the best at documenting this pregnancy
You know, Pinterest style with weekly updates and that growing bump. Sometimes I am super in the mood for nesting & photos and other times I'm laying down on every couch/ bed that I pass. haha. But I'm trying not to be hard on myself either. We got these dreamy photos the other day after work (my husband is just the best) and I can't believe how big this bump is! Every week I feel like it can't get bigger, and there it goes – getting bigger! Like I remember when this bump felt huge… HAA!
I'm at the point where dresses are really the most comfortable things.
Dresses or over-sized t-shirts with maternity sleep shorts. So I am either dressed up or dressed way down 😉 I love this dress from Pink Blush. It is beautiful and flowy and oh so comfortable! I've also been obsessed with these leather Chacos! They are perfect for these pregnant feet and have taking me all over. I even wore them majority of my time in Chicago and all over downtown!
It is a bit unbelievable to me that in just 4 short weeks (give our take) our sweet Hilde will no longer be moving, kicking, and growing in my belly but in my arms! There are a lot of little things I am nervous about – labor, nursing, sleeping, figuring out what I am doing, etc but I am so excited to see what she looks like and learn more about her! I told Bruce in the car yesterday that I cannot wait to see what color eyes she has, and what her enenagram is, and all the things! I feel like I know her so intimately but I know nothing about her. What a marvelous mystery!