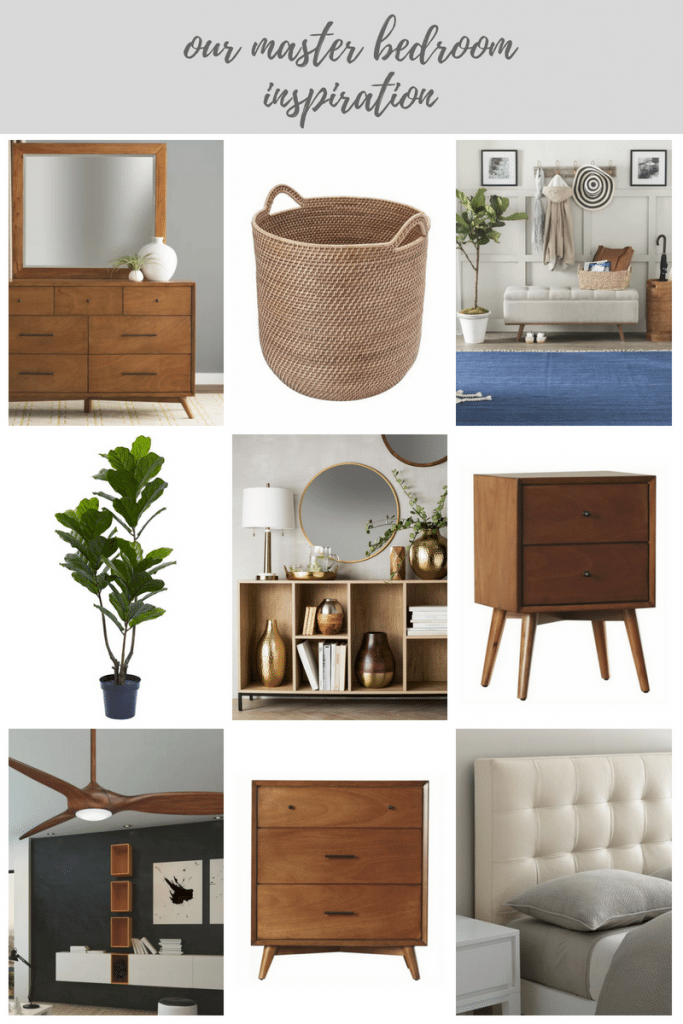 In the great room move of 2018, our master bedroom is getting a clean up & refresh! We've been currently filling up the space in our house with just the two of us but now adding a nursery, we need to do some organizing, minimizing, and making everything a bit more practical! We honestly currently don't have tons of stuff in our bedroom (see here) but we are going to have to add some things – like my office. We are also moving to the bigger room to make this more practical!
Right now I feel like I felt when we were redoing our basement. If you were not here for that or forgot what that was like, here is a post to remind you! Not one room in our house is put together or clean. We have boxes in the hallway labels "donate," "recycle," "sell," and another one that I labeled "to put in the bedroom." I've got a couch in the basement lined with baby stuff waiting to move into the nursery and some old furniture & decor we no longer need ready to sell on Facebook Marketplace – anyone done that before?! I  haven't been brave enough to list anything yet! HAHA!
For my birthday (which I celebrate all month anyways) I've been saving money to buy a couple new pieces to make our master bedroom feel like a retreat. And to also be more practical. We currently are taking up two closets but need to move into just one – that's why this baby is on the list! We have the space to put it in our room and it will not only help us downsize to one closet, it also will allow a space for my jewelry which is currently homeless. haha. Also, our master is a huge space so I want to add a bench to the end of the bed. We sleep with a down comforter all winter but throw it off during the summer. I've been storing it in another closet that we need for other things now so a storage bench is the answer to that problem! We'll just shove it in and pull it back out when the nights get cold again!
If you couldn't already figure it out, today's Thursday Links are inspiration and purchases I'm planning on making for our new Master Bedroom!
I love this beautiful modern design and it will fit perfectly in the space I want it! YAY! hahah. I already mentioned above, but this is going to help us so much with storage!
I love, love this basket! It will be perfect for my fake tree. haha.
A modern storage bench to sit at the end of our bed to hold our down comforter in off season! This one matches the headboard we already have so it is perfect! Also I am a fan of the wooden legs!
Let's be honest, I am going to have a newborn. I don't need one more thing to try to keep alive. Fake it is!
I've always loved this Target mirror and I think it is time to get one (or two) of my own! I love this for above the 7 drawer dresser to help me with getting ready in the morning! BUT this mirror is hard to find in shock or with shipping! I found this one at Wayfair that I love too!
I think these nightstands will match much more the room feel I'm going for and they will match the dresser. I may snag these too and try to sell our old ones on Facebook Marketplace. haha.
We need a ceiling fan in our bedroom. We have vaulted ceilings and it is honestly just silly that we don't already have one. Already we are feeling the Colorado heat and wishing we had some air moving above our bed! I think we will probably actually go with the white version of this one.
Not sure if we need this too or if we can get by with just the 7 drawer one, but I still think it is really pretty!
We have this tufted headboard already in the Zuma White. I think it will look good with the wood additions and the tufted bench!!