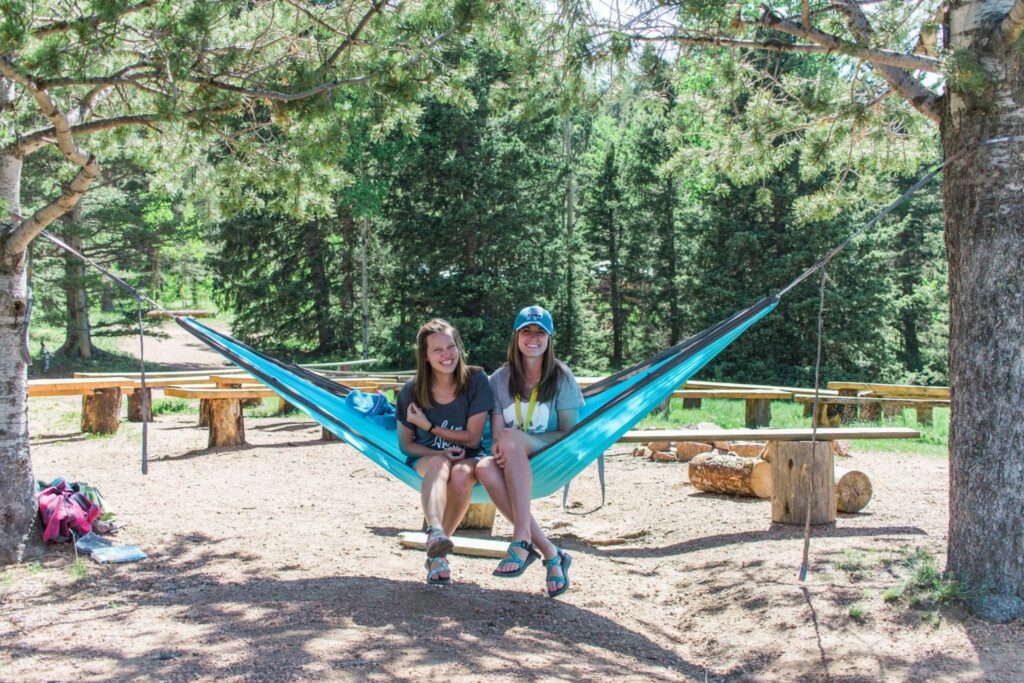 Details: FLYJOY Bars || Roo Kammok || Chacos || Patagonia Fleece || Osprey Pack || Patagonia Hat
Thank you FLYJOY for sponsoring this post.
It has been five summers since my last summer at Eagle Lake – eleven summers since my first! That place will always hold a huge part of my heart. I've been lucky enough to find myself back at Eagle Lake every now and again – we still have so many ties and so many friends on staff. This past week I was completely honored to be asked to go back up for a day to be a guest speaker to the High School CREW program.
The current director of the CREW program is my former camper Abby. Just the thought of that ages me 😉 She asked me to come speak to her campers & staff about vocation. I guess since I am a full time blogger these days I have a different take on the whole vocation thing 😉 But really the moral of my talk was that "God doesn't call us to a place, He calls us to Himself." And no matter what job or work He has currently lead us to or has us in, we can glorify Him & fulfill our calling just by pressing into Him – loving God & loving others. It was a very sweet time, and although I was nervous out of my mind, I loved it all so much. Just seeing how the Lord can use me to encourage & inspire was a blessing. Also high schoolers & college kids are my favorite.
My best friend Megan is on staff with Eagle Lake and needed to spend the day taking pictures of camp so I tagged along. We went to all the fun activities, watched the final competition between cabins, and chatted with old campers of ours that are now on staff. It was such a sweet time.
The best part (or weirdest part) was that we were not up at camp as counselors (or campers) so we really had no responsibilities. We could walk around the lake, help over here and then go help over there, and hang up a hammock for a little afternoon rest. We set up by the lake under big trees so we could watch the campers boat around & rest in the shade ( #sunburncity over here people!) It also felt great to cart my Osprey bag around instead of my purse. I felt camp life coming over me again as I packed my Patagonia for the chilly night, FLYJOY bars for snacking, my water bottle (stay hydrated peeps), a book, my Bible & my talk, and my Roo Kammok. Camp food is camp food and it is always great to have food with all-natural ingredients around. Nothing like some FLYJOY bars (and some rest) to get us ready for the rest of the days adventures with long-lasting, healthy, great-tasting energy from ingredients like quinoa, chia, flax and nut butter (because camp days are long-lasting!)
PS: If you follow me over on Instagram, we've got a giveaway going on so you can fuel your adventures with FLYJOY too!