Last year I was given the incredible opportunity to partner with Naptime Diaries in the launch of their Verse of the Year prints. After pouring over verses in search of the perfect one to define 2015, a friend graciously reminded me of Phil 1:6 and pretty much told me to stop striving for perfection – the Lord isn't finished with you and He will bring you to completion. This year Naptime Diaries created another verse of the year line each picked by women in their community . I scrolled through the pages, read the stories of the women who picked their verses, and whispered to the Lord asking about what He had planned for me this year.
My eyes darted back to Phil 1:6 – it was there again. Apparently I'm not the only one who clings so desperately onto this truth. I started thinking again about my to-do list again  – I listed the posts that I needed to write, read an article about getting better at social media, kicked myself for slacking on my newsletter (I've read all the articles, you need a good one to succeed!), and counted numbers in my head measuring up all I needed to do before I could take a break, get some rest, and achieve my dreams. A couple hours and higher stress levels later, I clicked back to the Naptime Diaries tab that was still open in my chrome lineup (I have a tendency to open all the tabs all the time but that is a story for another day,) Phil 1:6 was still sitting there.
There has never been the slightest doubt in my mind that the God who started this great work in you would keep at it and bring it to a flourishing finish.
God wasn't done with me yet. 2015 wasn't the culmination of Elizabeth & Oak + Oats. He did do a lot of wonderful things and work in my heart, my home, and my family in new ways but He isn't done with me yet. I sat there, my eyes tracing over the flourishing finish. What a hope! What a promise. A beautiful ending – a fairy tale finish – a flourishing happy ending in Christ. It wasn't just my verse for the year, or even this season, but a verse for my whole life.
A daily reminder (that is now in multiple rooms in my house) that this isn't all there is. That completion is coming and that longing my heart has for perfection will one day be fulfilled. But here while on earth I simply need to just rest in His grace. Knowing His power is made perfect in my weakness – my imperfection. He is working in me (in YOU) day in and day out – through all the mess, the stress, the demands, the pressures, the joys, the successes, and the triumphs – to bring about His kingdom and to redeem all creation (including us!)
If you want to pick up a reminder of God's faithfulness to hang in yourhouse (or to make a tradition of holding in the snow 😉 ) head over to Naptime Diaries. Use code: OAKANDOATSSPRING for 15% off everything in the shop (including the lent devos if you want to join us as we go through them & any canvas you could dream of!) Code expires on Easter!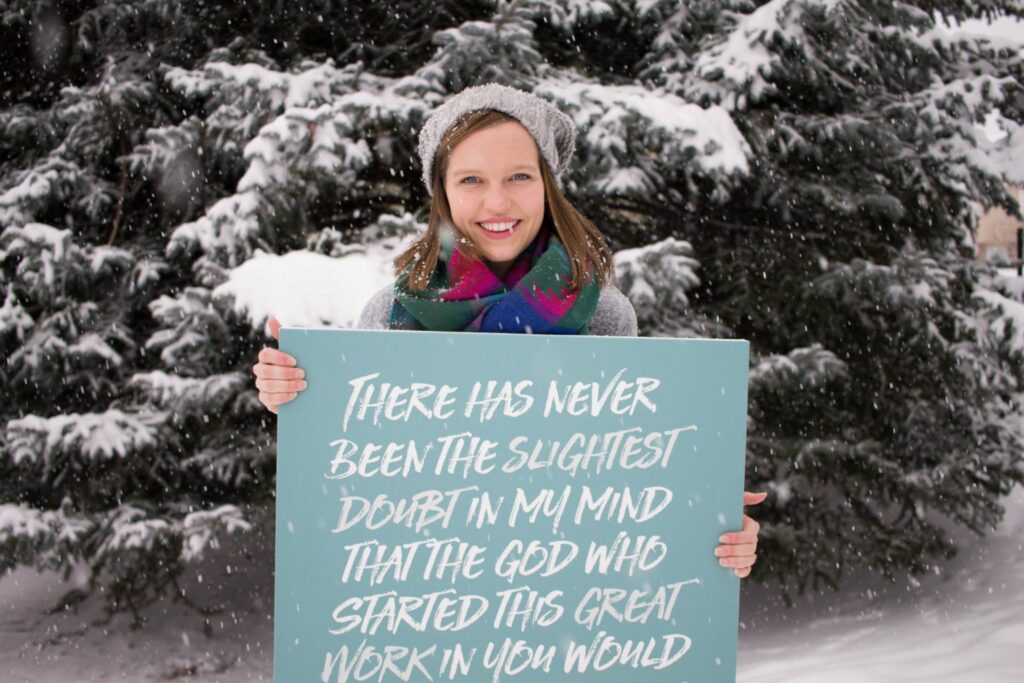 With hope, xoxo, Elizabeth