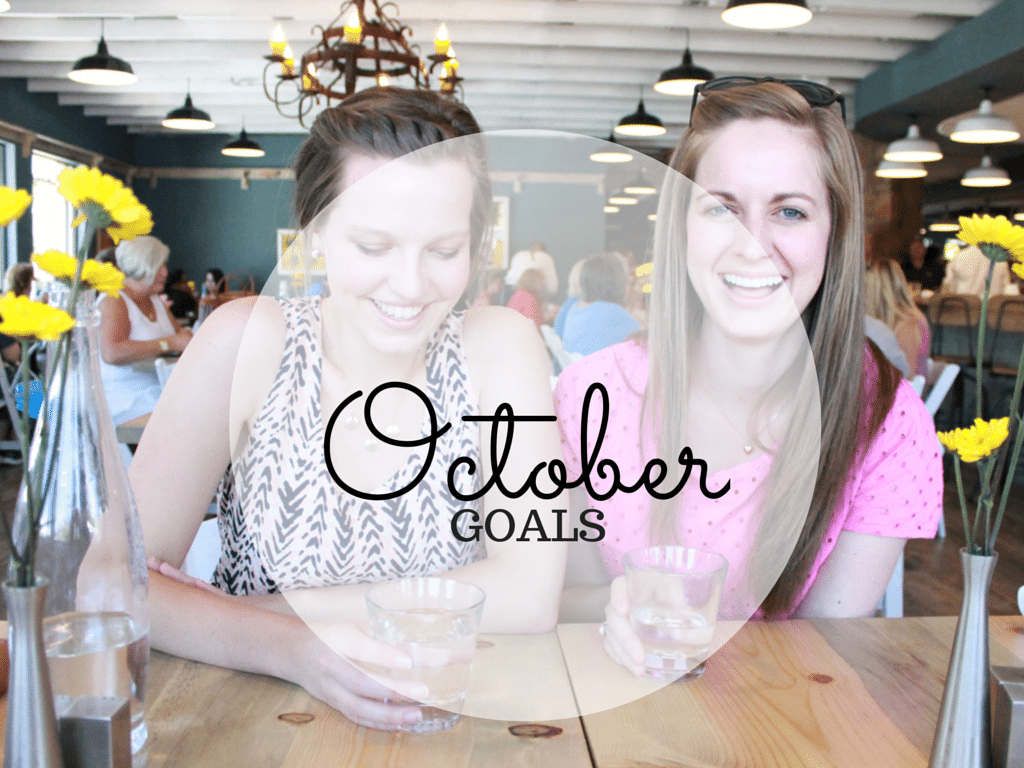 I am going on month three of sharing my goals on my blog and it has been good for me. It has challenged me to first off, identify my goals and then secondly, to work for them! My August goals were a bust (hey, we all start somewhere right?!) so my September goals were a little bit more focused and smaller. I need to remember baby steps because one month goes by really fast!
October is going to be wonderfully crazy and fly by so fast! I am spending the front half of it in Arkansas for my little sister's wedding and I cannot believe she is getting married. It is just so darn cool/ crazy. The last part hold two huge events for work so I'll be running around like a chicken with my head cut off. Please give me grace. HAHA!
SEPTEMBER RECAP
1. Add two more pages to my "Our Wedding" Tab
GREAT NEWS! I accomplished this one! I added The Groomsmen & The Bridesmaids. Make sure and check them out. They are old posts revived that need a little comment love.
2. Get halfway through the Circle Maker
This book is DEEEEEEEP. I read one more chapter but I think this book is going to take me longer to read. It is small but mighty.
3. Finish Blog Life
I did! And it was so wonderful. I think my favorite part might be that I can always go back and reread the lessons! I feel like it was so much good information and the blog world is ever changing – so I'll need to keep learning. I'll be sharing my thoughts on Blog Life sometime in October!
4. Write out a plan of action for the Blogger Mentorship Project!
You better believe I did! I sat down one afternoon and just cranked out all the ideas and organized it into place. I'll be announcing the details in November so get excited!
OCTOBER GOALS
1. YouTube: I made a video for my POPSUGAR Must Have Box and I was inspired to make more of them! My goal this month is to make a couple more videos, play around with video software systems, and organize a YouTube page. I pretty much think I might be over my head, but I think this is a fun new thing to learn. Make sure that you all subscribe here, I'll need all the love & encouragement that I can get! (seriously. Please subscribe! Shameless plug)
2. Read one chapter of the Circle Maker (baby steps): I love to learn and so I find myself always reading new articles, spending time in the Word, reading blogs, working on my study for Bible Study and a million other things that keep me from reading actual books. I want to continue making it a priority to read at least one chapter every month from this book!
3. Clean, Reorganize, and Paint the master bathroom: Okay, so we have been using our guest bathroom for months now because we wanted to paint and do some work in our master bathroom. It needs to happen this month, for reals. I also need to get rid of half of the random crap that is shoved in those bathroom cupboards. It is time.
4. Start a New Class: I am passionate about continued education! Learning, growing, stretching ourselves is always a bit hard but a million times worth the reward. Now that I have finished Blog Life, I am ready for my next class (one class at a time – this girl needs to avoid burn out!) I tried SkillShare back in August but I was overwhelmed by the commitment of a monthly subscription and trying to get my money out of it. This month I want to take ONE class with Craftsy and just finish it out (no matter how many months it takes. That will help me take my time and really learn it! I am thinking of a photography class – any suggestions?
NOW YOUR TURN!
What are your goals this month? Did you post a goals post for October? Please share it in the comments!!!!