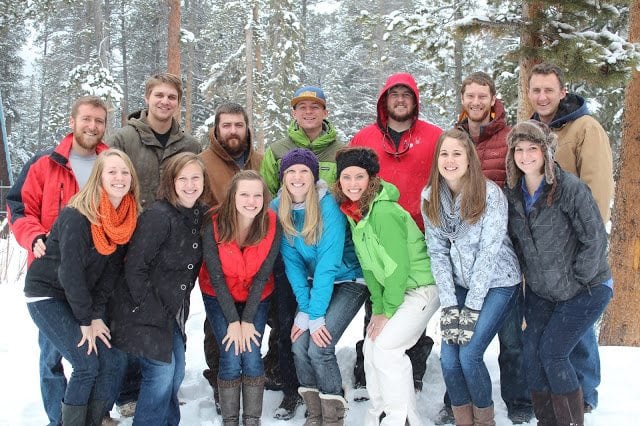 (oops. i am the only one not in front of my husband. sorry we traded places Katlyn, i messed it all up!)
last weekend our Bible study went up to the mountains. we spent the weekend in Breckenridge, CO in a house big enough to fit us all. we actually won a weekend in this house at the Gala & Silent Auction at my work (they bought a table and everyone went to support me and the ministry I work with!) while at the Gala, we thought a weekend away would be fun for the group so we fought over it at the auction and won! eeep!
those with childrens were able to leave them with grandparents and those with babies in their tummies brought them – there are three pregnant ladies in this picture FYI. we played games, sat in hot tubs, drank woodchucks, slept on pull out beds, and shared meals. not going to lie, we were tempted to all sell our houses/ break rent contracts to move into one big house together and live like this forever. or maybe just all buy houses on the same land…
there are a lot of golden nuggets in this book but one of my favorites is when he is describing the community of the early church.
"and they realized that their fellowship with God logically brought them into fellowship with one another. Through their union with Christ, they were formed into a spiritually organic community. They were living stones being built into a spiritual house (see 1 Peter 2:5)" (page 11)
we desire to be that way. to encourage, to share, to laugh, to live in Christ, and walk with each other. the relationship with have with the Lord draws us into community with each other. because we are family – brothers and sisters in the Kingdom. i am blessed by these people.