we do things around the house one step at a time. sometimes that is hard for me because i am a dreamer but other times it feels nice not to have a million half finished projects around the house. we both work full time & so finding time in the midst of our social schedules to work on the house is not the easiest.
over the weekend i finished my second art wall. yes, i already have an art wall in my living room but this one is different – it is upstairs & it is hanging!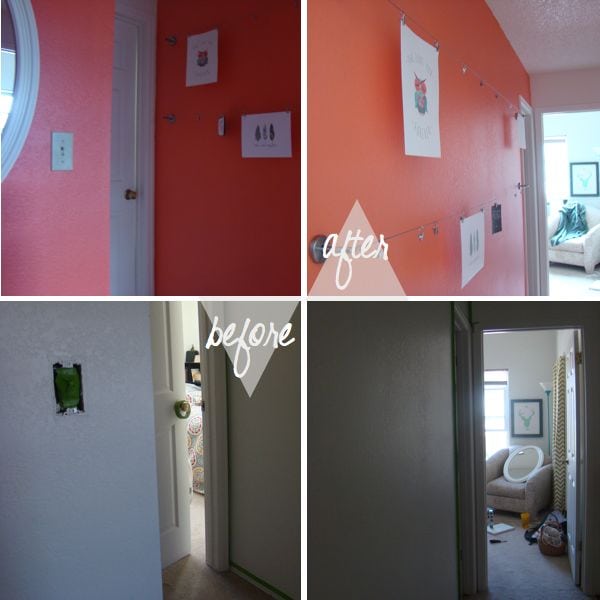 WHAT YOU NEED:
– fun paint color of choice.
– screwdriver
– wire cutters
– hanging clips
– art or pictures or cards
– a helpful husband (this isn't necessary but VERY helpful!)
HOW TO:
1. tape off & paint the walls. most always i end up doing two coats even when i buy nice paint and even when i want to be done after only one coat. it just always looks so much nicer and is SO worth it.
2. open up the wire curtains & put together the little pieces
3. using a measuring stick, make sure that the metal ends are going on evenly.
4. cut wire a little longer than desired length and then twist until the wire is taut.
5. hang clips on the wire
6. attach art
7. buy more art to fill up empty spaces. if you are like me you still need to find some perfect pieces for the wall. i have a couple in the mail that i am excited to add to the wall!