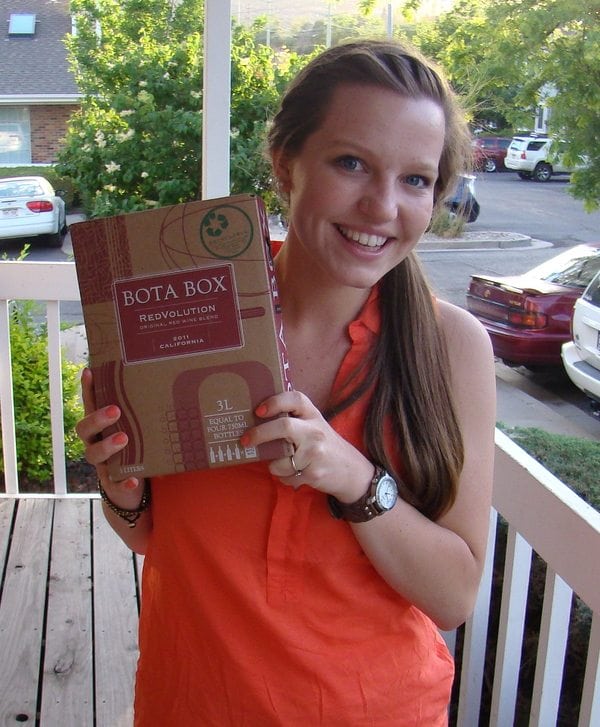 it is no secret that bruce & i enjoy a little something to drink every now and again. we brew our own beer, love discovering new micro brews, have a favorite liquor store near our home (& we are loyal to that place/ we have gotten to know the people who work there), we know when places have happy hour, and most of our dates involve dinner at one of our favorite breweries (Colorado Mountain Brewery & Rock Bottom Brewery). we enjoy good beer & good wine and save a little of our grocery money to have some fun drinks around the house.
on our way home from the grocery store we stopped at Queens (our go-to liqueur store) for a bottle of wine. i came across a display of Bota Boxes. of course the packaging drew me in (it always does. bruce jokes that i only buy "pretty" things) this box equals FOUR bottles of wine & it was only $20. already looks good for the budget. eco friendly packaging, lasts up to 6 weeks without spoilage, and has won some awards – this is too good to be true. i was convinced we needed to try it! after another couple minutes figuring out what type of win we wanted, we walked out with the REDvolution.
the first glass i poured myself was delicious. fruity. and i couldn't believe it was "box wine." pretty excited now about all the different types of wine Bota Box has but i mustn't get too ahead of myself. i have FOUR bottles here at home and that will last us a while!