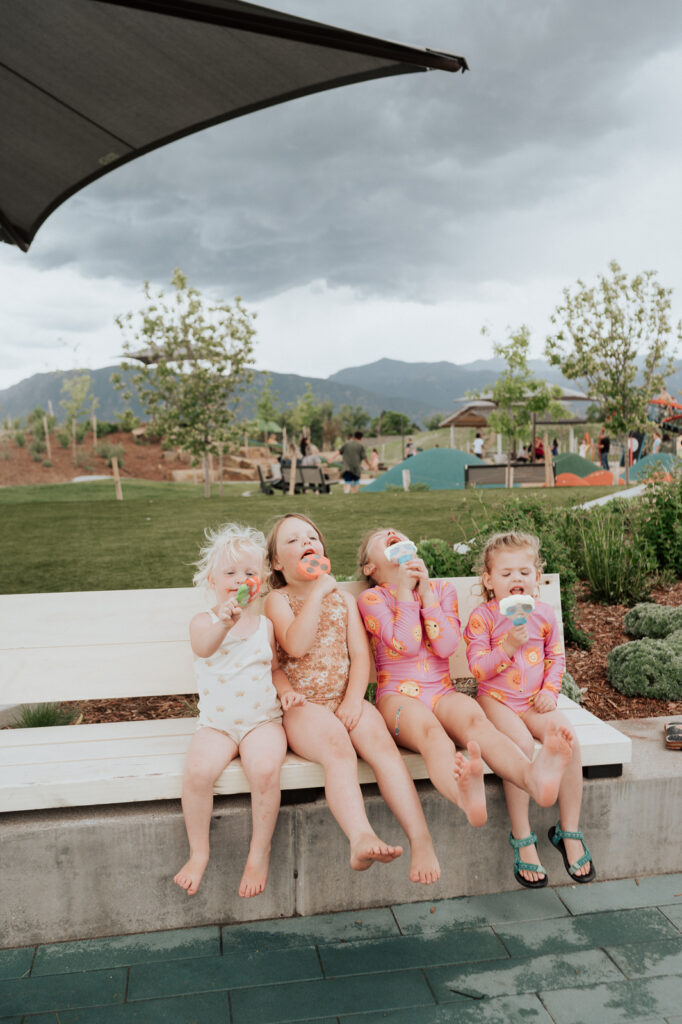 Hello there SUMMERTIME! The splash pads and pools have all opened and despite the verrryyyy wet months we've been having, we're still getting out there and enjoying summer. And by very wet, I mean I cannot remember the last day it did not rain, which isn't normal for us here in Colorado! Even in these pictures you can see the storm rolling in – the storm that didn't even show up on my weather app (!!!) and the one that made us throw things in the stroller and run to the car before the floodgates opened.
Splash pads are pretty magical right? All the fun of the pool but without being asked to go into the deep end a million times and stressing about the three very small swimmers you have. Here in Colorado Springs we only have a couple and they are only open three months, so they can get pretty crowded and you have to make the trek across town but as you can see by these faces, definitely worth it!
Panorama Park is a new and beautiful park in Colorado Springs located down by the airport. Not only does it have a splash pad, but it has fields to run in and the coolest play equipment. It is a top park on my girls list and if it wasn't so far away, we'd go more often 😉
Oh, and they also have ice cream! Please note that Millie picked out a Ninja Turtle but she called it "the mean guy" the whole time. We're thankful for summer!